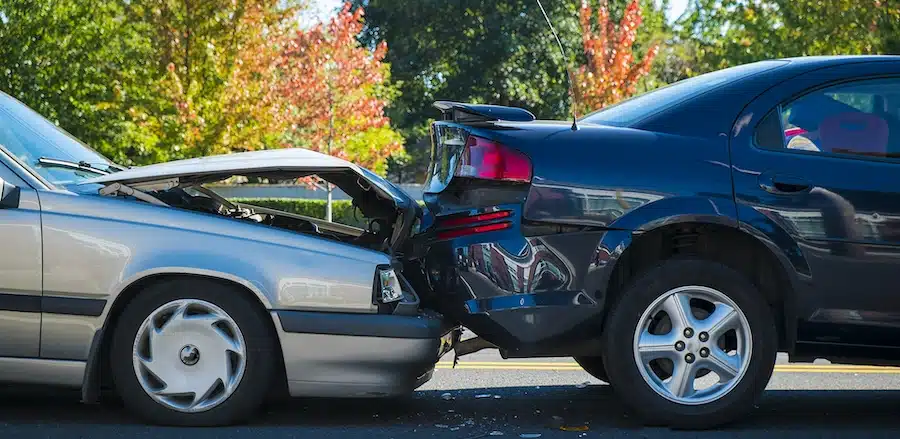 At Bernheim Kelley Battista, LLC, our car accident lawyers in Fort Lauderdale are aggressive advocates for justice. We have the experience needed to take on the full range of rear-end collision claims. If you or your family member was hurt in a rear-end crash, our attorneys are more than ready to help. For a free, no-obligation consultation with a top Florida rear-end accident attorney, please contact our Fort Lauderdale law office today.
What is a Rear-End Collision and What Happens During a Rear-End Collision?
A rear-end collision occurs when a trailing vehicle collides with the vehicle ahead of it. The people in the vehicle that is struck in the collision will usually be unaware that an accident is about to happen and are thus not often able to brace themselves. That violent and sudden impact can cause severe whiplash, spinal cord damage, and other serious injuries. Notably, rear-end collisions are relatively common. The National Highway Traffic Safety Administration (NHTSA) reports that rear-end collisions make up around 50% of all multi-vehicle collisions reported nationwide.
The Most Common Causes of Rear-End Collisions
Why do so many rear-end collisions happen in Fort Lauderdale and South Florida? While each crash can involve its own unique set of facts, there are many overlapping factors that contribute to rear-end accidents. Some of the most common causes of collisions include: 
Distracted Driving

: This is a common cause of many accidents, but distracted driving is particularly responsible for rear-end collisions since the driver is unaware or has limited awareness of the road and other drivers ahead of them. Distracted driving behavior includes things like texting while driving, eating, playing with controls on the dashboard, talking with other passengers, and personal grooming.
Driving While Intoxicated

: This type of behavior is always dangerous because intoxicated drivers have reduced reaction times, among a range of other impairments. That means they may not be able to react in time to any obstacles or dangers in the road. If a vehicle ahead of them stops or slows down suddenly, they may not be able to hit the brakes in time to avoid a collision.
Speeding: S

peeding is always dangerous because drivers will not be able to react in time to any obstacles in the road. Not only that, but the impact, and therefore the potential damage in an accident caused by a speeding vehicle, is likely to be high.
Tailgating: This is the practice of following too closely behind the vehicle ahead. It is easy to see why this is one of the most common causes of rear-end collisions since the trailing driver will not have a lot of time to react if the driver ahead of them needs to suddenly stop or slow down. Even if the driver can react in time, their vehicle may not be able to do so since the brake distance of their car may not be short enough to stop it before it collides with the vehicle ahead.
Common Injuries from Rear-end Crashes
Rear-end collisions are among the most prevalent types of car accidents. Even at low speeds, they can result in significant injuries due to the sudden and forceful nature of the impact. The specific circumstances of each crash—speed, seatbelt usage, vehicle design, etc.—can affect the severity and type of injuries. Some of the most common injuries in Florida rear-end crashes include: 
Other Soft Tissue Injuries:

Other soft tissue injuries can happen in rear-end collisions as well. These injuries encompass bruises, strains, and sprains often seen in various parts of the body.
Spinal Injuries: The force can place significant stress on the spine, leading to disc herniation or other spinal issues. Spinal cord damage is a medical emergency.
Is the Tailgating Driver Always At-Fault for a Rear-End Collision?
While the tailgating driver is often deemed at fault for rear-end collisions due to their unsafe proximity, it is not always the case. Various circumstances can play a role. However, maintaining a safe following distance is essential to avoid responsibility for such incidents. Indeed, tailgating is often negligence, and tailgating may be illegal if it is a reckless driver. Still, the specific circumstances always matter. Issues like who is at fault in a car accident when backing up will always depend on exactly what went wrong and why it went wrong. An in-depth investigation is a must.
To learn more, schedule a free consultation with us today.
How to Determine Fault in Rear-End Accident Case in Fort Lauderdale?
How to tell who is at fault in a car accident is a key issue after any type of crash, including rear-end collisions. In Florida, the no-fault system may apply to minor rear-end collisions. Each party to the accident may bear responsibility for their own damages regardless of fault. However, the state's no-fault process can be used for serious accidents. In these cases, it is usually—but not always—the rear driver who bears the blame for the crash.
What to Do When You are Rear-Ended in Fort Lauderdale?
If rear-ended in Fort Lauderdale, ensure safety first by pulling over. Then, exchange information with the other driver, document the scene with photos, contact the police to file a report, seek medical attention if needed, and consult a local attorney for potential legal action. You may be entitled to significant financial compensation. A lawyer can help.
What to Do if You Rear-End Another Car?
If you rear-end another car, first ensure everyone's safety and pull over to a secure location. Exchange contact and insurance details with the other driver. Document the accident, call the police to report the collision, notify your insurance company, and consider seeking legal counsel if complexities arise. There is a decent possibility that you can bring a no-fault claim through your own insurance company.
Negligence in Rear-End Collisions: (Comparative Negligence vs. Contributory Negligence)
Similar to most jurisdictions, Florida operates under a comparative negligence legal standard (Florida Statutes § 768.81). With this type of system, each driver's fault is proportionately calculated if a fault-based legal claim is being pursued. For example, if a driver is deemed 30% responsible for a rear-end collision, they can still seek compensation for 70% of their damages.  In contrast, contributory negligence, not practiced in Florida, completely bars drivers with any fault from receiving damages. 
Note: Due to a 2023 tort reform law, Florida has a modified comparative negligence standard in place. A party may be barred from pursuing compensation if they are more than 50% at fault for their own accident.
How Can BK Law Firm Help With a Rear-End Collision Claim
A rear-end collision can cause a lot of damage to the vehicle and its occupants–damage that could end up being very expensive. Fortunately, since the driver who collides with the vehicle ahead of them is nearly always held responsible for the accident, the victim has a good chance of getting the compensation that they need to take care of any losses caused by the collision. That being said, navigating the rear-end accident claims process can be challenging. At BK Law, we have helped a wide range of accident victims get the compensation they need after they have been in a car accident. Our attorneys are proactive. Among other things, our personal injury lawyers in Fort Lauderdale have the professional skills, experience, and legal expertise that you can trust. Hurt in a rear-end crash? We can help. Give us a phone call now or contact us online to set up a free case review. We handle rear-end collision claims in Fort Lauderdale, South Florida, and throughout the state.