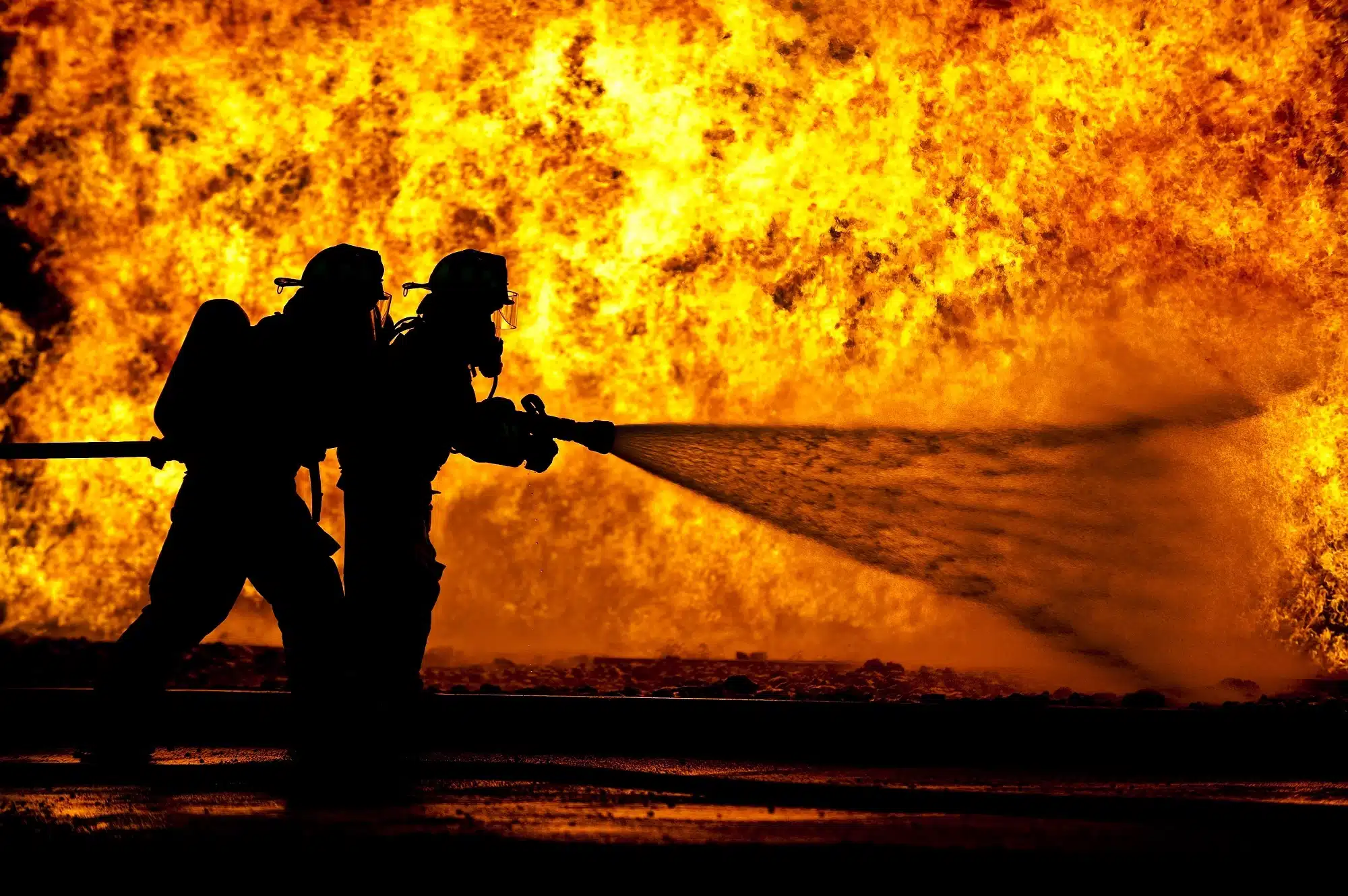 What Are PFAS?
PFAS refers to a group of man-made chemicals, per- and poly-fluoroalkyl substances, with a variety of industrial and commercial uses.
Within this group of chemicals are a few, including PFOS and PFOA, that are found in Aqueous Fire Fighting Foam (AFFF) and firefighter turnout gear.
It is now known that exposure to products containing these chemicals can lead to serious illness and disease, including cancer.
Firefighters Exposure to PFAS
Firefighters who have used firefighting foam or have worn turnout gear are at risk of exposure to PFAS chemicals, and therefore are at a higher risk of adverse health effects.
Firefighting Foam, or AFFF, is a foam agent that is used to suppress and extinguish fires rapidly. It comes in concentrated chemical form and is mixed with water and oxygen to create foam, which is then sprayed on a fire and acts as a blanket to smother the flames.
The heat-resistant and protective gear used by firefighters is referred to as turnout gear. The fabrication of this gear contains chemicals in the PFAS group, and wearing this gear has been shown to lead to increased risk of disease and illness.
Firefighters risk their lives every day for their job and are also unfortunately exposed to toxins in fire suppressant foam. When firefighters wear the turnout gear, the protective lining inevitably sheds, and particles of the toxic chemicals enter the body through sweat.
Why PFAS?
PFAS chemicals were mass-manufactured by the company 3M in the 1940s and have since then been used for a wide variety of applications including everyday consumer goods. This group of man-made chemicals is responsible for giving a product its "non-stick" or "stain-resistant" qualities–think Teflon pans and "performance" fabrics.
PFAS have heat-resistant properties that make them useful in the fighting of fires. The chemicals effectively extinguish fires by coating and smothering flames, as found in products like AFFF. They also provide a heat-resistant barrier in the protective gear worn by firefighters, called turnout gear.
The nature of these chemicals is incredibly long-lasting and durable, so the rate of breakdown is extremely slow—they have even been deemed "forever chemicals."
They remain in the environment for a long amount of time, and even worse, accumulate and persist in the human body.
Because of their durability, exposure to these chemicals from firefighting foam or turnout gear pose serious health concerns.
Allegations Raised in Firefighting Foam and Turnout Gear Class Action Lawsuits
While Class B firefighting foam and protective gear have been used for decades, the serious health effects of exposure to PFAS are just now coming to light and include increased risk of various diseases and even cancers.
AFFF has been used in training exercises for firefighters and airport and military personnel without informed consent about the toxicity of the product.
It is the responsibility of the AFF foam manufacturers to know and alert its users that chemicals in their product may be dangerous by accumulating and remaining in the human body for a long period of time.
Likewise, firefighters should be made aware of the dangers associated with wearing the heat-resistant protective "turnout" gear.
These manufacturers have failed to warn firefighters and other potential victims of the extreme dangers of exposure to their products, despite decades of research proving its toxicity.
To learn more, schedule a free consultation with us today.
Risk of Cancer and Other Diseases
What makes PFAS chemicals so toxic to humans is their resistance to breakdown. After exposure, they buildup in the body, binding to proteins in the blood and remaining there for long periods of time, subsequently leading to serious health risks, including cancer.
Exposure to PFAS chemicals has been connected to:
Decrease in infant birth weight
Developmental issues
Immune deficiencies
Infertility
Endocrine disruption
Unhealthy cholesterol levels
Liver issues
Preeclampsia in pregnancy
Reduced antibody response, specifically in children
Tumors
Thyroid disease
Ulcerative colitis
Cancer:
Testicular cancer
Pancreatic cancer
Prostate cancer
Breast cancer
Bladder cancer
Ovarian cancer
Other types, including Lymphoma and Leukemia
Where Can Someone be Exposed to PFAS?
Firefighting foams are used in any capacity to fight fires started from liquid fuel (like petroleum) that cannot be extinguished with water alone.
The protective turnout gear is worn by firefighters in training exercises and in the field to fight real fires.
Exposure to PFAS from firefighting foam or turnout gear can occur in the following areas:
Fire departments
Military bases and ships
Chemical plants
Aircraft carriers
Offshore oil rigs
Gas refineries
Bulk fuel storage centers
Commercial airlines
Bus and truck fleets
And more
Firefighting foams can also be found in storage inventories at community fire departments or any of the sites listed above. Manufacturing facilities where firefighting foam is produced, as well as landfills that receive the waste, are also potential sites where AFFF can be found. Large deposits of PFAS are often detected in the soil and water near military bases from runoff. These have significant environmental implications as well.
Firefighting Foam, Turnout Gear, and The Forever Chemicals
Perfluorooctane sulfonate (PFOS) and perfluorooctanoic acid (PFOA) are the two main compounds found in heat resistant materials. They belong to a larger group of chemicals called PFAS and are considered carcinogenic and harmful to wildlife and the environment.
In the 1970s, the military began working with 3M to figure out a way to extinguish liquid fuel-based fires quickly. The solution was a substance that used the heat-resistant properties of PFAS to create a barrier to extinguish the flames, and AFFF was born.
Today, these firefighting foams are used by both military and civilian firefighters despite the known harmful effects of the chemicals.
The same qualities that make PFAS so effective at extinguishing fires with AFFF is the same reason they provide adequate heat protection and resistance in turnout gear. They create a barrier between the skin and the flames that allows the firefighter to remain in higher temperature environments for longer periods of time to fight the fire.
Repeat and long-term exposure pose health risks; however, you can be a victim of these chemicals even if you've lived thousands of feet from an extinguished fire.
PFAS are not biodegradable, meaning these chemicals leach into groundwater through soil and have been detected in drinking water and households.
PFAS Contamination in the United States
PFAS chemicals have been in circulation on a grand scale in the United States over the last century since the manufacturer, 3M, began using them in a variety of products. And even more since the U.S. Navy used the chemicals to create the firefighting foam, AFFF.
These chemicals are highly effective in many industrial and manufacturing processes, including production of consumer goods like Teflon non-stick pans, stain-resistant carpeting, and many more.
Contamination of these chemicals are found in our soil, air, food, water, and even in our homes. This is due to runoff from industrial plants and factories or extinguishing a fire using AFFF.
These PFAS enter our bodies through such contaminated drinking water which becomes contaminated via runoff from industrial waste and AFFF usage.
Several accounts of contamination have been found in the U.S. over the last few decades:
Research by 3M and the EPA have detected these chemicals present at blood banks across the country.
In the 1990s, a farmer in West Virginia sued the PFOA manufacturer, DuPont, after the company's negligent dumping of PFOA waste killed herds of cattle.
In 2012, the Environmental Working Group found that the drinking water of 110 million Americans was contaminated with PFAS.
A 2020 study by the Department of Defense revealed that more than 600 military sites have contamination by PFAS.
PFAS have been detected in the drinking water of major cities like Washington D.C., New York City, and Chicago.
According to the CDC, more than 95% of Americans have PFOS in their blood.
And more
The General Public Realization Regarding Exposure to PFAS
In the last decade, concerns around the devastating effects of PFAS chemicals have come to light. However, meager action has been taken to stop the widespread contamination of these chemicals in our environment and bodies, or to reprimand the manufacturers responsible for such destruction.
The effects of these chemicals have been recognized as far back as the 1950s when 3M conducted a study showing the buildup for PFAS in blood. A 1960s study revealed exposure to these chemicals was linked to liver damage. In the 1980s, research by the U.S. Navy proved that chemicals in AFFF were harmful to the environment. That same decade, DuPont found that PFOA can be passed from mother to unborn baby.
Yet with all this data, little has been done to regulate these chemicals from further damaging human life and the environment. Action by the Environmental Protection Agency (EPA) has been inadequate in preventing further contaminations and creating stricter regulation. Instead, these giant companies find loopholes around responsibility and face no consequences to their actions.
For example, in 2006, the EPA and the 8 US manufacturers who use PFOA formed a stewardship phase-out program to eliminate PFOA from emissions and product contents by the end of 2015. To bypass this new program, manufacturers simply created new PFOA-like substances with equally damaging effects, effectively sidestepping the entire "phase-out" program.
More recently, this widespread contamination into our nation's water supply has sparked outrage, and the truth about these toxic chemicals is finding its way to the mainstream.
It's been recognized by The International Agency for Research on Cancer that PFOA is possibly carcinogenic to humans, and the EPA has only recently decided to take more enforceable measures to regulate these chemicals.
A handful of agencies are now taking action at the state level to protect their residents from PFAS. Wisconsin, for example, has prohibited the use of PFAS chemicals in firefighting foam.
Despite the known health effects of such chemicals, little has been done to inform and protect potential victims of the consequences of manufacturing and using these chemicals, including firefighters exposed to PFAS.
Lawsuits Relating to PFAS Exposure
In the firefighting foam lawsuits and turnout gear lawsuits, manufacturers allegedly:
Knowingly and recklessly failed to conduct comprehensive studies on the side effects of AFFF on individuals exposed to firefighting foam
Knew or should have known that AFFF containing PFAS would cause contamination of the blood and bioaccumulation of cancer-causing chemicals
Failed to warn fire trainees, military, or civilian firefighters about the dangers of AFFF and PFAS in turnout gear
Failed to design firefighting foam and turnout gear in such a way to avoid unreasonable risk of harm to firefighters, military service members, airport personnel, and others exposed to the chemicals
Withheld information about the importance of protective gear to guard against the known AFFF risks
Failed to issue AFF foam recalls or safety warnings
What Compensation is Available in an AFFF and/or Turnout Gear Lawsuit?
If you or a loved one have been a victim of firefighter PFAS exposure, you may be entitled to receive firefighting foam and turnout gear settlement benefits, including:
Compensation for Medical Expenses and Cancer Treatments
Compensation for Pain and Suffering
Compensation for Lost Wages
Other Damages Caused By AFFF Exposure
Firefighting Foam and Turnout Gear Manufacturers
Companies must be held responsible for putting human life at risk due to exposure of their products. Manufacturers include:
3M Company
Angus Fire (a/k/a Angus International)
Arkema
Buckeye Fire Equipment Co.
Chemguard
Chubb Fire, Ltd.
Corteva, Inc.
Du Pont de Nemours
Dynax Corporation
E.I. Dupont De Nemours & Co. (f/k/a Dow Dupont, Inc.)
Enterra Corp.
Kidde Fire Fighting
Kidde-Fenwal, Inc.
National Foam, Inc.
The Ansul Company
The Chemours Co., LLC
Tyco Fire Products, L.P.
United Technologies Corporation
UTC Fire & Security Americas Corporation, Inc. (f/k/a GE Interlogix, Inc.)
Williams Holdings
Potential Defendants
Defendants include the manufacturers responsible for the production of firefighting foam and firefighting protective "turnout" gear.
Cities and Municipalities Filing AFFF Foam Lawsuits
In February 2022, BK Law filed a products liability lawsuit on behalf of 14 Massachusetts firefighters in the United States District Court of Massachusetts. This lawsuit was about cancer diagnosis related to exposure from both PFAS in AFFF and PFAS exposure from firefighter turnout gear.
The Firefighter Plaintiffs in this lawsuit served the Massachusetts' cities and towns of:
Worcester
Norwood
Brockton
Fall River
Boston
The firefighting lawsuit is filed against 28 manufacturing companies, including:
3M Company
DuPont
Chemguard
Tyco Fire Products
How Can a Lawyer Help?
It's important to have someone on your side who can fight for you against these large companies.
A lawyer will be your advocate and navigate all the legalities, so you can receive the entire PFAS Exposure lawsuit settlement amount you are entitled to.
How Do I Know If I Have a Case?
If you were exposed to PFAS from the firefighting foam, AFFF, or from wearing the firefighting protective turnout gear as a current or former military or civilian firefighter, you may be entitled to receive cash settlements.
The repeated failures of manufacturers to inform and protect firefighters have resulted in serious and deadly health conditions. These companies must be held responsible for their recklessness, and victims must be compensated for their suffering. Reach out to one of our team members today to see how you can receive a firefighting foam cash settlement.
FAQ (Frequently Asked Questions)
Q.What is PFAS?
A.PFAS refers to a larger group of man-made chemicals, some of which can lead to serious health conditions if exposed to.
Q.Where are PFAS found?
A.PFAS are used in a wide range of industrial and commercial products, from household items like non-stick pans to professional products like firefighting foam and turnout gear.
Q.Why are PFAS bad?
A.Some chemicals in the PFAS group are characteristically highly resistant, and therefore don't break down easily. Exposure to them can lead to a buildup of these chemicals in the body and cause negative health effects.
Q.What is the PFAS Exposure lawsuit?
A.A class-action settlement for firefighters exposed to PFAS, the toxic chemicals in the firefighting foam, AFFF and the protective "turnout" gear.
Q.Is AFFF Foam Toxic?
A.Yes, AFFF exposure has been linked to several serious and deadly health conditions, including cancer.
Q.Is turnout gear toxic?
A.Yes, exposure to turnout gear and the PFAS it includes has been linked to several serious and deadly health conditions, including cancer.
Q.What is in Firefighting Foam and Turnout Gear?
A.Firefighting Foam (AFFF) and turnout gear both contain PFAS. PFAS are man made chemicals that act as a fire suppressant but remain in the environment and human body far after exposure.
Q.Does Firefighting Foam Cause Cancer?
A.There is evidence that the firefighting foam, AFFF, may increase one's risk of many different types of cancer.
Q.Are AFFF and turnout gear materials banned?
A.AFFF and turnout gear including their PFAS chemicals are not banned. The manufacturers must be held responsible for the serious injury their products are causing.
Q.What is AFFF used for?
A.AFFF, or firefighting foam, is used as a flame suppressant in fuel-based fires. For example, a petroleum-based fire that cannot be extinguished with water alone.