Commercial litigation, in many ways, mirrors the civil litigation process carried out between private individuals; however, corporate law and the complex machinations of business structures lead to a much more complicated process when the litigious actions are being carried out on behalf of corporate or business entities. This is why it is so important to work with experienced Fort Lauderdale business lawyers who can help you settle your business disputes with speed and discretion.
Business litigation or commercial disputes can take place between a private individual and a business OR between two commercial entities. Depending on the nature of the dispute, the entities' willingness to cooperate, and a range of other factors, these disputes may be settled out of court or may need to be brought in front of a judge in the Florida courts.
The Fort Lauderdale business and commercial litigation lawyers at Bernheim Kelley Battista, LLC Law are here to help you move forward with your needs and work towards an outcome you deserve. We work with businesses of all sizes, and our history of working with commercial disputes is a great indication of the level of skill and experience you will be represented by as one of our valued commercial or corporate clients. 
During our free consultation, we will be able to go through the specifics of your Florida business issues and get an understanding of how we can help you with a variety of practice areas of business law. CNN Money included Fort Lauderdale, FL, in their list of "Best Places to Live and Start a Business," and Bernheim Kelley Battista, LLC is proud to offer business law support to the many businesses in our city and throughout Florida. 
Whether you need help with real estate contracts, unfair competition, deceptive practices, fraud, shareholder or partnership disputes or any other issues that a Florida business owner may face in our modern business environment, we are here to help. Contact us as soon as possible to get the support you deserve from our team of experienced business lawyers.
The Importance of Working With Attorneys Skilled in Business Law
As a business owner, you already understand the hard work and dedication it takes to run a successful company. When business law issues start to interfere with your Fort Lauderdale business, whether through business disputes between competitors, issues with clients, real estate contract disagreements, or anything else, partnering with the right business litigation law firm is one of the best ways to ensure that your legal issues do not interrupt your normal course of business, and are promptly resolved to avoid any long-term problems or disruptions.
Defending Against Lawsuits
When an individual, group, or another commercial entity takes legal action against your business, it is important that you respond to this action with comprehensive legal representation. The business attorneys at Bernheim Kelley Battista, LLC will be able to review the claims against your company and determine the possible agreements or paths towards a resolution that may be available as we build a case in your defense. It is absolutely essential to handle business disputes promptly, aggressively, and discreetly in order to avoid impacts to your reputation, operations, and ability to continue your work.
Taking Legal Action As a Business
In some cases, you may find that a competitor has infringed upon your trademarks or copyrights, has incorporated your patented design or utility in their own processes, has violated contractual agreements, and more. In any of these instances, it is essential for you to take swift action through your legal representation to protect the interests of your firm and ensure that your profits are not interrupted due to legal violations carried out by others.
It can be complicated to determine how best to resolve these types of issues, which is why you will always benefit from having a trusted, proven Ft. Lauderdale business law attorney ready to advise you on your options and help you take action to protect your business interests. 
Resolving Contract Disputes
Contracts are legal agreements between businesses or partners and can take many forms, and violations of or disputes regarding these agreements are common in the business world. Ft. Lauderdale business attorneys are skilled in interpreting these contracts and understanding what each contracted entity is obligated to and what they can legally expect from the other contracted entities through the duration of said contract. 
These disputes are often resolved with the help of a Fort Lauderdale business law attorney who can either build a strong case to compel the violator to carry out their contracted work OR by identifying an agreement that each of the Florida businesses or contracted entities can agree to moving forward. 
Real Estate Transactions and Agreements
Real estate and business law gets complicated quickly, and Fort Lauderdale, FL real estate purchase and sales agreements, use agreements, deeds, and more can all serve to slow down business operations or derail transactions. When working with a business law attorney, you can be confident we will go through each line of the contract and identify possible risks to your own business, restrictions or stipulations that may ultimately lead to business litigation down the road, and seek to finalize a contract that works for all businesses or entities involved in order to avoid the later need for a litigation attorney.
If your Florida business has any real estate aspects to it, even in working out leases or property purchases for office space, partnering with a business law attorney from the start is one of the best decisions you can make in order to resolve current problems and avoid future issues that may impede your business operations.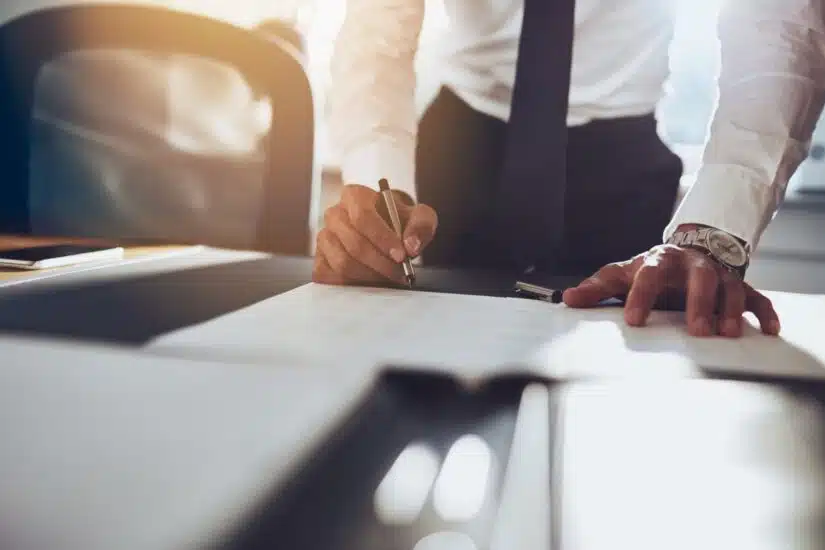 Frequently Asked Questions About Business and Commercial Litigation in Fort Lauderdale, FL
The following are a few (simplified) answers to some of the many questions we are happy to discuss during our initial consultation. Whether or not you see your own questions below, keep in mind that the answers provided are not intended as legal advice, and the only way to get an answer specific to your unique situation is by speaking directly with a Florida business law attorney. Contact our business law firm today to schedule your consultation and get started on your legal needs as soon as possible.
What is the difference between a corporate lawyer and a business lawyer?
Simply put, business law and corporate law pertain to two different activities that a single business may engage in. Business law focuses on the activities carried out by businesses — typically a smaller firm — such as selling products or services, working with clients, or other service-related actions. Corporate law, on the other hand, often applies to the structure and internal activities of a corporation to ensure that the firm is in legal compliance with local, state, federal, and international corporate regulations. 
There is a lot of overlap between what corporate lawyers will handle compared with the tasks a business attorney will carry out for their client, and oftentimes a single attorney will function in both capacities for a client. 
What does a small business lawyer do?
An attorney who works with small businesses will often carry out tasks such as reviewing contracts, registering businesses in Florida, and helping their clients navigate the complexities of business law to ensure that they remain compliant in their activities. In some cases, business attorneys may need to help their clients resolve legal actions against them, interpret contracts and resolve contractual disputes, and more. Business litigation covers a wide range of topics, and your needs and interactions with Fort Lauderdale, FL, business litigation attorneys will vary depending on your unique needs.
Do I need to hire an attorney to help with commercial litigation?
As a business owner, you already have a lot on your plate — trying to navigate the complexities of business law while managing your operations can often feel impossible and may lead to poor outcomes that can be both costly and damaging to your company. 
Our business attorneys are solely focused on navigating towards the best outcomes for their clients, meaning that you can carry out your work while your business law attorney focuses on assisting with your legal needs. 
Do I have any options after a judgment is rendered against my business?
Whether or not you worked with a lawyer beforehand, if a judgement  has been rendered  against your business, you may be able to file appeals against the actions. 
The best way to determine whether or not your appeal is likely to be successful and how you can move forward with your case is to speak with experienced lawyers in Fort Lauderdale, FL as soon as possible  to ensure that the rehearing appellate timeline does not expire. Our Fort Lauderdale firm is ready to speak with you during an initial consultation to get a better idea of your situation and explain to you how we can help you move forward.
The best way to determine whether or not a commercial litigation attorney will benefit your business is by contacting our law firm today. We will be able to review a range of questions that will help us get a better idea of your situation and provide you with specific advice about your unique business needs. Contact us today to get started.