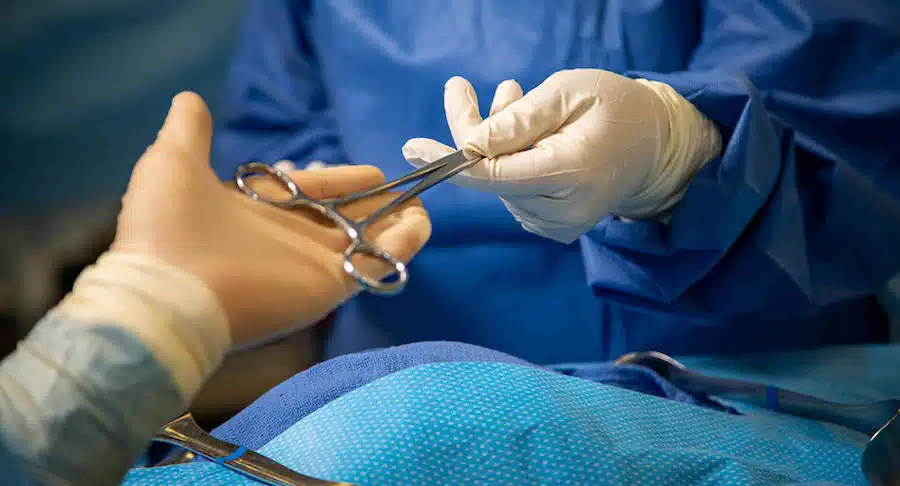 Were You or a Loved One Harmed By Poor Medical Care? Contact Our Fort Lauderdale Medical Malpractice for a Free, Confidential Review of Your Case
You expect to receive proper doctors, nurses, hospitals, and other medical providers. Sadly, this does not always happen. When a health professional deviates from the acceptable standard of care, and a patient dies or suffers serious injury as a consequence of that departure, the health professional can be held liable for their negligence. Medical malpractice is far more common than many people realize. A study cited by Johns Hopkins Medicine found that medical errors are the third leading cause of death in the United States.
At Bernheim Kelley Battista, LLC, our Fort Lauderdale medical malpractice lawyers are skilled, knowledgeable, and experienced advocates for patients and families. We know how to hold negligent medical professionals, negligent medical providers, and the insurance companies that handle these claims accountable. If you or your loved one was harmed by medical malpractice, we can help. To set up a free, no-obligation consultation with a top medical malpractice lawyer in Fort Lauderdale, please contact us at our Fort Lauderdale law office today.
What is Medical Malpractice?
The term medical malpractice essentially refers to medical negligence committed by a licensed health professional (a physician, anesthesiologist, nurse practitioner, etc.). To be clear, an adverse outcome after receiving medical treatment is not necessarily medical malpractice. Instead, Florida law defines medical malpractice as a patient suffering harm because they received substandard care by a licensed medical provider.
What is the Statute of Limitations for a Medical Malpractice Case in Florida?
It is imperative that you take proactive steps to protect your rights if you believe that you were harmed due to medical negligence. You have a limited amount of time to file a medical malpractice lawsuit in Florida. Under Florida Statutes § 95.11, a medical malpractice lawsuit in Florida generally needs to be filed within two years. When does the two-year clock start? It starts when the victim (injured patient) knew or should have known that they sustained harm due to medical malpractice. Any claim for medical malpractice in Florida must be filed within four years, regardless of the date that harm was discovered or should have been discovered.
What are the Consequences for Patients of Medical Malpractice?
When you get medical care, you have the right to expect proper professional treatment. The consequences of medical malpractice can be serious. Patients subject to negligence by a doctor or hospital could suffer severe physical and mental harm. Medical malpractice can lead to serious injuries, major medical complications, permanent disability or disfigurement, and even death.
An Overview of the Most Common Types of Medical Malpractice Claims in Fort Lauderdale
Medical malpractice can come in a wide range of different forms. Every medical negligence case should be thoroughly and independently investigated to determine exactly what happened and why it happened. Some of the most common examples of medical malpractice in Florida include the following:
Diagnostic Errors (Delayed Diagnosis, Misdiagnosis); A timely diagnosis is key. It can be the difference between life and death in certain circumstances, especially when it comes to cancer. Failure to properly diagnose an illness that could and should have been identified by a physician or health care professional may be medical malpractice.
Medication Mistakes: Modern medication is extremely powerful. A patient needs the right medication at the right dosage to make a safe recovery. Medication mistakes where a health care professional prescribes an incorrect medication or dosage could be medical malpractice.
Surgical Errors: Surgery is serious. Any operation must be performed with proper care, attention, planning, and professional skills. Surgical errors—from wrong-side surgery to retained objects to rough treatment—can constitute medical malpractice.
Anesthesiology Errors: Anesthesiologists are trained to ensure that patients receive a safe, effective amount of anesthesia when undergoing intensive care. A mistake by an anesthesiologist can cause severe harm to a patient.
Failure to Account for Patient History or Unique Needs: A physician or provider's failure to account for the unique needs of a patient could be medical malpractice. As an example, a patient's file may state that they have a severe allergy. A doctor who negligently fails to take that allergy into consideration could put the patient at risk.
Hospital Infections: Did you know that many serious infections come from hospitals? The Centers for Disease Control and Prevention (CDC) estimates that there are nearly 700,000 health care-associated infections (HAIs) reported nationwide each year. An infection may occur because of medical malpractice.
Birth Injuries: A birth injury may be sustained due to medical malpractice. Birth injury cases are complicated, and some specialized procedures apply. If you or your child was harmed during the birth process, an experienced Fort Lauderdale medical malpractice lawyer can help protect your rights.
To learn more, schedule a free consultation with us today.
How Does Medical Malpractice Happen?
Medical malpractice can happen for many different reasons. In the vast majority of circumstances, malpractice occurs because something went wrong in the planning or provision of care. A health professional or health provider fails to live up to its duties under the law. Any suspicions of medical malpractice should be vigorously followed up on and investigated. To bring a successful claim, you need to know exactly how medical malpractice happened.
How Do You Prove Medical Malpractice Under Florida Law?
As stated above, a poor outcome for a patient does not always mean medical malpractice. Quite the contrary, a doctor or other health care provider can do everything right, and a patient may still suffer adverse results. Medical malpractice occurs when a patient is harmed because their doctor or provider was negligent. Here are four key things that a plaintiff (patient or surviving family members) needs to prove under Florida law to establish liability in a medical malpractice case:
A Doctor-Patient Relationship: Medical malpractice requires a duty of care. You must first prove that a doctor-patient relationship was formed. For example, a doctor giving causal (but wrong) advice is unlikely to be deemed medical malpractice. A legal doctor-patient relationship must have been created.
Breach of the Duty of Care: The key part—and most challenging part—of any medical malpractice claim is proving that the professional or provider breached its duty of care. In effect, this means that you need to prove that they provide care that is worse than what you would have received from an ordinary professional/provider in the same circumstances.
Causation Between Breach and Adverse Outcome: A medical malpractice claim also requires proving causation. In effect, this means that you have to establish that the adverse outcome happened because of the breach of the duty of care.
Actual Harm By the Patient: Finally, medical malpractice liability requires proving tangible patient harm. A patient can only recover financial compensation through a medical malpractice claim in Florida to the extent that they were injured, made ill, or otherwise suffered complications because of negligence.
How Can You Recover Compensation for Medical Malpractice in Fort Lauderdale?
To recover compensation for medical malpractice in Florida, you need to bring a claim. As part of the claims process, you will be required to prove all of the elements of medical malpractice. Additionally, you will need to prove the extent of your damages. These are complicated cases. In Florida, you will generally need to consult with at least one (often more) expert witness to bring a successful medical malpractice claim. An attorney can help you navigate the claims process.
Who Can Be Held Liable for Your Damages in a Medical Malpractice Lawsuit?
Do you believe you have a case? You need to know which parties you can hold responsible for causing your injuries. A number of different parties can be held legally responsible for medical malpractice in Florida. It is not uncommon for there to be multiple overlapping failures—meaning two or more parties may be at fault. Let's take a closer look so you can get the information you need to know. Depending on the nature and circumstances of your claim, you may have a medical malpractice lawsuit against:
A doctor;
A nurse;
A medical specialist;
A hospital;
Any other licensed health care provider.
The overwhelming majority of medical malpractice claims are defended by large insurance companies. Insurers in medical malpractice claims are notoriously aggressive. They are interested in protecting their bottom line—not in doing what is right for you and your family. No matter who was responsible for the malpractice, an experienced Fort Lauderdale medical malpractice lawyer can help you take action to get justice and hold the negligent professional/provider accountable.
What Types of Damages Can You Recover in a Fort Lauderdale Medical Malpractice Claim?
If you were harmed by medical malpractice in Fort Lauderdale, you have the right to bring a claim to seek financial compensation to pay your bills, support yourself, and cover your damages. In Florida, medical malpractice damages are divided into a few key categories:
Economic Damages: The term 'economic damages' covers actual out-of-pocket losses, including medical bills, lost wages, and loss of earning power. There is no cap on economic damages in medical malpractice claims in Florida.
Non-Economic Damages: Non-economic damages are intangible damages, including pain and suffering, mental distress, scarring/disfigurement, and long-term disability. Under Florida law (Florida Statutes § 766.118), non-economic damages are capped at $500,000 per claimant in medical malpractice cases.
Punitive Damages: In a limited number of medical malpractice claims, punitive damages will be awarded to the victim to punish the especially egregious conduct of the doctor or health provider. In Florida, punitive damages for medical malpractice are capped at three times the award of $500,000, whichever number is greater.
How Can BK Law Firm Help in a Medical Malpractice Case in South Florida?
Medical malpractice claims are highly technical and notoriously complex. To get justice, you need strong legal representation. At Bernheim Kelley Battista, LLC, our Fort Lauderdale personal injury lawyers know how the system works. Our team is trained and experienced in handling the full range of medical malpractice cases. Our attorneys are well versed in the intricacies of "med mal" law and have the skill and knowledge to represent you effectively in this specialized area. We are always proactive and focused on justice. Among other things, our Fort Lauderdale medical malpractice lawyers are prepared to:
Listen to your story and explain your rights under medical malpractice law;
Investigate the incident, gathering and preparing all relevant evidence;
Connect you with the right medical experts for your case;
Handle legal paperwork and correspondence with insurers; and
Take action to help you and your family secure the best outcome.
At Bernheim Kelley Battista, LLC, our Fort Lauderdale medical malpractice lawyers are standing by, ready to help you fight for real justice and real results. If you or your family member sustained harm due to medical negligence, we are here as a resource. Give us a call now or send us a direct message to set up a free, strictly confidential consultation. With an office in Fort Lauderdale, we handle medical malpractice claims in Broward County, South Florida, and throughout the region.