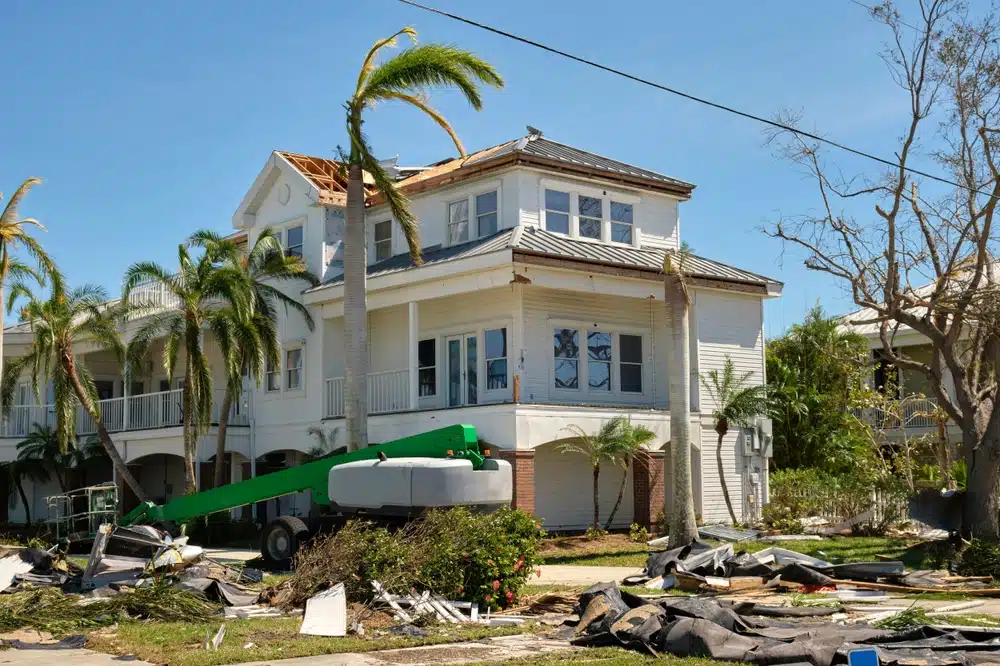 Our Florida Home Damage Attorneys Help Homeowners Secure Full and Fair Insurance Benefits
If you have homeowners' insurance and have experienced damage to your home or property, then you can file a claim with your policy provider to recover compensation for your losses and damages. However, many people may not realize that there is a complex, involved process required to get the money you actually deserve out of a claim. Insurance companies make a profit by paying out as little as possible on their claims in order to maximize profits on the premiums they collect, and in our experience, your home damage claim will be handled with this goal in mind.
At Bernheim Kelley Battista, LLC, our Fort Lauderdale home damage insurance attorneys are skilled, diligent, and experienced advocates for property owners. With deep knowledge of Florida law and the insurance claims process, we know how to hold the big homeowners' insurance carriers responsible for paying benefits. If you have any questions about the home damage claims process, our legal team is more than ready to help. To set up a free, fully confidential consultation with a Florida home damage insurance lawyer, please do not hesitate to contact our Fort Lauderdale office today. 
What are the Common Property Damage Claims?
Are you considering filing a home damage claim? You are certainly not alone. According to the Insurance Information Institute (III), approximately five percent of insured homes file a property damage claim each year. Some of the most common property damage claims in Florida include: 
Wind Damage (Storm Damage): The leading cause of homeowners' insurance claims is wind/hail/storm damage. According to the most recent data from Experian, wind and hail are responsible for nearly half of all property damage claims in the United States.  
Fire Damage: Fires are another common type of property damage. Fire damage has the potential to be catastrophic. A total loss is possible. If your home was damaged by a fire, contact our fire damage insurance lawyer for help. 
Water Damage: Water damage is another major cause of home insurance claims. Even a small leak can quickly cause significant water damage, including mold growth. If your home was damaged by a leak, pipe burst, or related matter, contact our water damage insurance lawyer for help. 
What is Covered Under a Homeowner's Policy?
Different policies have different coverages. To know what is covered by your policy, it is crucial that you obtain a copy and review the specific terms of the insurance. As our attorneys have recovered money for our clients, the policyholders, for damages in a wide range of cases, we have reviewed many insurance policies. Some of the most common things that are covered by homeowner's insurance policies include: 
Water leaks, including to underground pipe; 
Bathroom plumbing issues and kitchen plumbing issues; 
Mold growth; 
Hurricane/tropic storm damage (wind); 
Fire damage and smoke damage; 
Floor problems, including cracked tiles/buckled floors; and
Break-ins (theft and vandalism damage). 
If your home has been broken into, damaged, or if there is an accident on your property, your insurance policy may cover your losses in these instances. While these issues are commonly covered, we will need to look at your specific policy in order to determine exactly what is and is not covered by your insurance policy to be sure that you have financial protection for incidents that you are concerned about.
What Kind of Property Damage is Typically Not Covered By Insurance in Florida?
The simple reality is that not all property damage is covered by a typical homeowners' insurance policy. Once again, you will need to refer to the specific terms of your policy to know what is or is not covered in your case. That being said, home damage that is often not covered in Florida includes: 
Flood Damage: In Florida, a homeowner generally needs to obtain a specific policy for flood damage. It is not covered in general homeowners' policy. 
Earthquake Damage: While not the biggest threat in our region, earthquakes can happen. Most policies in the state often do not provide general coverage for earthquake damage.   
Inadequate Maintenance: Homeowners' insurance typically requires policyholders to take reasonable care. Damage caused by improper or inadequate maintenance may not be covered.
Know the Steps to Take if Your Property is Damaged
Was your home damaged in a storm, due to a fire, by water leaks, or for any other reason in Florida? It is crucial that you take proactive measures to protect your property, your rights, and your financial interests. Here are some key steps to take if your home is damaged in Fort Lauderdale: 
Protect it From Further Damage: Not only do homeowners generally have a duty to mitigate damages under their policy, you will want to protect your property. 
Document Your Losses: Carefully record what happened and document the full scope of your damages. 
Notify Your Insurer:  After you have experienced damage or losses to your home or commercial property that is covered under your policy, you will need to contact your provider in order to initiate a claim. 
Prepare for Investigation: Once the claim is initiated, an insurance adjuster will open an investigation that will go through all of the supporting evidence and information to determine what damages you incurred, what is covered under your policy, and ultimately how much money you are entitled to in a settlement. 
Be Ready to Negotiate: Once the agent makes a settlement offer, you will have the opportunity to start a negotiation to try and close the gap between their calculations and your own. 
Consult With an Attorney: The home damage process can be stressful and contentious and is best left to an experienced legal professional. You do not have to figure out everything alone. A Florida home insurance claims lawyer will help you overcome challenges.
To learn more, schedule a free consultation with us today.
When Do You Need to Hire a Home Property Damage Lawyer in Florida?
Be proactive; it is best to hire a property damage attorney at the first indication of trouble in the claims process. If your home sustained significant damage, you can benefit from an attorney. An attorney can also help you if you have been offered an unreasonable low amount for repairs or if your home damage claim has been denied. 
Does Homeowner Insurance Cover Hurricane and Tornado Damage?
Coverage always depends on the specific terms of your policy. That being said, homeowners' insurance typically covers wind damage in Florida, including hurricane damage and tornado damage. However, general homeowners' insurance often does not cover "flood" damage—meaning damage caused by a storm surge in a hurricane may not be covered without a specific flood policy. 
Preparing to File: What are the Steps to Settle an Insurance Claim?
Was your property damaged in Florida? A proactive approach to the homeowners' insurance claims process can put you in the best position to secure the compensation that you need to pay your bills. Here is an overview of four of the most important steps to file and settle an insurance claim: 
Get Organized (Document Damages, Review Policy): The first step to filing a claim is getting yourself organized. Protect your property, document your damages, and review your policy. Make sure you have comprehensive details about the loss. 
File a Claim: Consult with your insurance carrier to determine the specific things that you need to do to file for property insurance benefits. You can get your claims from your insurance company. They must prove that information.  
Evaluate Your Settlement: The insurance may offer you a settlement. You have the right to negotiate for additional financial support. Carefully evaluate your damages and the offer.  
Consult With a Lawyer: Whether you were offered a low settlement or your claim was denied, an experienced Florida attorney for home insurance claims can help you take the next steps.
Understanding the Time Frame for a Property Damage Claim
The time frame varies based on many factors, including the complexity of your damage. However, the https://www.myfloridacfo.com/ explains that state law requires a homeowners' insurance company to have 90 days from the date that you filed your claim to either accept it or deny it. If your claim is accepted, your benefits should be paid within an additional 20 days. 
What is a Bad Faith Insurance Claim in Florida?
Florida requires insurance companies to use good faith settlement practices. When they fail to do so, they can be held legally liable for additional damages (bad faith damages) under Florida Statutes § 624.155. Bad faith occurs when an insurance company uses unfair and unjust practices to try to make it more difficult for a policyholder to get their full and proper benefits.
How Do I Find Out Why My Property Insurance Claim is Denied?
In Florida, your homeowners' insurance company has a legal duty to send a written denial letter when rejecting your claim. The denial letter has to satisfy certain basic legal requirements, including but not limited to providing a reason why your claim was denied. Unfortunately, property insurance denial letters are often vague and filled with industry-specific language. Our home damage insurance lawyers can review your policy and your denial letter to determine why your benefits were denied. 
Do I Have the Right to Negotiate a Home Damage Insurance Claim in Florida?
Yes, you are not required to accept an initial settlement proposed from your insurance company. In fact, insurance companies often lead with relatively low settlement offers in home damage claims. You can negotiate for additional. That being said, you will need to be prepared to present a strong and compelling case that is supported by reliable evidence. An experienced Florida homeowners' insurance claims attorney can help you negotiate. 
How Much Does a Home Damage Attorney Cost?
You can always afford to hire a top Florida home damage claims attorney. To start, we offer a free consultation for homeowners who need to file a damage claim. This will give you an opportunity to discuss the situation, understand your rights, and evaluate your options. Filing a claim may seem like a fairly straightforward process, but few realize the amount of work that goes into getting a fair and comprehensive payment for the damages that are covered under the policy. When you have an experienced attorney managing your claim, you can be confident that they are taking all necessary steps to recover the money you need to repair and replace the damages in your home.
How Can BK Law Firm Help With a Home Damage Claim
Homeowners' insurance claims are complicated. Unfortunately, many people and families struggle to get the full and proper benefits that they need to pay for repairs. You cannot rely on an insurance company to look out for your best interests. At Bernheim Kelley Battista, LLC, we go above and beyond to help property owners maximize their recovery. When you contact our Fort Lauderdale office, you will have a chance to consult with a Florida home damage lawyer who can: 
Conduct a comprehensive, detail-focused evaluation of your home damage claim; 
Thoroughly review your homeowners' insurance policy; 
Investigate the damage, gathering the evidence and information; 
Handle insurance claims paperwork and represent you in settlement negotiations; and
Take legal action to help get justice and the maximum insurance benefits.
Schedule a Free Consultation With Our Florida Home Damage Claim Lawyer Today
At Bernheim Kelley Battista, LLC, our Florida homeowners' insurance claims attorneys are standing by, ready to help you get real justice and real results. If you need help filing an insurance claim or preparing an insurance appeal, we are here as a resource. Call us now or contact us online to set up your free, confidential, no obligation consultation. With law offices in Fort Lauderdale, Miami, Jacksonville, Starke, and Fort Myers, we handle home damage claims throughout Florida.