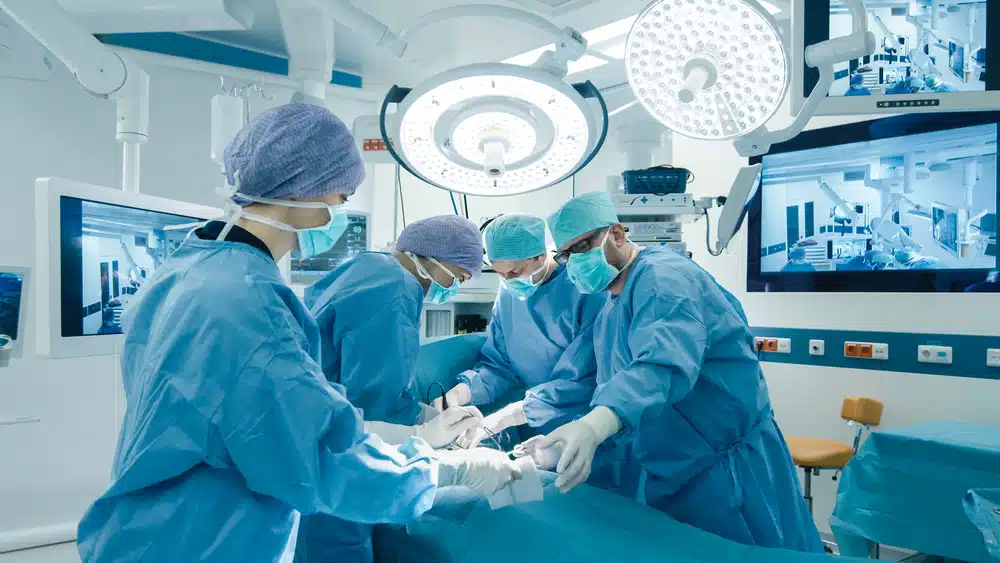 What You Need to Know About the Bard PowerPort Product Liability Lawsuit.
At Bernheim Kelley Battista, LLC, our defective medical device attorneys are actively investigating Bard PowerPort lawsuit claims. Bard PowerPorts are catheters that deliver medication and fluids directly to the bloodstream. Unfortunately, serious questions have been raised about the safety of these devices. If you or your loved one developed injuries or complications related to a defective Bard PowerPort catheter, it is imperative that you consult with an attorney. Contact our product liability attorneys today to learn more about the Bard PowerPort lawsuit. Initial consultations are free and fully confidential.
What Is the Bard PowerPort Device?
The Bard PowerPort functions as a vascular access device. In effect, this means that it is a type of catheter. It is surgically placed under the skin, forming a catheter port for streamlined medication delivery into a patient's bloodstream. The main components are as follows:
An Injection Port: Used for inserting the needle to administer medications.

Polyurethane Catheter Tube: Used to channel the drug into the blood vessel.
A distinct feature of the injection port is a raised area that facilitates quicker medication delivery. The medicine is then routed through a catheter situated in one of the main central veins, leading directly to the heart. Bard promotes PowerPort as a superior option for patients. However, unfortunately, very serious safety concerns have been raised about this medical device.
What Is Wrong with Bard PowerPort Devices?
While the Bard PowerPort is advertised as a more effective option for patients, some serious safety questions have come to light in recent years. Here is the key issue: Product liability lawsuits allege that the material used in Bard PowerPort catheter tubes is susceptible to splitting, cracking, and shattering. Notably, Bard PowerPort devices feature catheter tubing made from a pliable polyurethane polymer known as Chronoflex. There are high concentrations of barium sulfate in the material. The chemical compound has been identified as an agent that can weaken polyurethane's structural integrity. Here are some specific problems with the Bard PowerPort catheters:
The Bard PowerPort is susceptible to fracturing; and

The Bard PowerPort is susceptible to migration.
Bard PowerPort Defects: Fractures and Migration
The fracturing or migration of any medical device is a serious problem, and the Bard PowerPort catheter is certainly no exception. Here is the key thing to know about the risks:
What Is a Catheter Fracture and What Causes a Catheter Fracture? A catheter fracture refers to a break or failure in the structure of a catheter (or catheter port). Fractures can be partial or complete, and they can absolutely lead to complications, including things like embolization, where fragments travel through the bloodstream or malfunctions in the function of the catheter. Several factors contribute to catheter fractures. Repeated bending or stress at particular points of the catheter can cause material fatigue, leading to cracks or breaks. Poor quality or manufacturing defects can also lead to weakened areas in the catheter that are prone to failure.

What Is a Catheter Migration and What Causes a Catheter Migration? Catheter migration refers to the unintended movement or displacement of a catheter from its original, optimal position within the body. This can lead to serious complications such as reduced efficacy in delivering or withdrawing fluids, discomfort, or even injury to surrounding tissues. Several factors can contribute to catheter migration. Improper placement during insertion can cause the catheter to shift over time. Body movements, muscle contractions, or external pressure might also force the catheter to move from its intended location. The design of the catheter and the choice of anchoring techniques can play a significant role in maintaining its position; if these are not appropriately selected for the specific application, migration may occur.
Understanding Bard PowerPort Harms: Complications and Injuries
The fracturing and/or migration of the Bard PowerPort is a very serious issue that can result in severe or even life-threatening medical complications. Some of the specific injuries/complications that have been raised in Bard PowerPort product liability lawsuits include: 
Infections; 

Sepsis; 

Obstruction of blood flow; 

Organ damage; 

Blood clots; 

Cardiac arrhythmia; 

Pulmonary embolism; and

Tearing of blood vessels.
To learn more, schedule a free consultation with us today.
Who Is the Bard PowerPort Lawsuit Against?
The Bard PowerPort is a medical device that is manufactured and sold by a company called Bard Access Systems, Inc., a Utah-based corporation. Following a recent acquisition, Bard Access Systems, Inc. is a wholly owned subsidiary of Becton, Dickinson and Company (BD).
What Is the Bard PowerPort Lawsuit?
If you or your loved one was harmed by a defective Bard PowerPort, you may be wondering if you can
sue for personal injury
. You may be entitled to compensation through a claim. Product liability protects the safety of consumers, including patients that use medical devices. Manufacturers must ensure that their products are reasonably safe. The Bard PowerPort lawsuit alleges that fractures and migration of these catheters, which have caused severe harm to many people, happened because of inherent design flaws and/or inadequate manufacturing processes. Many people across the United States have filed product liability claims against the company alleging severe harm due to these product defects.
Who Is Eligible for a Settlement (Bard PowerPort)?
You may be entitled to receive a settlement through a Bard PowerPort lawsuit if you suffered physical harm due to a defective product. Claimants must prove the following key things:
They received the Bard PowerPort catheter;

The Bard PowerPort is a defective product; and

They suffered real harm because of that product defect.
As with other defective medical device claims, these are complex cases. You do not have to navigate the process alone. Consult with an experienced defective medical device lawyer.
The Latest Bard PowerPort Lawsuit Updates
There have been major developments in the Bard PowerPort lawsuits in recent months. Most notably, in July of 2023, a panel of federal judges was convened and heard oral arguments regarding whether or not multidistrict litigation (MDL) is appropriate for the Bard PowerPort claims.
Which Bard PowerPort Devices Are Affected?
These cases are still in their preliminary stages. There have been lawsuits filed alleging harm caused by several different specific models of the Bard PowerPort. If you have suffered medical complications due to catheter fracturing or catheter migration, you should consult with an experienced product liability attorney if you have any of the following devices:
PowerPort ClearVUE ISP Implantable Port
PowerPort ClearVUE Slim Implantable Port
PowerPort Implantable Port
PowerPort M.R.I. Implantable Port
PowerPort duo M.R.I. Implantable Port
PowerPort isp Implantable Port
Is the Bard PowerPort Lawsuit a Class Action?
No—or at least no class action lawsuit has been certified as of August 2023. Currently, claims for the Bard PowerPort are being pursued as individual cases. That being said, this issue is still in the relatively early stages of the legal process. Class action litigation in the Bard PowerPort case is still possible. Still, at the current time, each patient should consult with their own attorney.
The Average Bard PowerPort Settlement Amount?
It is still too early to say what the average settlement amount in these cases will be. Bard PowerPort lawsuits are still in their preliminary stages. As of August of 2023, there has been no public jury verdict for this type of case. That being said, it is important to note that victims who have sustained serious harm due to a defective medical device have the right to seek compensation for their economic and non-economic damages.
How to Gather Evidence for a Bard PowerPort Lawsuit
An experienced product liability attorney can review your case and help you take action to gather evidence to bring a Bard PowerPort lawsuit. Here are some key things to consider when building a claim for a defective Bard PowerPort:
Document Your Medical Records: Obtain copies of all medical records, including diagnosis, treatments, and how the device was used.

Be Ready to Consult with Medical Experts:Consult with a medical expert who specializes in a particular device or field. Their testimony can be invaluable.

Collect Photos and Videos: If possible, secure visual evidence that shows the defect in the medical device and any physical injuries caused, and how those complications impacted you.
How to Assess Damages in a Bard PowerPort Lawsuit
If you suffered medical complications as a consequence of a dangerous and defective Bard PowerPort catheter, you may be entitled to financial compensation. You likely have a lot of questions, such as
can you sue for pain and suffering
, or
what is the likely value of my case?
Assessing damages in a product liability lawsuit is a critical component that requires careful analysis and understanding of legal principles. The process generally involves the following steps:
Identify Actual (Economic) Damages: This includes medical expenses, lost wages, property damage, and any other out-of-pocket costs incurred due to the defective product.
Calculate Non-Economic Damages: Consider pain and suffering, emotional distress, and loss of enjoyment of life. These are often more subjective and may require expert testimony.
Consider Punitive Damages: In cases of extreme negligence or intentional misconduct, punitive damages might be awarded to punish the defendant and deter future wrongdoing.
How to File a Bard PowerPort Lawsuit
Filing a product liability lawsuit involves a number of different steps. To start, you should consult with an experienced attorney. Your lawyer can ensure that you meet the
statute of limitations for personal injury lawsuits
as well as all other legal requirements. Among other things, your attorney will help you identify all responsible parties, such as the manufacturer, distributor, or retailer. A strong claim is built on a foundation of reliable supporting evidence, including product records, medical records, and other information. If no settlement can be reached, your attorney will draft a formal legal complaint detailing the allegations and damages and file the complaint to the appropriate court.
Product liability cases are complicated—especially defective medical device claims. Bard PowerPort lawsuits are certainly no exception to the rule. You do not have to go up against a major corporation or its insurance company alone. At BK Law, we are committed to fighting for real justice and full compensation for victims and families. With a proven history of case results, we are always ready to go the extra mile to provide top-quality legal representation. At Bernheim Kelley Battista, LLC, our product liability attorneys have the skills and professional expertise to handle the full range of defective medical device claims, including Bard PowerPort lawsuits. If you or your family member developed any medical complications related to these catheters, we are here as a legal resource. Give us a call now or contact us online to set up a free, fully confidential initial consultation. We are standing by, ready to protect your rights.