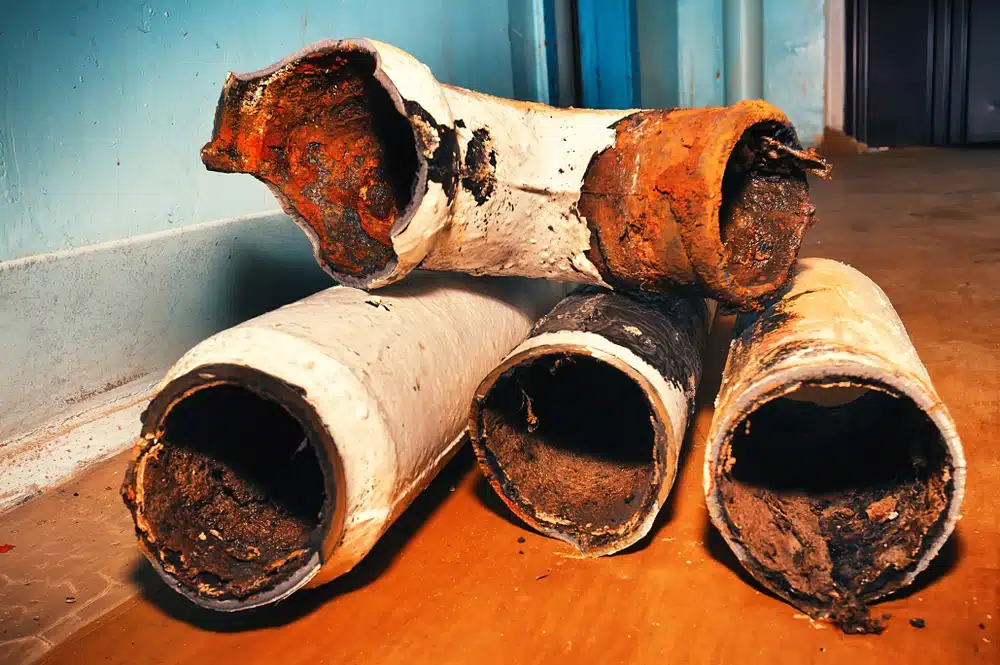 Our Florida Home Damage Insurance Lawyers Handle Cast Iron Pipe Damage Claims and Denials
Did you know that a significant percentage of older homes in Florida (pre-1975) have cast iron pipes? Indeed, estimates suggest that as many as two million homes in the state currently have cast iron pipes. Unfortunately, these pipes could actually be a serious problem for the long-term health of your plumbing system. Corrosion and failure are major concerns with cast iron pipes. You may need to file an insurance claim for damage related to cast iron pipes.
At Bernheim Kelley Battista, LLC, our cast iron claims lawyers are skilled, experienced, and result-driven advocates for clients. We know how to hold the big homeowner owners' insurance companies accountable. If your home sustained damage related to a cast iron pipe failure, we are more than ready to help. To set up a free, fully confidential consultation with a home damage lawyer and water damage lawyer in Florida, please do not hesitate to contact us today.
An Overview of the Problem With Cast Iron Pipes
As described by About Mechanics, a cast iron pipe is a "metal pipe made by melting pig iron along with substantial quantities of scrap iron and metal and casting it in a mold." Prior to 1975, cast iron was one of the most common materials used in plumbing systems in residential and commercial construction in Florida. Not only was cast iron a relatively inexpensive material, but there was a  myth that cast iron was highly durable and could last for up to 100 years.
Unfortunately, the reality has been far different. Cast iron is generally not used for pipes in Florida anymore—and has not been used for decades—because of its high propensity to corrode and even outright fail. Indeed, the cast iron that was commonly used in construction in Florida in pre-1975 homes has a major Achilles heel: it is at high risk for rusting and corrosion that can cause failure. A failed cast iron pipe can cause major water damage and even sewage backups.
How Do Cast Iron Pipes End Up Getting Damaged? (Causes of Cast Iron Pipe Damage)
How do cast iron pipes end up getting damaged? It can happen in a number of different ways. That being said, the core issue with cast iron pipes is generally corrosion. Pipes made from this material are at significant risk of corroding well before their supposed lifespan runs out. These failures can actually be divided into two broad categories:
External Corrosion: The external corrosion of a cast iron pipe can happen because of acidity or other toxic materials within the soil. Most often, external corrosion occurs with underground pipes. Though, external corrosion is somewhat uncommon.
Internal Corrosion: Internal corrosion is a far more common problem with cast iron pipes. Internal corrosion happens when the contents within the pipe—usually sewage and related gasses—gradually wear down the cast iron materials.
Is Corrosion of Cast Iron Pipes a Common Problem?
Yes. The unfortunate reality is that cast iron pipes did not live up to the initial promises. The material is simply not as durable as it was believed to be by manufacturers and construction companies. That is the core reason why cast iron is no longer used as a material for plumbing systems. Corrosion of cast iron pipes is a significant and common problem—especially so in a warm weather climate such as Florida.
Identifying the Most Common Signs of Cast Iron Pipe Failure
Knowing that you have cast iron pipes in your home—and that they are at an especially high risk of wearing down and failing—can be stressful. However, there are some warning signs of cast iron pipe failure that you can identify so that the issue can be addressed before it becomes an even bigger problem. Here are seven of the most common signs that your cast iron pipes are corroding:
Leaks: A leaky pipe is always a sign of a problem. With cast iron pipes, leaks may be worse than you initially recognize. They can also lead to more rapid corrosion.
Slow Draining and Strange Sounds: Are your pipes draining unusually slowly? Do they make strange gurgling sounds when the washing machine is running? Most often, that is a sign that something is wrong with a plumbing drain system. It could be corrosion or early pipe failure.
Clogs or Backups: Toilet clogs and toilet backups can also be a sign that there is a problem with cast iron pipes. Water backing up out of a dishwasher can also be a sign of a problem with the drain system. A backup must be addressed immediately.
Transient Foul Odors: Do you notice foul odors from time to time coming from your pipes? That can be (but is not always) a sign that there is something wrong with your cast iron pipes.
Increase of Roach Activity: Do you notice an increase in roach activity in your home. This could also be (but is not always) a sign of a failed pipe system.
Discoloration of Water: Discolored water is another potential warning sign of corroded cast iron pipes. It requires a follow-up.
Abnormal Lawn Growth or Pooling of Water: If you notice any abnormal lawn growth or any pooling of water in unusual places, that could indicate trouble with cast iron pipes.
Of course, there can be other signs that there are problems with your cast iron pipes as well. All suspicions of potential issues with your plumbing system should be immediately followed up on. The sooner you take action to address problems with corroded or otherwise damaged cast iron pipes, the better position you will be in to protect your home or business.
To learn more, schedule a free consultation with us today.
What is the Cost of Replacement of Cast Iron Pipe?
The cost to repair and replace a cast iron pipe can vary widely depending on the nature of the damage and the extent of the problems and the solutions. There may be additional costs associated with water damage or sewage damage to your home or business. Regardless, there is no doubt that a cast iron pipe failure has the potential to be expensive. For this reason, it is crucial that homeowners in Florida are prepared to file a property damage claim with their insurance company so that they can obtain the maximum available financial support to help with the repair or replacement of their cast iron pipes.
Does it Take a Long Time to Replace a Cast Iron Plumbing System?
Yes. People end up having to move out of their home so the work can be performed promptly. Often the tear out of the old pipes is required and it can be a time consuming and a labor intensive job. The time it will take a plumber or contractor to complete the repair or replacement work will depend on many different factors.
Will My Homeowners Insurance Policy Cover Cast Iron Pipes Damage?
What is covered (or not covered) by your homeowners' insurance policy will depend entirely on the cause/nature of the damage and the terms of your policy. Cast iron pipe corrosion (and related damages) may or may not be covered by your policy. While that is a somewhat unsatisfying answer, you should schedule a free, confidential initial consultation with an experienced Florida cast iron pipe damage claims attorney. A lawyer will be able to review the specifics of your case—including the terms and conditions of your homeowners' insurance policy—to determine what you need to do to secure the maximum benefits.
Why Would My Insurance Company Deny a Cast Iron Pipe Damage Claim?
Are you concerned that an insurance company may deny your cast iron pipe damage claim? It is useful to know the common reasons that the big homeowners' insurance companies use to deny residential property owners benefits in these cases. Here are some of the most common reasons why a cast iron pipe damage claim may be denied in Florida:
Ordinary Wear and Tear: Most insurance policies explicitly exclude coverage for ordinary wear and tear. Pipe damage deemed to be wear and tear may not be covered.
Failure to Conduct Proper Maintenance: Homeowners are usually responsible for maintaining their property as part of their coverage. Damage caused by poor maintenance may not be covered.   
Unaddressed Leaks: You need to address a leak immediately. If the insurer believes that you were aware of a leak for more than 14 days and allowed it to persist, it may deny a water damage claim for your failure to take action.  
Plumbing Problem Policy Exclusion: The terms of coverage always matter. Some homeowners' insurance policies do not cover plumbing system problems.
Know the Steps to Take if Your Homeowners' Insurer Denies Your Claim
Was your cast iron pipe property damage denied by your homeowners' insurance company? As frustrating as that can be, you are not out of options. You have the right to appeal a claim denial—but you need to be ready to be proactive. Here are three key steps to take if your cast iron pipe property damage claim was denied by the insurance company:
Review and preserve the denial letter—ensuring that you know the insurer's reasoning for denial as well as the deadline to appeal;
Gather and prepare all documents, records, and evidence related to the cause and extent of the cast iron pipe corrosion damage; and
Consult with an experienced Florida home damage claim attorney.
Do I Have a Cast Iron Pipe Damage Lawsuit?
You might. If your insurance company acted in bad faith or wrongfully denied your claim, you have the right to hold them legally liable for your damages—and potentially additional bad faith damages. The insurance company does not get to make the final decision on your benefits in a disputed case. An experienced Florida property damage attorney can help you take action.
Why Should a Person Hire BK Law for a Cast Iron Claims Case?
A corroded or otherwise failed cast iron pipe can cause serious damage to your home or business. Property insurance exists to help homeowners and businesses when they need financial support the most. Unfortunately, dealing with an insurance company can be challenging to work with. At Bernheim Kelley Battista, LLC, we are committed to helping our clients secure the full and proper benefits that they need to pay for repairs and cover property damage. Our team is proactive. Among other things, our Florida cast iron claims attorney is prepared to:
Review your case and answer your questions during a free initial consultation;
Investigate the property damage—gathering all evidence and information;
Handle the insurance claims paperwork and settlement discussions with insurers; and
Take action to ensure that you are able to secure the maximum property damage benefits.
At Bernheim Kelley Battista, LLC, our homeowners' insurance claims attorneys have the skills and experience to handle all types of cast iron pipe damage claims. If your cast iron pipe damage claim was denied, we can help. Give us a call now or 
connect with us online
 to set up a no-cost, no-commitment consultation. From our offices in Fort Lauderdale, Miami, Jacksonville, Fort Myers, and Starke, we handle cast iron pipe damage claims throughout the State of Florida.