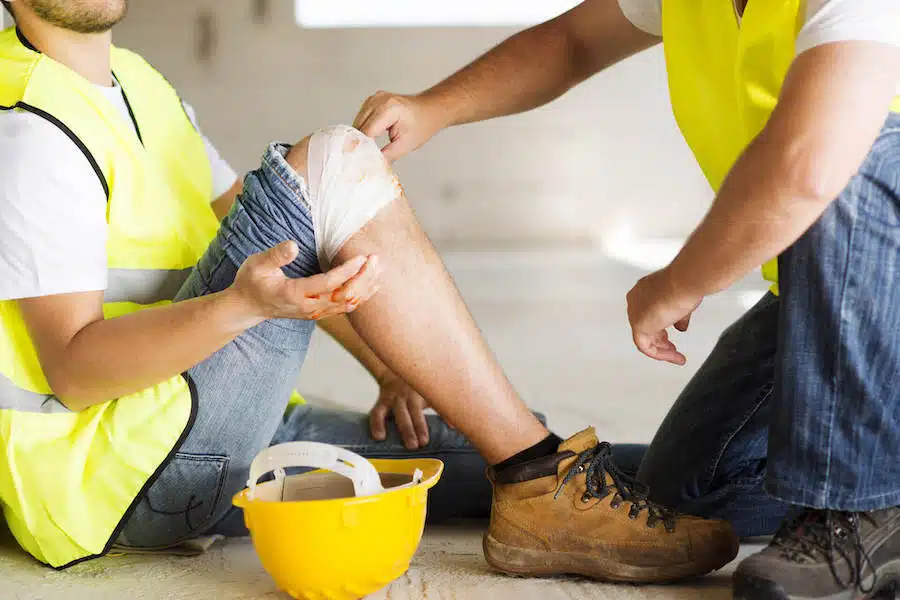 The aftermath of an accident is an incredibly difficult time. You're suffering through a lot of sleepless nights, replaying the accident in your head. We get it. It is a traumatic time.
Accidents can happen for any reason, but it's especially frustrating when they happen because someone was careless. If you were injured in an accident caused by another's negligence, you should be compensated for the injuries you've suffered.
Personal injury law can be complex, but luckily, you don't have to deal with it alone. Our Fort Lauderdale personal injury lawyers at Bernheim Kelley Battista, LLC, are here to help.
Give us a call to schedule a free consultation.
What Counts as a Personal Injury in Fort Lauderdale?
A personal injury is an injury that physically harms your body. While it can also include property damage, such as a car accident, there must be evidence of bodily harm for it to fall under the legal definition of a personal injury.
What Are the Different Types of Personal Injury Practice Areas?
Even a minor injury can lead to expensive medical bills and a lengthy recovery period. Here are some of the many practice areas we handle for our accident injury clients:
How Do I Prove Negligence?
Most personal injury cases involve the legal theory of negligence. Negligence means that the person who caused the injury didn't act in a way that a reasonably careful person would have acted in the same situation.
To win a negligence case in Florida, you must prove the following:
Duty: Defendant had a duty to act carefully
Breach: Defendant failed in the duty to act carefully
Causation: Your injuries were a direct result of defendant's breach
Damages: You were injured
In some personal injury cases, a finding of negligence, recklessness, or intent isn't required. This is called "strict liability," which means the fact the harm occurred is enough to assign liability. Florida recognizes strict liability in three main areas:
Dog bites
Abnormally dangerous activity
Defective products
Under Florida's strict liability law, defendants are liable for all the damages they caused, even if they weren't negligent.
What Damages Are Available in a Fort Lauderdale Personal Injury Case?
Damages in personal injury cases are divided into two main categories: economic damages and non-economic damages.
Economic damages are losses that are financially quantifiable. These could include:
Medical expenses
Rehabilitation
Medical equipment such as wheelchairs
Lost income
Future earnings
Household services
Home modifications to accommodate disability
In-home nursing
Non-economic damages are personal losses that can't be easily calculated in dollars and cents. They contribute to an often intangible, decreased quality of life. These could include damages such as:
Emotional distress
Pain and suffering
Mental anguish
Limb loss
Visible scarring
Loss of enjoyment of life
Disfigurement
Cognitive impairment
Loss of consortium/companionship
In some cases, injury victims can even recover damages for humiliation and shame.
To learn more, schedule a free consultation with us today.
Do I Have a Personal Injury Case?
In general, if you were injured due to someone else's negligence or a strict liability case as noted above, then you may have a personal injury case.
However, it's difficult for us to say for certain until we've met with you to understand the accident and your resulting injury. Once we've had a chance to go over the case with you and assess the facts, we'll be able to give you our professional opinion regarding the strength of your case.
Types of Personal Injury Cases in Fort Lauderdale
There's a wide spectrum of personal injury cases and many ways to be injured by another's negligence. The types of cases we see in our practice are:
Car accidents
Bicycle accidents
Pedestrian accidents
Truck accidents
Workplace accidents
Brain injuries
Motorcycle accidents
Slips and falls
Medical malpractice
No matter what type of personal injury you've suffered, our Fort Lauderdale personal injury lawyers at BK Law are ready to advocate on your behalf. Don't hesitate to give us a call to discuss your case.
How Long Do I Have to Build a Personal Injury Case?
In most Florida personal injury cases, you have four years from the date of your injury to file a lawsuit. In the event of a wrongful death, that time is shortened to two years.
This time limit is called the statute of limitations. It exists to ensure evidence is preserved and available, witness recollections are fresh, and to alert defendant's when they may defend a claim.
If you suffered a personal injury, it's imperative to retain a personal injury attorney as soon as possible. It takes time to build a strong, solid case. Getting an early start can mean the difference between a positive or negative outcome in your case.
What Should I Do after a Car Accident in Fort Lauderdale?
There are a number of things you should (and should not) do after a car accident in Fort Lauderdale.
Check on anyone who may be injured.
Call 911.
Be careful speaking to the police or others at the scene. This isn't the time to apologize, even if you think you're the one at fault.
Do not refuse medical treatment. This can come back to haunt you, especially if pain or injury surfaces the next day.
If you can handle it, take pictures/video at the scene.
Get contact information for any eyewitnesses.
Call a Florida personal injury attorney as soon as possible. Even if you think the accident is minor, a free consultation with a qualified lawyer will help protect your rights from the start.
Watch what you post on social media…and not just about the accident. If you're claiming serious, life-changing injuries and are seen out at a bar having a great time, you can be sure the insurance companies' investigators will find your post.
The same rule applies to verbal or text discussions about the incident and your injuries. Limit your conversations to your medical treatment providers, your closest family members, and your attorney.
Florida's Pure Comparative Negligence Law
Florida uses the theory of pure comparative negligence to calculate damages in a personal injury case. Simply put, if you contributed to the accident that caused your injuries, your total award will be reduced by your percentage of fault.
This means that if your total award is $100,000 but you're found to have been 25% to blame for the accident, your award will be reduced by 25% and you'll walk away with only 75% ($75,000).  This formula stands even if your percentage of fault is greater than the defendant's.
How Do I Get the Compensation I Deserve?
Injured victims get compensated for their injuries through a personal injury lawsuit. As one of the leading personal injury law firms in Florida, the Fort Lauderdale personal injury lawyers at BK Law have the skills and experience to fight for the compensation you deserve.
Being detailed in telling us exactly what happened and keeping track of expenses and medical records help us determine all parties involved and the full extent of your damages. We're careful to leave no stone unturned in considering sources of compensation.
How Much Money Can I Get If I Have a Personal Injury Case?
The compensation available in a personal injury case depends on the specific circumstances of your case. When we review your case, we may give you an estimated range. However, its important to understand that settlement or verdict amounts are unpredictable, amount may end up higher or lower than expected.
Factors That Impact Your Personal Injury Settlement
The amount of money you may get depends on various factors, including:
Type of accident (e.g., medical malpractice, a two-vehicle accident, or a slip and fall at a business).
Severity of your injuries
Extent of financial loss
Whether your injuries will heal or become a long-term disability
Your percentage of fault
Insurance policies of the parties involved
Whether your case goes to trial
Your settlement could vary greatly in dollar amount. It's best to manage your expectations until you've had a chance to review your case with a personal injury attorney experienced with cases similar to yours.
Why Should I Hire a Fort Lauderdale Personal Injury Lawyer?
National surveys have shown that a personal injury lawyer is a major asset in your fight for compensation. Not only do your chances of settling increase significantly by 40%, the amount of your settlement increases as well. In some cases, the settlement amount increases three-fold (and that's after attorney fees are deducted).
The truth is, without an attorney, the insurance companies will try to take advantage of you. They'll pressure you into signing a lowball offer, leaving you out of luck (and stuck with a huge bill) if your injuries are worse than originally thought.
Hiring our Fort Lauderdale personal injury team will allow you to focus on your recovery while we play hardball with the insurance companies. If necessary, we'll take your case to court and fight to get you as much compensation as possible.
How Much Does a Personal Injury Lawyer Cost in Fort Lauderdale?
Attorneys base their fees on the difficulty of the case, their level of experience, the amount of time involved, and their operational costs.
However, at BK Law, like all personal injury lawyers, we operate on a contingency fee basis. Essentially, you don't pay attorney fees unless we're able to secure a financial award on your behalf. If you don't win, we don't get paid.
A contingency fee agreement means you agree that your lawyer can bill you for approved, itemized expenses (e.g., copies) and take an agreed-upon percentage of the damages after you recover.
The Florida Bar Association provides guidelines for attorney fees as follows:
Defendants have 20 days to answer your complaint. If your case settles before the defendant answers your complaint:
There's a 33 1/3% attorney fee cap on a settlement of up to $1 million
If your settlement exceeds $1 million, the cap is incrementally reduced by 10%
If you settle or win after the defendant answers your complaint:
Attorneys may receive 40% of the contingent fee up to $1 million
If the amount is over $1 million, the percentage is reduced in increments as per the Florida Supreme Court.
Why Choose Bernheim Kelley Battista , LLC?
At Bernheim Kelley Battista, LLC, we know personal injury law inside and out, and we've rightfully earned a reputation for being tough to beat. Don't gamble with your future. You need a personal injury law firm with the depth of experience to ensure a fair fight.
Here are just a few reasons we're the right firm for you:
Award-winning lawyers
Multi-million dollar settlements and verdicts
Specialization in personal injury law
Five-star client testimonials
We offer a free consultation and operate on a contingency fee basis, which means you owe us nothing unless we win. Call our law offices today. What do you have to lose?
Tired of dealing with your injuries and financial worries alone? BK Law is ready to help you get the money you deserve so you can protect your future. We care about our clients, and we're committed to doing everything we can to achieve justice and the compensation they deserve.
Call us today to speak with one of our experienced and skilled attorneys at no charge. Remember, we don't get a dime until you do.