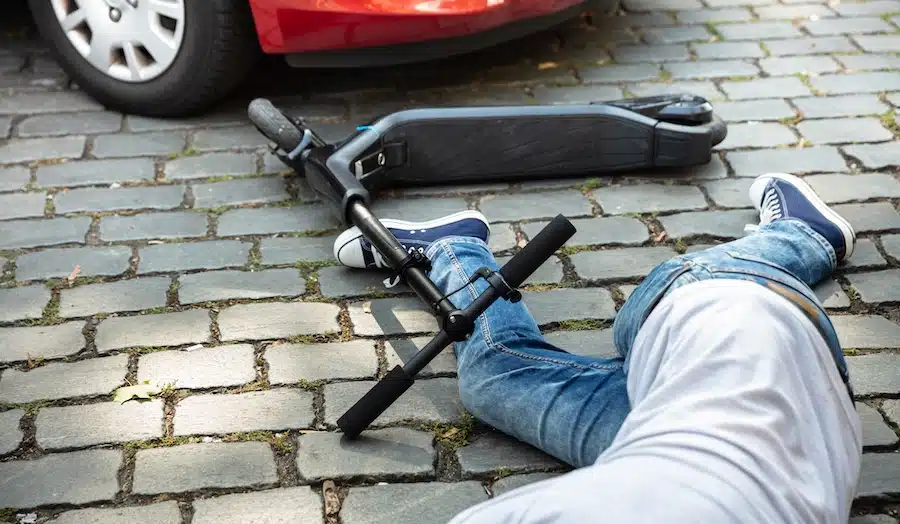 Injured in an Electric Scooter Accident in South Florida? Contact Our Fort Lauderdale Scooter Accident Lawyer for Help
Motorized scooters don't go as fast as motorcycles, but they typically must obey the same traffic laws. While e-scooters have surged in popularity across South Florida, some serious questions have been raised about their safety. The United States Consumer Product Safety Commission (CPSC) reports that electric scooter accident rates have been up as much as 70% in the last four years.
At Bernheim Kelley Battista, LLC, our Fort Lauderdale scooter accident lawyers are experienced, reliable advocates for victims and their families. If you or your loved one was injured in an e-scooter accident, we can help. To set up a free, no-obligation initial consultation with an electric scooter accident attorney in Florida, please contact us at our Fort Lauderdale law office today.
How Common are Electric Scooter Accidents in Fort Lauderdale?
Unfortunately, electric scooter accidents have become a serious public safety problem. Due to the rapid increase in the popularity of electric scooters in cities across America, along with their low cost, the number of electric scooter accidents and injured riders has increased significantly. Further, the number of injury claims seen by scooter accident attorneys has also increased. The best estimate from the CSPC finds that 19 e-scooter riders are injured per every 100,000 trips. With how many e-scooter are being taken each year in Fort Lauderdale, that means there are a significant number of injuries in our region.
Traumatic brain injuries (TBIs) are a serious concern. In a study published in the American Journal of Otolaryngology, safety researchers evaluated records from the Consumer Product Safety Commission's National Electronic Injury Surveillance System. Over a 10-year period, they estimated as many as 30,000 scooter accident injuries nationwide. Notably, the electric scooter accident injuries reported at the observed emergency medical department tripled over the decade.
How Much is My Electric Scooter Accident Case Worth?
If you were injured in an electric scooter accident, you have the right to seek financial compensation for the full extent of your damages. How much is your e-scooter accident case worth? The answer depends on many different factors, including:
Your ability to prove fault;
The severity of your injuries;
The extent of your damages (economic and non-economic); and
Insurance coverage of the parties.
You cannot rely on any insurance company—even your own insurer—to tell you the fair value of a personal injury claim. Your electric scooter crash case should be carefully reviewed by an experienced Fort Lauderdale e-scooter accident injury lawyer.
What Types of Damages Can Be Recovered By Scooter Accident Victims in Florida?
In Florida, injured victims have the right to pursue compensation for the full extent of both their economic and their non-economic damages. Indeed, your settlement or verdict for an e-scooter accident should account for all of your damages. More specifically, you may be entitled to recover financial compensation for the following:
Economic Damages: The term 'economic damages' refers to actual out-of-pocket expenses incurred by the injured victim due to their accident. Common examples of economic damages that can be recovered in e-scooter accident claims include property damage (scooter repair/replacement), emergency room care, medical bills, physical therapy, lost wages, and diminished earning power.
Non-Economic Damages: 'Non-economic damages' are intangible losses. While no direct dollar figure can be easily attached to these damages, they are no less real. You have a right to seek compensation for non-economic damages after a scooter accident. Recovery may be available for pain and suffering, mental distress, loss of lifestyle enjoyment, scarring or disfigurement, and long-term disability or physical impairment.
What are the Most Common Causes of E-Scooter Accidents in Fort Lauderdale?
Electric scooter accidents happen due to a wide variety of factors in Fort Lauderdale. Each crash should be comprehensively investigated to determine exactly what went wrong. That being said, these cases tend to share a common characteristic: Most electric scooter accidents could have been prevented with proper care. Broadly speaking, the causes of e-scooter accidents fit into one of the following three categories:
Driver Negligence: Many serious electric scooter accidents are caused by careless or reckless drivers. Some of the most common examples of driver negligence include speeding, running red lights, running stop stops, unsafe merges, following an e-scooter too closely, distracted driving, and intoxicated driving.
Problems With the Scooter: Some e-scooter accidents happen because of problems with the scooter itself. These are manufacturer defect cases. A scooter manufacturer and scooter rental company could be liable for injuries caused by a dangerous and defective scooter.
Operator Error: Finally, some e-scooter accidents are caused by operator error. An e-scooter operator has an obligation to protect their own health and safety. Inexperienced operators, distractions, and other unsafe operations can contribute to e-scooter accidents.
To learn more, schedule a free consultation with us today.
What Types of Injuries are Most Common in Electric Scooter Accidents?
A wide range of different types of injuries can occur in e-scooter accidents. Head injuries are perhaps the most common type of physical harm. According to a study cited by Rutgers University, head injuries and facial injuries are increasing rapidly in scooter accidents. Many other types of injuries are reported in e-scooter accidents as well. Common e-scooter injuries in Florida include:
Cuts/lacerations;
Road rash;
Whiplash;
Torn ligaments;
Muscle strains;
Broken bones;
Back injuries;
Facial injuries;
Traumatic brain injuries (TBIs);
Amputations; and
Spinal cord damage.
All scooter accident injuries require immediate medical care from a qualified physician. Seeking medical care for a scooter accident injury is critical to protect your own health, safety, and well-being. Without the right services, you will not be in the best position to recover from your injury. In addition, you need medical records to be eligible to bring a personal injury claim in Florida.
What Do I Need to Prove Liability After an E-Scooter Crash in Fort Lauderdale?
What you need to demonstrate to prove liability after an e-scooter accident depends on the specific circumstances of the case. Here it is useful to understand that scooter accident claims generally fit into two categories:
Negligence Claims: In a negligence claim, you must prove that the defendant's failure to take due care contributed to your accident. As an example, you may bring a negligence claim against a distracted driver who hit you while you were on an e-scooter.
Product Liability Claims: Some scooter accident claims are product liability claims. In these cases, a manufacturer can be held strictly liable if a scooter is defective. To prove liability, you must establish that the scooter was dangerous and defective when you were using it.
Can I Recover Damages if I am Partially to Blame for a Scooter Accident?
Yes. Florida is a pure comparative negligence jurisdiction. Each party to an accident—including an e-scooter accident—will be held liable for their proportionate share of the fault. A key implication of this is that an injured victim can still recover compensation even if they are deemed to be partially at fault for their own accident. However, it is important to emphasize that your financial recovery will be reduced by your assigned fault. For example, if you are blamed for 40% of your own e-scooter accident, you can be held liable for 40% of your own damages. Protect yourself from an unfair apportionment of blame. Consult with a Fort Lauderdale scooter accident attorney.
How Long Do I Have to File an E-Scooter Accident Injury Claim in Florida?
As a general rule, you have four years from the date of an electric scooter accident to file a personal injury lawsuit. Under Florida Statutes § 95.11(3)(a), the statute of limitations for negligence claims is four years. The statute of limitations for product liability claims is also four years. If you wait too long to take legal action, then your claim could be dismissed without ever getting a hearing on the merits. While four years seems like a long time, you should never wait to get started with the claims process. You do not want to fall behind the defense or an insurance company. Contact a scooter accident lawyer in Fort Lauderdale as soon as possible after sustaining an injury.
Four Tips to Help Prevent Electric Scooter Accidents in Fort Lauderdale
While you cannot completely eliminate the risk of an e-scooter accident, there are proactive steps that you can take that will dramatically reduce your risk of a serious injury. Here are four tips to keep in mind when operating an e-scooter in Fort Lauderdale:
Keep Your Full Focus on the Road: Avoid distractions. Many e-scooter accidents occur because riders fail to keep their full focus on the task at hand. Distracted driving is dangerous driving—the operation of an e-scooter is no exception.
Never Assume the Drivers Will Do the Right Thing: Motorists in Florida have a duty to look out for the safety and well-being of other road users, including pedestrians, cyclists, and e-scooters. Sadly, they too often fail to do so. Take extra care to protect yourself around vehicles. Do not assume that drivers will do the right thing.
Wear a Helmet When on an E-Scooter: As noted previously, brain injuries and facial injuries are among the most common traumas sustained in electric scooter accidents. Wearing a helmet prevents brain damage, protects your face, and can even save your life. You should wear a proper-fitting safety helmet every time you use a motorized scooter.  
Avoid Using an E-Scooter While Intoxicated: Do not operate an electric scooter while intoxicated. Doing so is extremely dangerous. Additionally, it is illegal. In Florida, a person can be arrested and charged with a DUI for impaired operation of any type of motorized vehicle, including an electric scooter.
How Can BK Law Firm Help in a Scooter Accident Injury Case in South Florida?
Motorized scooter accident injury claims are complicated. You do not have to navigate the legal process alone. At Bernheim Kelley Battista, LLC, we are committed to getting real justice for our clients. When you contact us at our Fort Lauderdale office, you will have an opportunity to consult with a Florida electric scooter accident lawyer who can:
Conduct a free, comprehensive review of your case;
Answer your questions about the personal injury claims process;
Investigate the e-scooter accident, gathering information;
Handle legal paperwork and represent you in insurance claims; and
Develop a personalized strategy to get you the best outcome in your scooter accident case.
If you or a loved one has sustained an injury due to a scooter accident, allow us to determine if a product liability or other issue played a role in your accident. Contact our team today for more information. Our personal injury lawyer in Fort Lauderdale is standing by, ready to help you determine the best path to justice and full financial compensation.
At Bernheim Kelley Battista, LLC, our Fort Lauderdale car accident lawyers are justice-driven advocates for injured victims. If you or your loved one was hurt in an e-scooter crash, we are here to help you navigate the legal process. Call us now or contact us online for a free, no-obligation review of your case. With a law office in Fort Lauderdale, we handle electric scooter accident injury claims in Broward County and throughout Florida.