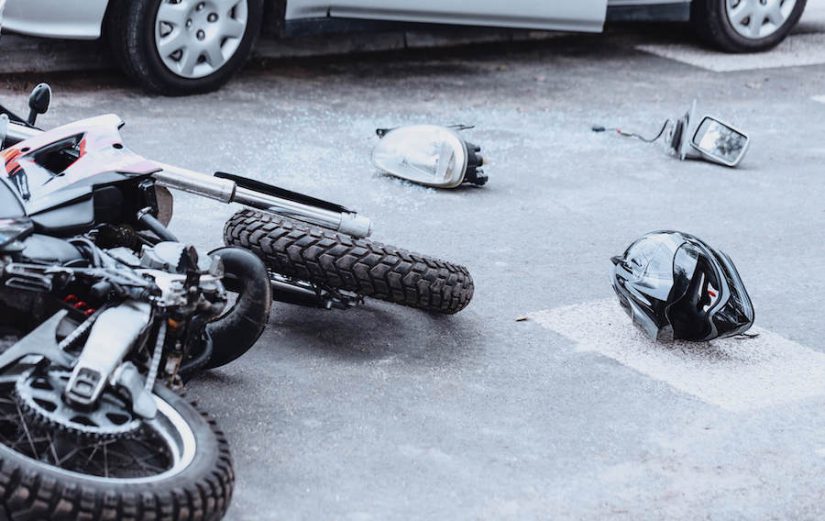 Riding a motorcycle is a lot of fun. But it's a risky activity in terms of the injuries that a rider may sustain—even in a low-speed motorcycle accident.
There is little to no protection for a rider other than helmets, riding gloves, leather jackets, pants and boots. In Florida, there is no requirement for an adult over the age of 21 to wear a helmet. That may make you feel more "free" out on the open road, but it has been shown to result in a notable increase in the mortality rate for accidents since the helmet law was repealed in 2000. 
In addition to the fact that there is little protection for the rider, there is the other issue that motorcycles are much smaller than the other vehicles on the road. It can be easier for drivers to lose a motorcycle in their blind spot and make a dangerous maneuver that can cause a collision. The combination of less visibility and less protection plays a significant role in the fact that motorcycle riders are 28 times more likely to die in an accident than someone riding in a passenger vehicle. 
If You Need The Best Motorcycle Accident Lawyer in Fort Lauderdale, Look No Further
BK Law offers a free initial consultation to victims who have suffered personal injuries in motorcycle accidents. During our call, we will be able to discuss your situation in greater detail and give you an understanding of your motorcycle accident claim so that you understand how you can best move forward with your case.
Working with a motorcycle accident attorney is one of the best ways for you to build a strong case and work towards either an out-of-court settlement or build a comprehensive argument to bring to the Florida courts if you are unable to reach an agreement with the defendant or their insurance company. 
The motorcycle accident attorneys at BK Law have a history of successes representing a range of cases in Fort Lauderdale and across Broward County. We will be happy to provide you with insight into our experience and ideas on your own situation during our consultation.
We understand that the days and weeks following a personal injury can be overwhelming, and without understanding your legal options it is understandable that your anxiety may get the best of you if you are not working with an experienced professional, which is why this consultation is so important for your peace of mind.
To get a better idea of what you can expect, contact us as soon as possible. Read more below about motorcycle accidents and the importance of partnering with Fort Lauderdale motorcycle accident attorneys to get the compensation you deserve.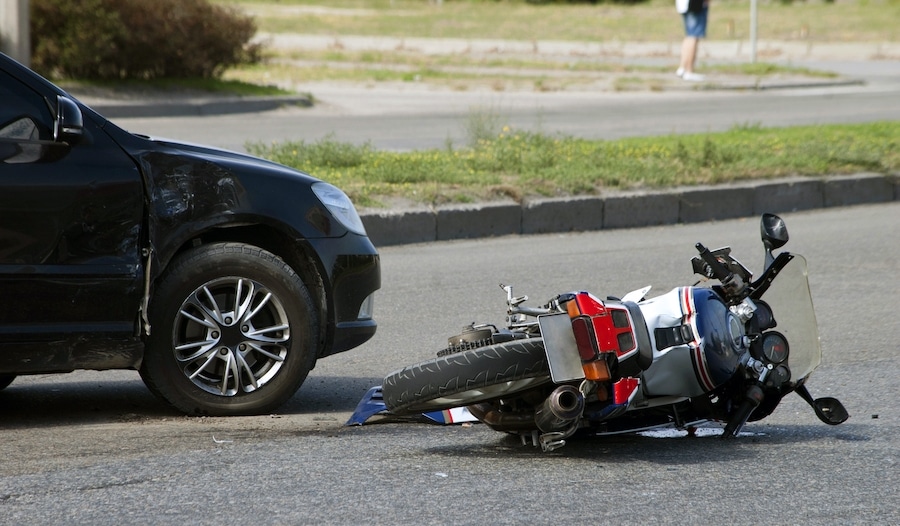 What To Do After a Motorcycle Accident in Fort Lauderdale
Getting into any type of accident can be a terrifying, painful, and dangerous experience for everyone involved. However, this is especially true for a motorcycle rider, who simply does not have the type of protection that a motor vehicle provides the driver and passenger, such as airbags, seatbelts, and a metal frame surrounding them that is designed to absorb and displace the impact.
Instead, a motorcycle rider has the clothes that they are wearing, and hopefully a helmet — although Florida law does not require anyone over the age of 21 to wear a helmet while driving or riding a motorcycle. This means that getting into a motorcycle accident, Broward or beyond, can be significantly more dangerous than being in an accident in a passenger vehicle.
Take a Moment and Check Your Injuries
In terms of being hurt in a motorcycle accident, Broward today is no safer than the Broward of years past – and in fact, could be more dangerous for riders since Florida repealed its comprehensive helmet law in 2000. Whether or not you choose to wear a helmet, it is important that you wear protective gear such as riding gloves and boots, pants, and a leather or kevlar jacket to protect from road rash, whiplash, spinal injuries, and more. The reality is that no matter how slow you are going during your crash, you are probably going to experience some injuries due to being thrown from the motorcycle and hitting the pavement.
After any accident, your brain and body will be flooded with adrenaline that is highly effective for masking pain, so it can be an easy reaction to simply jump up after a crash and try to "walk it off." Getting up off the ground in a hurry can have a few significant impacts: you may cause more damage by exacerbating the injuries, and you may complicate your legal process if you make any statements or indications that your injuries are less severe than they actually are. Stay down, and make sure that you do a full check of your body to identify any and all injuries.
Call 911, or Make Sure Someone Else Calls
While you are scanning your body for injuries, someone needs to call 911. It is common for the driver who caused an accident to try to downplay the situation and convince the victim to not call 911, and while you are overwhelmed with adrenaline and panic it can be easy to second guess yourself.
Remember: when in doubt, call 911. If you are hurt, it should not be up to you to decide how to handle the accident scene, determine how the crash was caused, and assess your own injuries. There are professionals who will be dispatched to the accident to take these actions for you.
If you do not call 911, there are a few significant details that will be missing from your upcoming insurance claim: an accident report from the responding police officer, initial documentation about your injuries from the EMTs, and concrete information provided by you and the other driver to a third party. Without an accident report, the other driver can "forget" key information, or may outright deny facts about the collision that paint them in a negative light. If that ends up being the case in your own claim, all of a sudden it is your word against theirs while you are trying to recover from serious injuries, which can cause a significant amount of unnecessary stress, and may ultimately lead to you getting far less money than you deserve.
Get Medical Attention
Whether or not you take an ambulance to the emergency room, you must absolutely be certain that a medical professional examines your injuries as soon as possible, in addition to the EMTs who were able to provide you with emergency care at the scene. There are multiple benefits to getting follow up care from your doctor if you are able to leave the scene of the accident under your own power: most importantly, your injuries will be addressed so that you can make a full recovery, but secondly, you are generating paperwork and documentation that proves the injuries you suffered from your motorcycle accident.
During a personal injury claims process, for motorcycle accidents and all other accidents, the insurance company will need to see proof of any injury that you claim. If you experience whiplash but you have no medical bills or records proving this injury, there is no reason for the insurance company to voluntarily pay for these damages or the pain and suffering they caused, and there are no laws in Florida that say otherwise. See a doctor, both for your own injury recovery, and to support your upcoming personal injury claim after a motorcycle accident.
Hire an Attorney
Many people file claims with Florida insurance companies after motorcycle accidents without first hiring an attorney, for a range of reasons. Some people think that they are not able to afford an attorney, which is why the team at BK Law works on a contingency fee basis – meaning that you will pay no money out of pocket, and if we do not win, then you pay nothing at all. Beyond concerns about payment, people believe that the initial claims process is simple enough that they can file on their own, and only realize once it is too late that the entire process is meant to find any and all possibilities to poke holes in their claim and settle the injury claim for less than the motorcycle accident victim deserves.
If you have been injured in a motorcycle accident in Fort Lauderdale, yesterday was the best day to hire an attorney, and today is the next best time. Our Broward County lawyers will be able to file your claim with a Florida insurance company on your behalf and will handle any and all communications with the insurance company while you use this valuable space to focus on your recovery and your personal needs. Insurance companies like to use the claims process to find any possible "gotcha" statements made by the victim, including accidentally saying something that implies that you may have been even partially at fault. Since Florida uses a rule known as "pure comparative fault" for motorcycle accidents and all other accidents, they can use these statements to pin blame on you in order to reduce their own financial obligation. 
Calculating Damages After a Motorcycle Accident
Besides the question of fault, the most important question following a motorcycle accident is that of damages: how much are you entitled to, and how much is the insurance company willing to pay? Oftentimes, there is a frustrating gap between these two figures that your attorneys will need to fight to close through a series of aggressive negotiations. When facing this task alone, a victim will quickly find that the decades that the insurance company has spent honing their ability to reject counter offers have created a process that is both overwhelming and stressful.
Florida allows for a victim to seek compensatory damages on their own, and in certain cases where the defendant acted particularly recklessly or negligently, the courts may award additional punitive damage meant to punish the plaintiff. However, your attorney will not include punitive damages in their calculations, since they will not be able to seek them. Compensatory damages are divided into economic damages and non-economic damages, each of which is equally important, but notably different. Economic damages seek compensation for financially measurable issues like lost wages and medical costs, while non-economic damages attempt to place a dollar value on things like pain and suffering and other emotional impacts of such a painful and traumatic experience. 
Common Injuries Sustained by Motorcycle Accident Victims
The following are just a few of the most common injuries from a motorcycle crash, but whether or not your injuries are listed below, simply contact us today to speak with a motorcycle accident lawyer about how to get the compensation you deserve. 
Spinal Cord Injuries
The spinal cord is a sensitive bundle of nerves that runs from the brainstem to the lower back and is responsible for all of the signals and directions sent from the brain to the lower body. A break or disruption to this nerve bundle can lead to loss of sensation or motor control or total paralysis below the injury. Spinal cord injuries lead to extensive medical expenses and ongoing care for a victim, all of which result in major life changes that must be fairly compensated.
Whiplash
Whiplash is a soft-tissue injury in the neck that happens when the head is snapped forward, down, and back in a rapid motion. It can happen when a rider is thrown from their bike during a motorcycle accident. Sometimes, whiplash does not show itself for a few hours or days, meaning that a victim may believe that they are okay at the accident scene, only to discover after the fact that they are in serious pain. Make sure that you do not make any statements at the scene of the accident about not suffering injuries because your motorcycle accident lawyer will then need to work against these statements as they seek compensation for your medical expenses, pain and suffering, and more.
Traumatic Brain Injuries
Traumatic brain injuries, or TBIs, are alarmingly common in motorcycle accidents but can be mitigated by wearing a helmet. Riders in Fort Lauderdale don't have to wear a helmet, but accident statistics show that helmets are central to reducing fatal motorcycle accidents across the country. TBIs include concussions, brain contusions, and any other type of injury that the brain suffers due to trauma or impact. These injuries may even include penetration wounds.
Fractures
Fractured or broken bones are extremely painful and require immediate medical care to facilitate recovery. The pain and suffering that you endure as a result of a fractured bone, as well as the medical bills of treating the fracture, must be compensated. Your motorcycle accident lawyer will fight to ensure that this is the case as they work with the insurance company to get you the money you deserve.
Frequently Asked Questions About Fort Lauderdale Motorcycle Accidents
After being injured in a motorcycle accident, victims have many questions about their legal options. The following questions and answers are some of the most common but keep in mind that these are not meant to be taken as legal advice. Every Florida motorcycle accident is unique, and we will need to discuss your situation in detail before providing you with advice on how best to move forward. 
Do I need to hire an attorney after a motorcycle accident?
You are not obligated to hire an attorney after an accident, but when you have a lawyer working on your behalf, you can focus on your recovery without having to take on the stress of a complicated legal process. Additionally, attorneys understand the law and have years of experience representing similar cases to your own. 
How much is my claim worth?
Your attorney will need to take a close look at your situation to determine how much they believe you are owed. Unfortunately, you will not be able to seek financial relief through your personal injury protection policy, as Florida does not recognize motorcycles as motor vehicles. There are, however, many avenues to get you the money you deserve after an accident that someone else caused.
When should I hire an attorney after a motorcycle accident?
Many people see that the Florida statute of limitations for a motorcycle accident is four years and mistakenly believe that they can wait before taking legal action. While it is true that you will be able to file a lawsuit within four years, you will want to take advantage of this time so that your attorney can negotiate for an out-of-court settlement if possible. Contact us as soon as possible, and we will be able to guide you through the entire claims process.
A loved one was killed in a motorcycle accident. Can I file a wrongful death lawsuit?
If your loved one was killed in a motorcycle accident that someone else caused, you may be able to seek a range of damages through a wrongful death claim or lawsuit. We will go through the details of the accident with you in order to determine how best to move forward with your case.