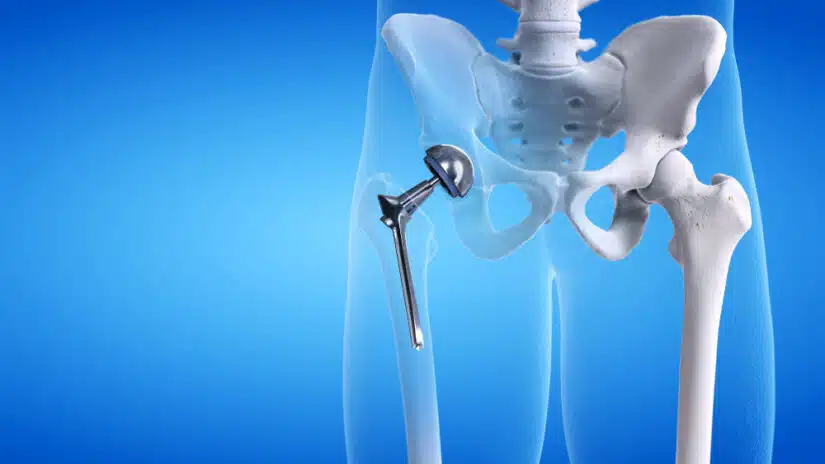 Is Your Hip Replacement Defective? You May Be Entitled to Compensation Through a Lawsuit
At Bernheim Kelley Battista, LLC, our Florida defective hip replacement lawyers are skilled, passionate advocates for justice. With extensive experience handling defective medical device claims, we have what it takes to hold big manufacturers and their insurance companies accountable. If you or your loved one suffered any type of serious complications due to a defective hip replacement, our legal team is more than ready to help. To set up a free consultation with a top Florida defective hip replacement attorney, please contact our Fort Lauderdale law office today.
What is Hip Replacement Surgery?
Hip replacements are relatively common surgical operations for older Americans. According to comprehensive data from the National Institutes of Health (NIH), 1 in 200 people in their 50s have had a hip replacement. For people in their 80s, that number jumps to more than 1 in 20. In other words, millions of people around the country have had hip replacement surgeries.
Hip replacement surgery—also sometimes referred to as hip arthroplasty—is an invasive medical procedure that is performed to replace a damaged or otherwise problematic hip joint. An artificial joint (prosthesis) is then put into its place. The prosthetic hip replacement joint may be made of metal, plastic, or other types of ceramic materials.
Hip replacement surgery is typically recommended for people who have severe hip pain or joint damage that has not responded to other, less-invasive forms of treatment.  It is a major surgery that requires a hospital stay and a period of rehabilitation. Still, when done correctly, it can provide significant relief and improve the quality of life for the patient.
What is a Defective Hip Replacement Lawsuit?
A hip replacement lawsuit is a legal claim that is filed against the manufacturer of a defective medical device used in hip replacement surgery. When a medical device is implanted in a person's body, it is expected to function properly and improve the patient's quality of life. However, if the device is defective, it can cause serious harm and complications. In recent years, a number of different lawsuits have been filed against hip replacement manufacturers.
In the context of hip replacement surgery, a defective medical device can cause a range of problems, including pain, infection, dislocation, and implant failure. In some cases, patients may require revision surgery to remove and replace the faulty implant. Hip replacement lawsuits typically allege that the manufacturer of the defective device was negligent in designing, manufacturing, or testing the product and failed to adequately warn patients and healthcare providers about the risks.
Understanding the Common Complications Associated With a Hip Replacement
Hip replacements can lead to a number of different common medical complications. Some of these complications are considered inherent risks associated with the surgery. However, there are other complications that should not happen and may be legally actionable. Here is an overview of some of the most common medical complications linked to hip replacement surgeries:
Infection: Infection is a risk with any surgical procedure—especially if proper care is not taken by medical professionals. Infections may occur in the wound or around the prosthetic joint. To minimize this risk, doctors usually prescribe antibiotics before and after the surgery.
Blood Clots: Blood clot formation is a potential complication following hip replacement surgery. These clots can cause deep vein thrombosis (DVT) or pulmonary embolism (PE), both of which can be life-threatening. To prevent blood clots, doctors may prescribe blood thinners and encourage early mobilization.
Stiffness: Some patients may experience a limited range of motion and stiffness after hip replacement surgery. Physical therapy and regular exercise can help improve mobility after a hip replacement. Though, stiffness can be a persistent side effect for many people.
Osteolysis: Osteolysis is a process where the body's immune system attacks and breaks down bone around the prosthetic joint. It can cause loosening of the implant and may require revision surgery.
Periprosthetic Fractures: Fractures may occur around the prosthetic joint due to trauma, falls, or weakened bone. Treatment depends on the severity of the fracture and may include surgery, immobilization, or physical therapy.
Wear and Loosening (Possible Hip Replacement Defect): Over time, the prosthetic joint may wear out or become loose. This can lead to pain, instability, and reduced function. In such cases, a revision surgery might be required to replace the worn or loose components. Unfortunately, too many hip replacements are wearing out and loosening far faster than they reasonably should because of defects.
The Statute of Limitations for Hip Replacement Lawsuits in Florida
Were you or a loved one harmed by a defective hip replacement? You have a limited amount of time to initiate a legal claim. It is crucial that you take action before the applicable statute of limitations in a personal injury case expires. What happens if you wait too long to file your hip replacement lawsuit? You could be denied an opportunity to see compensation at all. Be proactive.
Hip replacement claims are a type of product liability case. Under Florida law (Florida Statutes § 95.11), product liability claims—including defective medical device cases—are subject to a two-year statute of limitations. In other words, you have four years from the time that a legal action accrues to file your claim. Otherwise, your case can be dismissed on technical grounds.
Does that mean you have to file a lawsuit within four years of the date that you got the hip replacement surgery? The answer is "no"—at least in most cases. In a defective medical device claim in Florida, the statute of limitations starts running on the data that you knew or should have known that your hip replacement was defective. Most often, that is not the same as the date of the surgery.
To learn more, schedule a free consultation with us today.
An Overview of the Manufacturers and Brands Named in Hip Replacement Lawsuits
In recent years, the medical device industry has come under scrutiny due to numerous hip replacement lawsuits that have been filed against major companies. It is not just one manufacturer that is facing allegations of hip replacement defects. Quite the contrary, hip replacement lawsuits have been filed against many different prominent manufacturers and brands in the industry. Here is an overview of the most notable companies that have been sued for defective hip replacement:
Depuy Orthopaedics: Depuy Orthopaedics is a brand name of DePuy Synthes Companies. A medical device manufacturer founded in Indiana, DePuy Synthes Companies was acquired by the conglomerate Johnson & Johnson more than two decades ago. It is facing lawsuits over ASR hip replacements and its Pinnacle device hip replacements
Smith & Nephew: Smith & Nephew is a British multinational medical equipment company. The manufacturer is facing lawsuits over its hip replacement devices: BHR and R3 Hip Implants.
Stryker: The Stryker Corporation is a Michigan-based medical technology company. The manufacturer is facing lawsuits related to a number of different hip replacement devices, including Rejuvenate, ABG II hips, LFIT V40, and Tritanium Acetabular Shells.
Zimmer Biomet: Zimmer Biomet is another major medical device company that manufactures hip replacements. The company is also facing legal action. Relatively recent lawsuits have been filed against Zimmer Biomet related to the following products: Durom Cup, M/L Taper Hip Prosthesis, and Zimmer's Versys Femoral Head.
Wright Medical: Wright Medical is a large global medical device manufacturing company. The firm makes and markets components of hip replacement devices. These lawsuits allege that the company's defects have caused medical complications for patients.
Exactech: The Exactech hip replacement lawsuit is one of the largest defective medical device cases that is currently ongoing in the United States. Hip replacement lawsuits have been filed over many different Exactech products, including MCS, Acumatch, and Novation GXL Liners.
Every hip replacement case involves its own unique set of facts and circumstances. Many of these are class action lawsuits. If you or a loved one have suffered medical complications involving a hip replacement manufactured by Depuy Orthopaedics, Smith & Nephew, Stryker, Zimmer Biomet, Wright Medical, Exactech, or any other major corporations, it is imperative that you are prepared to take legal action to get justice and the maximum financial compensation.
Hip Replacement Lawsuits: Questions You May Be Asked By Your Attorney
If you or your family member suffered medical complications due to a defective hip replacement, you may be ready to sue for personal injury. Medical device manufacturers may be legally liable under Florida's product liability laws. One of the best steps that you can take when getting started with the claims process is to set up a free, confidential consultation with an experienced attorney. Your Fort Lauderdale personal injury lawyer will ask you a lot of questions about your case, including:
What complications are you experiencing from your hip implant?
When did you first start experiencing hip replacement complications?
When did you have your hip replaced?
What company made your hip replacement device?
Did you undergo revision surgery to treat your complications?
How have hip replacement complications adversely impacted your life?
How Much Compensation Can Someone Get in a Hip Replacement Lawsuit?
A hip replacement is a major operation. A defective hip replacement can cause enormous damage to a patient. It could lead to considerable additional medical costs and intense pain and suffering. Through a defective medical device claim in Florida, injured patients have a right to pursue financial relief for monetary and non-monetary losses.
Unfortunately, medical device makers (manufacturers) and their insurance companies always put their own interests above the interests of injured victims. They can make recovering full and fair financial compensation very challenging. An experienced Florida product liability attorney can help you take action to maximize your compensation. You may be able to recover for:
Emergency medical treatment;
The cost of revision surgery;
Cost of medications and medical equipment;
Physical therapy and rehabilitative care;
Lost wages and loss of earning potential;
Pain and suffering;
Mental distress;
Disability;
Disfigurement; and
Loss of life enjoyment.
Why Choose BK Law for a Hip Replacement Lawsuit in Florida?
Defective medical device claims are complicated—and hip replacement cases are certainly no exception. Many of these cases are class action lawsuits. At BK Law, we have deep experience with product liability cases and class action litigation. Our firm puts in the time, resources, and attention to the small details to get real justice and the maximum financial compensation for victims and families.
At Bernheim Kelley Battista, LLC, our Florida defective medical device lawyers have the skills and experience to handle the full range of hip replacement lawsuit cases. We are ready to get started on your claim today. Reach out to us by phone or connect with us directly online to set up a free, strictly confidential consultation. With an office in Fort Lauderdale and other offices across Florida, we are well-positioned to represent injured victims in hip replacement lawsuit claims.