Did your DreamStation CPAP poison you with toxic foam particles? If so, an attorney who specializes in product defects may be able to help. 
What's Behind The CPAP Recall?
Sleep apnea is a potentially serious disorder that affects more than 30 million Americans whose breathing stops and starts during sleep. Symptoms include heavy snoring, fatigue and difficulty concentrating or remembering things.
CPAP ventilator machines can help people with sleep apnea keep their airways open while they are asleep. They mechanically control or assist breathing by delivering percentage of oxygen in the breathing gas.
Philips, one of the biggest makers of sleep apnea machines, has recalled millions of BPAP (short for Bilevel Positive Airway Pressure) and CPAP (short for Continuous Positive Airway Pressure) mechanical ventilator devices in the United States. 
The recall of their sleep apnea machines is due to serious potential health risks related to the toxic polyester-based polyurethane (PE-PUR) foam these devices were equipped with to keep the machine quiet during use. 
What's the problem?
The sound abatement foam may degrade over time and release toxic particles into the air pathway of the machine and be inhaled directly into the lungs of their customers. Philips concedes the degraded particles and gases may be toxic to patients and could potentially cause cancer.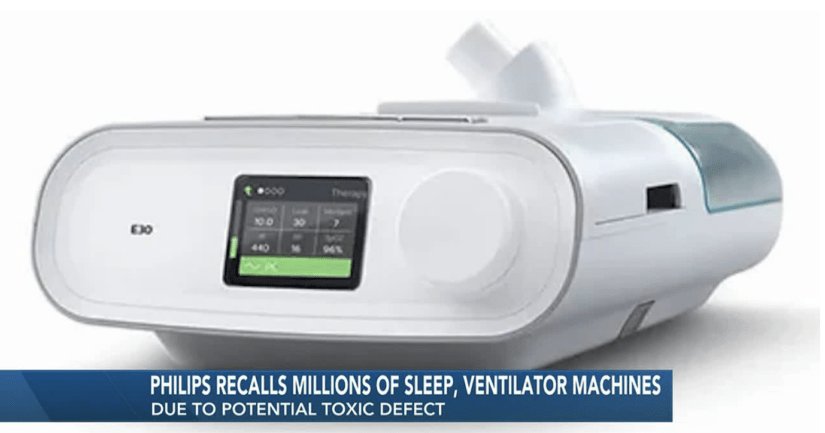 Philips has advised customers using their CPAP and Bi-Level PAP machines to stop using them immediately and consult with their physician to discuss the best options for continued treatment.
Potential Toxic Polyester-Based Polyurethane Foam Exposure Side Effects
Philips Respironics has received many complaints about the presence of black debris or black particles within the airpath circuit (extending from the device outlet, humidifier, tubing, and mask).
Side effects from chronically inhaling toxic foam particles may include:
Asthma
Wheezing
Decreased lung function
Reactive Airways Dysfunction Syndrome (RADS)
Headaches
Shortness of breath
Watery eyes
Chronic bronchitis
Dizziness
Difficulty breathing
Lung damage
Nausea, vomiting
Irritation (nose, eyes, throat)
Dry cough
Bronchial asthma
Pulmonary Hypersensitivity
Decreased pulmonary function
Is There A Medical Test To See If I Have Been Exposed?
Chemicals in the foam particles can be measured in blood and urine. Because these chemicals leave the body fairly rapidly (within days), the tests must be conducted soon after exposure. These tests are not routinely available in a doctor's office, but the samples can be sent by your doctor to special laboratories for analysis.
Free Case Evaluation By Experienced Cpap Recall Lawyers
If you or a loved one used one of Philips recalled sleep apnea machines and are now suffering from serious respiratory side effects you think may be related to chronically inhaling polyester-based polyurethane foam particles, contact BK Law today to speak with an experienced lawyer who can answer your questions, explain your legal rights and evaluate your claim. You may also want to read about the Philips Recall Update.
We offer free, no-obligation consultations and represent all clients on a contingent fee basis, meaning you pay no out of pocket fees or costs unless we successfully resolve your claim.