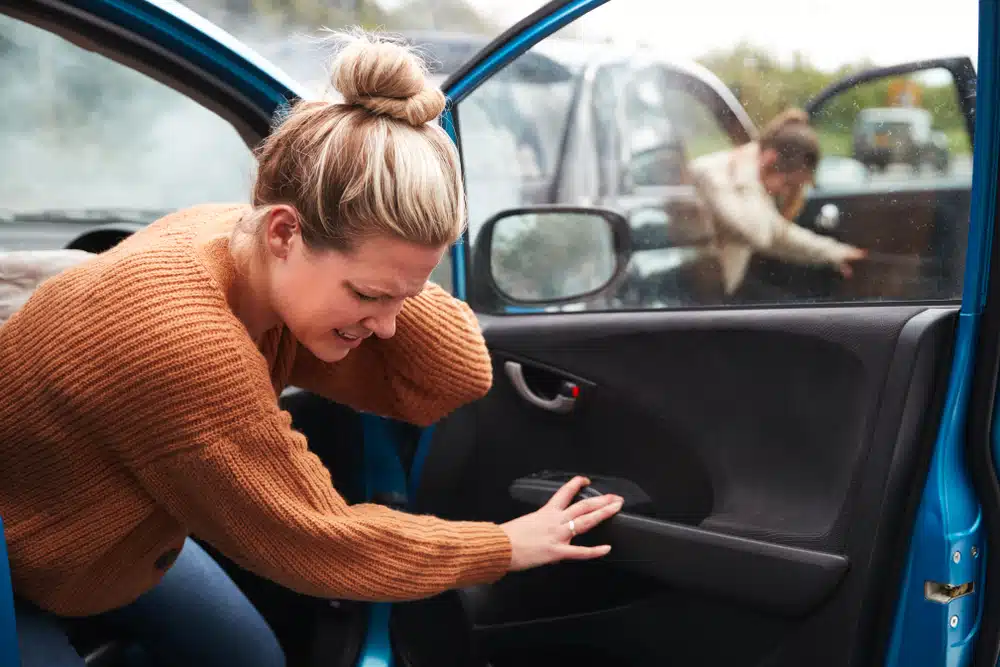 Hurt in a Crash in Miami? Contact Our Miami Auto Accident Lawyer Today for a Free Consultation
At Bernheim Kelley Battista, LLC, our Miami car accident lawyer fights aggressively to protect the legal rights of injured victims and their family members. With a deep understanding of both no-fault claims and fault-based claims, we are ready to take your case as far as needed to get results. If you were hurt in a crash, you need a top attorney on your side. Contact us at our Miami law office today for a free, no-obligation consultation with an experienced Florida auto accident lawyer.
Car Accidents in Miami: Know the Data
Year after year, motor vehicle collisions remain a leading cause of accidental injuries in Florida. Car crashes impact every community—and Miami is certainly no exception. Florida Highway Safety and Motor Vehicles (FLHSMV) reports that there were 401,540 motor vehicle collisions reported statewide in 2021 alone. Collectively, these crashes resulted in more than 252,000 injuries and 3,454 fatalities. How did our local area fare? In Miami-Dade County, there were 62,536 crashes that resulted in 28,706 reported injuries and 352 confirmed fatalities.
Steps to Take After a Motor Vehicle Collision in Miami
The aftermath of a car crash in Miami can be stressful, chaotic, and confusing. By knowing what to do, you will be in a far better position to get justice and compensation for your damages. Here are four key steps that you should always take after a motor vehicle crash in Miami: 
Stop your vehicle, exchange information, and remain at the scene; 

Report the accident to law enforcement, such as the Miami Police Department; 

Get immediate medical attention for any injuries (emergencies come first); 

Document the crash—take pictures, get witness information, etc.; and

Speak to a Miami car accident lawyer before any insurance adjuster.
What are the Most Common Causes of Car Accidents in Miami?
There are approximately 170 car accidents reported in Miami-Dade County every day. These crashes can happen for a wide range of different reasons. Every incident should be investigated to determine exactly what went wrong and why it went wrong. Here is an overview of some of the  most common causes of motor vehicle collisions in Miami: 
Speeding: Speeding is dangerous and it remains far too common in South Florida. It is cited as a factor in nearly one in three catastrophic car accidents in the United States. Not only do high speeds make crashes more likely, but they also reduce the effectiveness of safety mechanisms. 

Traffic Violations:Common traffic violations include running red lights, running stop signs, improper lane changes, and failure to yield. Hurt in a crash involved with any type of traffic violation? Contact our Miami car accident lawyer today for a free consultation. 

Distracted Driving: Almost every person has a phone in their pocket. An unfortunate consequence is that distracted driving has become a growing issue in Miami. Even a few seconds of distraction will dramatically increase the risk of a serious accident. 

Intoxicated Driving: Alcohol and drugs impair a driver's ability to operate a vehicle safely. Impaired driving is extremely dangerous. Among other things, intoxicated drivers have slowed reaction times, impaired judgment, and decreased coordination. All of these factors drastically increase the risk of accidents. 

Vehicle Defects: In some cases, accidents are not a result of driver error but are due to vehicle malfunctions. Defective brakes, tire blowouts, malfunctioning lights, or engine failures can lead to unpredictable and dangerous situations.

Roadway Defects: Poorly maintained roads, inadequate signage, and faulty traffic signals can contribute to accidents. Potholes, uneven surfaces, or lack of proper lighting can make driving hazardous. Municipalities to ensure roads are safe and well-maintained.
What are the Most Common Injuries in Auto Accidents in Miami?
Car accidents vary dramatically in their severity. While many crashes are property damage-only collisions or result in only minor injuries, other crashes can cause catastrophic or even life-altering harm to the victim. At BK Law, we handle the full range of car accident claims in Miami. No matter how severe your injuries are, our legal team is ready to help. Some of the most common injuries reported in car crashes in Miami include: 
Bruises;

Lacerations; 

Sprains and strains; 

Whiplash; 

Joint injuries;  

Broken bones; 

Traumatic brain injuries (TBIs);

Spinal cord damage; 

Internal organ damage; and

Amputations.
To learn more, schedule a free consultation with us today.
What Damages Can You Recover in a Miami Car Accident Claim?
Were you or your loved one injured in a car accident in Miami? You may be left with stacks of bills that need to be paid. It is imperative that you are able to bring a claim to seek compensation for the full extent of your damages, including economic losses and non-economic losses. Unfortunately, the big insurance companies fight to try to resolve claims for as little as possible. At BK Law, our Miami car accident lawyers are committed to helping injured victims secure the maximum compensation. Along with other types of damages, you may be able to recover for: 
Your Guide to Personal Injury Protection (PIP) Coverage in Florida
Is Florida an at-fault or no-fault state? For car accident claims, it is a no-fault auto accident jurisdiction. Each driver's own insurance covers their injuries regardless of who caused the accident. Personal Injury Protection (PIP) is a mandatory coverage in Florida that pays up to $10,000 for medical expenses and lost wages. It kicks in after a deductible and covers 80% of medical bills and 60% of lost wages. Your initial claim is always through your own PIP policy. However, you can step outside of the no-fault claims process and file an at-fault personal injury lawsuit if you sustained serious injuries.
Understanding Comparative Negligence in a Car Accident in Miami
Florida has a no-fault insurance law in place. A minor crash—defined broadly as one that does not result in serious injuries—will be handled primarily by a driver's own no-fault insurance policy (Personal Injury Protection). However, Florida allows injured car accident victims to file a fault-based claim after a serious crash. In a fault-based claim, our state's comparative negligence standard could play a major role in determining liability and damages. Comparative negligence is a legal concept used to determine liability and compensation in car accidents based on the degree of fault of each involved party.
Here is an example of how comparative negligence works: Imagine there was a multi-vehicle collision reported in Miami. Driver A ran a red light. However, Driver B was distracted by texting at the time of the crash. If Driver A is assigned 70% blame, he or she will be responsible for 70% of the damages. In effect, this means that Driver B could still bring a claim—but Driver B would bear liability for 30% of his or her own damages. Every percentage point of fault matters. If you have any questions about how to dispute car accident fault, an experienced Miami car accident attorney can help.
Should I Settle My Car Accident Claim—and for How Much?
It depends. A settlement for a car accident will always vary on the specifics of your accident, injuries, and the evidence available. It is essential to assess medical expenses, lost wages, and other damages before settling. An experienced Miami auto accident attorney can help.
What is the Cost of a Car Accident Attorney in Miami?
We operate on a contingency basis in Miami car accident claims. Our firm only gets paid if we win your case or settle. You do not have to pay upfront fees or out-of-pocket costs. Our firm has interests that are fully aligned with our clients.
How Long Do I Have to File a Car Accident Injury Claim in Florida?
You have limited time to bring a fault-based car accident injury claim. For many years, our state had a four-year statute of limitations. However, the law has changed. Under Florida law (Florida Statutes § 95.11(3)(a)), the statute of limitations is now two years. If you fail to bring such a claim within two years of a crash in Miami, you may not be able to recover financial compensation at all. 
Note: Florida's No-Fault law mandates that anyone injured in an auto accident must seek medical attention within 14 days of the event to qualify for Personal Injury Protection (PIP) benefits. If you fail to get medical care within this two-week period, you might lose your right to PIP coverage.
What is the Role of Expert Witnesses in a Car Accident Case in Miami?
Expert witnesses can play a pivotal role in car accident cases in Miami. These professionals provide specialized knowledge to help clarify and validate certain aspects of the claim. For example, medical experts can testify about the severity of injuries and their long-term implications. In contrast, accident reconstructionists can illustrate how the accident occurred. Other experts—such as economic experts who can help quantify lost future earnings—may be called upon as well.
Can You Sue an Individual Directly for a Car Accident?
It depends. It is crucial to remember that Florida operates under a no-fault insurance system. This means that for minor crashes, each party typically relies on their own insurance for compensation without determining fault. However, in more serious accidents, an injured victim can step beyond the state's no-fault system and sue an at-fault individual directly. Of course, claims are almost always brought against the defendant's insurer as they typically have the means to cover damages.
How Do Miami Car Accident Attorneys Deal With Insurance Companies?
An insurance company will always put its own financial interests first. Even when you are dealing with your own insurance carrier, you cannot count on them to protect your rights. A Miami car accident lawyer will act as your advocate before the insurer. Among other things, your Miami car crash attorney can gather evidence, negotiate settlements, and ensure that your rights are protected. A top Miami auto accident lawyer will have a comprehensive understanding of the tactics insurance companies might use to minimize claims. Do not go it alone: The right Miami, FL, car accident lawyer can make all of the difference.
Hurt in a motor vehicle crash in Miami? There is undoubtedly a lot that is going through your mind. The right legal representation can make the difference. At BK Law, we know how to get results in auto accident claims. Negligent drivers and their insurance companies must be held accountable. At Bernheim Kelley Battista, LLC, our Miami auto accident lawyers go the extra mile to help victims and families get real justice, real results, and the maximum available financial compensation. Call us now or connect with us online for your free, no-commitment case evaluation. With a law office in Miami, we handle car crash claims in Miami-Dade County and throughout all of South Florida.