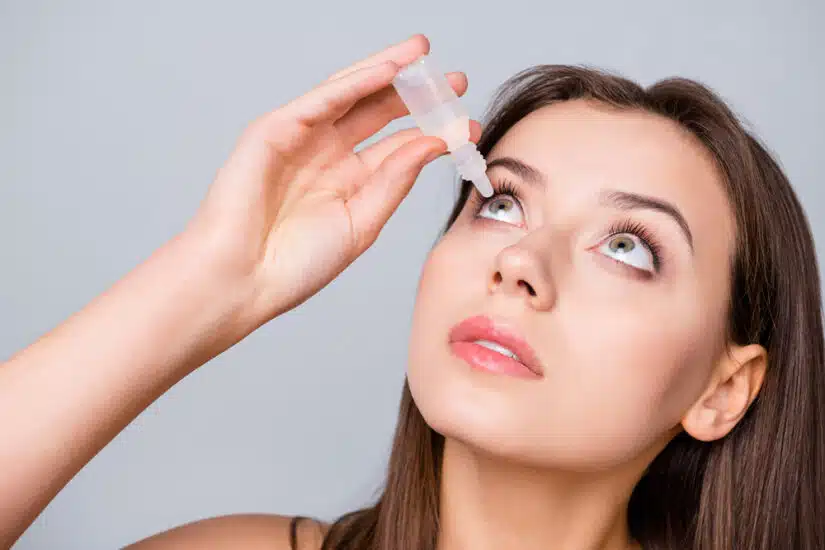 Top-Rated Attorneys Representing EzriCare Eye Drop Lawsuits
At Bernheim Kelley Battista, LLC, our EzriCare lawsuit attorneys are standing by, ready to help you fight for justice. Serious questions have been raised about the safety of EzriCare eye drops. They have been linked to infections, cases of vision loss, and even fatalities. The Food and Drug Administration (FDA) has issued a product safety warning. A recall is in place. If you or your loved one developed a serious bacterial infection after using EzriCare eye drops (EzriCare artificial tears), we are here as a legal resource. Contact us today to set up a free, confidential consultation.
What are EzriCare Artificial Tears?
EzriCare artificial tears are a type of over-the-counter (OTC) eye drops that help relieve symptoms of dry eyes. They are formulated to mimic the natural tears of the eye and provide hydration and lubrication to the eye surface. Among other things, this product is designed to relieve burning, itching, and stinging sensations that may be caused by dry eyes. They are available without a prescription and are considered to be relatively easy to use. Unfortunately, there are now serious safety concerns. EzriCare eye drops were linked to the outbreak of a dangerous bacterial infection.
EzriCare Artificial Tears Eye Drops Linked to Infection Outbreak
On February 1st, 2023, the 
Centers for Disease Control and Prevention (CDC)
 issued an alarming public health warning related to EzriCare eye drops. According to a report from 
National Public Radio (NPR),
 the artificial tears were linked directly to an outbreak of Pseudomonas aeruginosa. Notably, Pseudomonas aeruginosa is a gram-negative, rod-shaped bacteria that may be found in soil, water, and other environments. It is potentially dangerous and can cause serious infections in people. The CDC determined that there have been at least 55 bacterial outbreaks linked to EzriCare eye drops in a dozen different states, including Florida.
Important Product Safety Warning: FDA Recall of EzriCare Artificial Tears
On February 2nd, 2023, the Food and Drug Administration (FDA) officially announced a warning for consumers "not to purchase or use EzriCare Artificial Tears due to potential contamination." The following day, the manufacturer (Global Pharma Healthcare) issued a voluntary product recall citing the outbreak. Here are three key points cited by the FDA in its product safety warning:
The product in question is the EzriCare eye drops, which are manufactured by Global Pharma Healthcare;
The eye drops have been linked to a dangerous bacterial outbreak; and
A consumer's use of contaminated artificial tears could lead to a greater risk of eye infections, some of which have caused vision loss and even death
Know the Manufacturer: Global Pharma Healthcare
Global Pharma Healthcare is a multinational pharmaceutical company with a main headquarters in Chennai, India. It is the manufacturer of EzriCare eye drops. Within the United States, the eye drops are largely distributed by two companies: EzriCare LLC and Delsam Pharma.
To learn more, schedule a free consultation with us today.
Why Were EzriCare Eye Drops Recalled By the Manufacturer?
EzriCare eye drops were recalled due to the presence of Pseudomonas aeruginosa, a potentially dangerous bacteria. Notably, the bacteria can cause serious eye infections, which can lead to vision loss or other serious complications. The recall was initiated after several reports of eye infections linked to the use of the product were received. In response to the reports and warnings from federal regulators, the manufacturer issued a recall of all affected products. It is important to note that individuals who have used the product and are experiencing symptoms of an eye infection should seek immediate medical attention. They should also contact an attorney to discuss their rights.
Know the Bacteria: Carbapenem-Resistant Pseudomonas Aeruginosa (CRPA)
Carbapenem-resistant Pseudomonas aeruginosa (CRPA) is a type of bacterial strain that is resistant to a class of antibiotics known as carbapenems. The resistance is especially concerning as carbapenems are often the last line of defense against antibiotic-resistant infections. CRPA is a growing public health concern as it can cause serious infections and is difficult to treat, leading to higher rates of morbidity and mortality. EzriCare eye drops are associated with a CRPA outbreak.
How Did the EzriCare Artificial Tears Get Contaminated?
The exact cause of the contamination of EzriCare Artificial Tears with Pseudomonas aeruginosa is unknown at this time. However, contamination of eye drops and other topical ocular products can occur during the manufacturing process, storage, or use. Some notable factors that can contribute to contamination include poor hygiene practices, inadequate sterilization procedures, and the use of contaminated equipment or materials. A comprehensive investigation is underway to determine exactly what happened in this case.
What are the Symptoms of an Eye Infection? (EzriCare Eye Drops)
An eye infection can be stressful and frightening. It is a serious issue that should be treated as a medical emergency—especially if you used EzriCare artificial tears before developing the infection. As stated previously, these eye drops have been linked to dangerous forms of bacterial infection. The symptoms of an eye infection can vary depending on the type and severity of the infection, but some common signs and symptoms include the following:
Pain or discomfort in the eye;
Redness or swelling of the eye;
Blurred vision;
Discharge or teary eyes;
Itching or burning sensation in the eye;
Sensitivity to light;
Pus or crusting around the eye;
Increased tear production;
Swollen eyelids; and
A feeling of something in the eye.
Carbapenem-Resistant Pseudomonas aeruginosa (CRPA) eye infections can be difficult to treat due to the bacteria's resistance to antibiotics. For this reason, immediate medical attention is a must. Treatment options for CRPA eye infections may include:
Antibiotic Drops/Ointments: Antibiotic eye drops or ointments are often the first line of treatment for CRPA eye infections. The type of antibiotic used will depend on the specific strain of bacteria causing the infection and its sensitivity to antibiotics.
Systemic Antibiotics: In some cases, oral or intravenous antibiotics may be necessary to treat a CRPA eye infection.
Surgery: In severe cases, surgery may be necessary to remove infected tissue or to drain an abscess.
Combination Therapy: Combining different treatment options, such as antibiotics and surgery, may be necessary to effectively treat CRPA eye infections.
Who is Eligible to File a Lawsuit for Contaminated EzriCare Artificial Tears?
A person who has suffered harm as a result of using contaminated EzriCare artificial tears may be eligible to file a lawsuit. Along with other people, this can include those who have dealt with eye infections, irritation, or other adverse effects after using the product. Beyond that, family members of a person who died from an eye drop-related infection can bring a wrongful death lawsuit.
As these cases are complicated, you may not know whether or not you have a viable lawsuit against the manufacturer. The best thing that you can do to determine if you are eligible to file a lawsuit is to consult with an experienced product liability lawyer. During a free, no-obligation consultation, an attorney will be able to review your case and explain what you need to do next.
How Do You File a Lawsuit for Harm Caused By Contaminated EzriCare Eye Drops?
Filing a lawsuit for harm caused by contaminated EzriCare artificial tears involves several steps. What exactly you need to do next depends on a number of different factors. Here is a basic review of three steps that you need to take to bring a successful product liability claim:
Seek immediate medical attention for an eye infection;
Gather/organize evidence related to eye drop use and your medical complications; and
Consult with an experienced Florida defective product attorney.
An Overview of Damages that Victims Can Seek in Product Liability Claim
Victims harmed by a dangerous or defective product—such as contaminated EzriCare eye drops—may be eligible to recover compensation for the full extent of their damages, including economic and intangible losses. It is crucial that victims and families secure maximum compensation. Damages that may be recovered in a product liability claim include:
Medical Expenses: Victims can seek compensation for medical expenses incurred as a result of defective eye drops, such as emergency medical treatment, hospital bills, medications, and rehabilitation costs.
Lost Income: A person who has missed work due to defective eye drops can seek compensation for lost income, lost benefits, and diminished earning potential.
Pain and Suffering: You may also be entitled to financial compensation for pain and suffering caused by the contaminated eye drops.
Disability/Disfigurement: A person who suffered long-term disability or disfigurement—potentially including vision loss—should be compensated.
Wrongful Death: If your family member died due to a bacterial infection caused by the eye drops, your family has the right to bring a wrongful death claim.
The Settlement Value of an Eye Drop Claim Varies: Professional Representation is a Must
When it comes to settling a product liability claim for contaminated eye drops, the value of the case can vary based on a number of factors. These factors include the severity of the injury, the length of time the victim was exposed to the contaminated product, and the expenses incurred as a result of the injury. To maximize the recovery in a product liability claim, it is absolutely essential that you have professional representation from a top-rated defective product attorney.
An experienced dangerous and defective product lawyer can help victims navigate the legal process and prove liability by gathering evidence, interviewing witnesses, and working with the right expert witnesses. Further, your product liability attorney can also negotiate with the defendant's insurance company to reach a full settlement that takes into account the victim's current and future needs. Do not agree to resolve your case for less than you deserve under the law.
Why Choose BK Law for Your EzriCare Eye Drop Lawsuit
Defective product claims are complicated. Manufacturers and other responsible companies must be held accountable—but doing so can be challenging. At Bernheim Kelley Battista, LLC, we are devoted to helping victims and families get real justice and real results. Our firm is proactive. We are closely monitoring all developments related to the safety of EzriCare eye drops to better serve our clients. Among other things, our dangerous and defective product lawyers are ready to:
Conduct a free, comprehensive evaluation of your case;
Answer questions about the EzriCare eye drop recall and explain your options;
Investigate the matter—obtaining the evidence you need to proceed;
Represent you in dealings with the defense and insurers, including settlement; and
Take all necessary steps to help you and your family get justice and full compensation.
At Bernheim Kelley Battista, LLC, our Florida dangerous and defective product lawyers are actively investigating EzriCare eye drop lawsuits. If you or your family member was harmed by EzriCare artificial tears, we are here to help. Give us a phone call now or 
contact us online
 to arrange a free, no-obligation case evaluation.