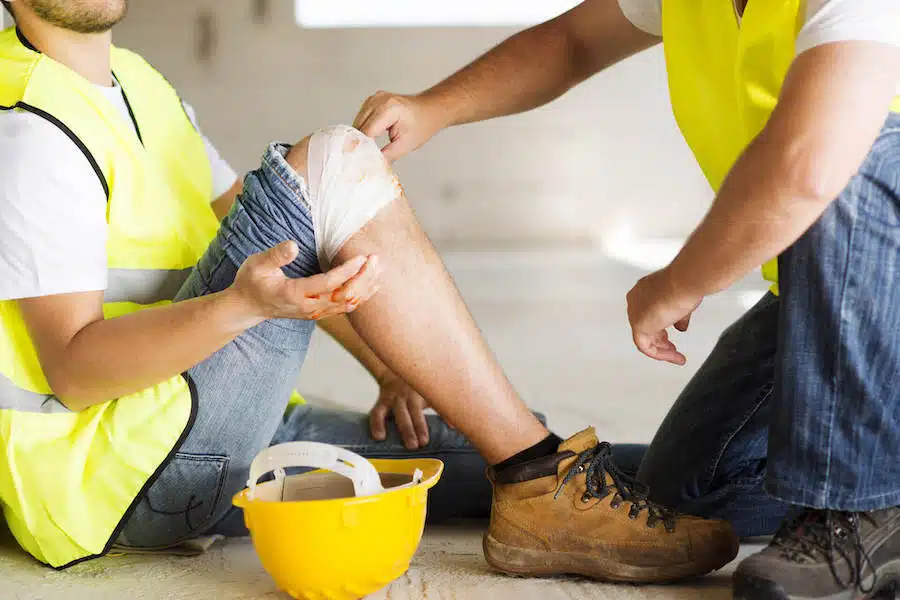 Injured in a Construction Accident in South Florida? Our Fort Lauderdale Construction Accident Attorneys Will Protect Your Rights
Construction work can be dangerous. A construction site is a fast-paced and challenging environment. It is also one in which proper workplace safety precautions should always come first. Sadly, each year, far too many people are hurt in construction accidents. More workplace deaths happen in construction than any other U.S. industry. In fact, the Occupational Safety and Health Administration (OSHA) reports that 20% of all job fatalities nationwide happen in the construction industry.
At Bernheim Kelley Battista, LLC, our Fort Lauderdale construction accident lawyer fights aggressively to protect the rights and interests of injured victims and their families. With a devotion to personalized representation, our attorneys go above and beyond to help clients get results. If you or your family member was hurt in a construction site accident, we are here to help. Call us today to set up a free, fully confidential consultation with a construction accident lawyer in Fort Lauderdale.
What are Some of the Most Common Causes of Construction Accidents?
Unfortunately, construction accidents happen far more frequently than many people realize. There is an astounding statistic from federal workplace safety data: Approximately 1 out of every 10 construction workers typically will get injured every year. It is a higher injury rate than at most other occupations. Some of the most common causes of construction accidents include:
Hastily constructed scaffolding;
Improperly braced cranes
Falls from height due to lack of fall protection;
Heavy machinery accidents; and
Lack of workplace safety training.
Alarmingly, there are some concerns that workplace safety lapses in the construction industry are becoming more common. In Florida's larger metropolitan areas cities, the business environment and financial pressure to get projects done quickly is only making matters more challenging for workers. Occupational Safety and Health Administration (OSHA) estimates that there will be 1000 work-related deaths nationwide next year in the construction industry.
An Overview of Types of Construction Accident Claims/Lawsuits
A modern construction site is a complex place. There are often several different parties working simultaneously to complete the project. A construction site accident can happen for a wide range of different reasons. That being said, the large majority of construction accidents share an important commonality: It could have been prevented had the right safety precautions been followed. There are several different types of construction accident claims. Here are four of the most common:
Workers' Compensation Claim: In Florida, construction workers are covered by no-fault workers' comp insurance. A construction worker who was hurt on the job has the right to file a workers' comp claim. Our Fort Lauderdale workers' compensation lawyer helps construction workers navigate the claims process.
Third Party Liability Claim: While workers' comp is the exclusive legal remedy that injured workers have against their own employer, an injured worker can file a fault-based claim directly against a negligent third party, such as a property owner or another contractor. These types of construction accident claims are called third party liability lawsuits.
Personal Injury Lawsuit (Non Worker): In some cases, non-workers are injured in construction site accidents. If such an accident happens because of the negligence of a developer, construction company, property owner, or any other party, the victim can hold them liable through a personal injury claim.
Product Liability Claim: Construction workers often use heavy machinery and other equipment. If an accident occurs because of this equipment is defective, the responsible corporation may be liable through a defective product claim. A Fort Lauderdale product liability attorney can help injured victims hold a product manufacturer or distributor accountable for harm caused by a defect.
Who is Liable for a Construction Accident in Florida?
Liability for a construction site accident always depends on the specific circumstances of the case, including exactly how and why injuries occurred. Contractors and subcontractors must operate safely. Other parties in construction have obligations as well. Construction accidents are often caused by negligent general contractors or contractors who have abdicated supervision to negligent sub-contractors. A construction accident claim may be brought against:
Workers' Comp Insurance: If a construction worker is hurt in the course and scope of their employment in Florida, they can file a no-fault workers' comp claim. Benefits may be granted without a finding of negligence or wrongdoing by any party.
Property Owner/Developer: Property owners and developers that are in charge of construction projects have a responsibility to ensure that the conditions on the premises are reasonably safe for workers and passerbys.
Negligent General Contractors or Subcontractors: Construction companies have a duty to use proper safety precautions in projects. General contractors and subcontractors could potentially bear legally liable for an accident.
Architects and Engineers: If a construction accident happens because of the professional negligence (malpractice) of an architect or an engineer, they may be held legally responsible for the resulting damages.
Equipment Manufacturers: A lot of equipment is used on a modern construction site. When defective machinery or equipment contributed to an accident, the manufacturer may be held legally liable through a product liability claim.
The Most Common Construction Accident Injuries
As devastating construction accidents are becoming more common, a significant number of workers in the industry suffer serious injuries each year. A catastrophic construction accident can put victims out of work, sometimes permanently. This puts a major financial hardship on families. Others face a lifetime regimen of medication and weeks or months of rehabilitation. During that time, their families are often without income. Some of the most common construction accident injuries include:
Fall injuries;
Muscle strain and other repetitive stress injuries (RSIs)
Broken bones;
Traumatic brain injuries (TBIs);
Burn injuries;
Amputations;
Spinal cord injuries;
Toxic exposure illnesses.
All serious construction site injuries require immediate medical attention. Whether you are an employee, a contractor, or a passerby, it is imperative that your injuries are immediately evaluated by a qualified medical professional. It is your right to get the proper medical attention. Not only will seeing a doctor right away put you in a better position to make a full physical and mental recovery from the accident, it will also put you in a better position to bring a construction accident claim.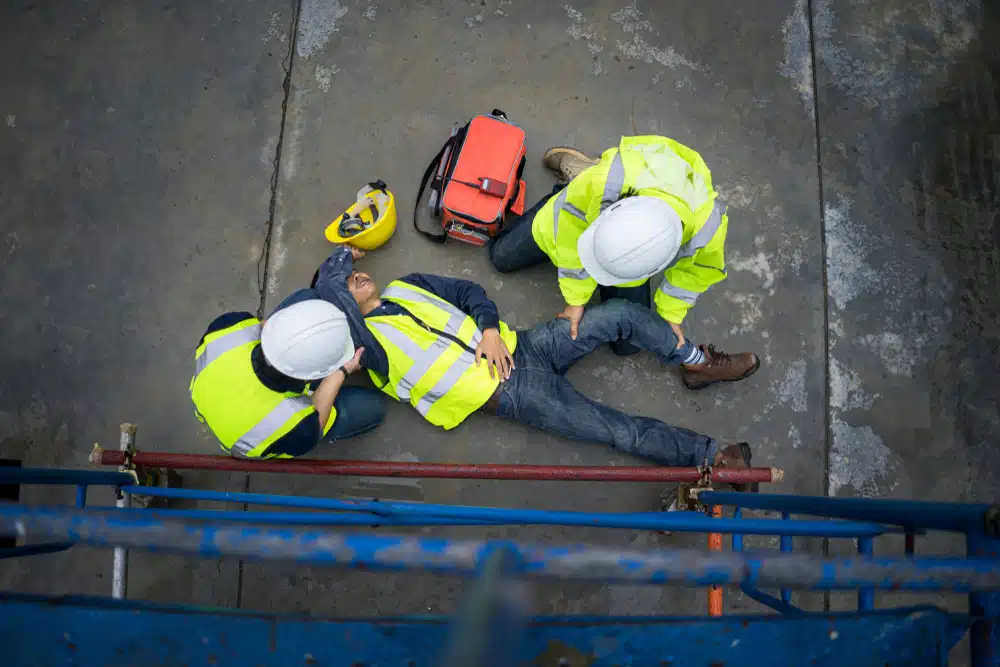 To learn more, schedule a free consultation with us today.
How to Get Full and Fair Compensation for a Construction Accident
Getting full compensation after a construction accident requires knowing how to navigate the process. The first step is always seeking professional medical care. You cannot bring a workers' comp claim or a personal injury claim without medical records. Injured construction workers should always file for no-fault workers' comp. From there, additional financial compensation may be available through a fault-based negligence claim, such as a third party liability claim.
What to Know About Third Party Liability Claims and Construction Accidents
A third party liability claim is a fault-based claim against a party other than the construction worker's own employer. It could be a contractor, a subcontractor, a property owner, or some other party. It should be emphasized that third party liability claims are based on fault. You must prove negligence in order to establish liability and recover damages. For this reason, it is imperative that you consult with a Fort Lauderdale construction accident lawyer as soon as possible.
Understanding OSHA Rights and Construction Accidents
The Occupational Safety and Health Administration (OSHA) labels construction as a "high hazard industry." Companies in the construction industry that are regulated by OSHA are required to comply with certain workplace safety regulations. A construction worker has the right to report a workplace safety violation without the fear of facing any retribution from his or her employer. OSHA rights as a construction worker also include:
The right to work on machinery that is safe;
The right to be protected from toxic chemicals;
The right to receive the proper safety equipment (gloves, harnesses, etc.);
The right to request a workplace safety inspection by OSHA; and
The right to report work-related illness or injury.
What Should I Do if I Have Been in a Construction Accident in South Florida?
Were you injured in a construction site accident in Fort Lauderdale or elsewhere in South Florida? It is crucial that you know what to do to protect your health, safety, well-being, and the ability to bring a legal claim. Here are four key steps to take if you were involved in a construction accident:
Seek immediate medical attention. Emergency needs always come first. You should also get the proper follow-up medical care.
Report your accident to your employer. If you are a construction worker who was injured on the job, you should notify your supervisor right away.
Document the accident. Save relevant evidence and information related to the cause and severity of your accident. It is a good idea to try to take pictures, get witness information, and write down an account of what happened.
Consult with a Fort Lauderdale construction accident lawyer before you give any statement or an insurance company. An attorney will protect your rights and interests.
What Damages Can a Construction Accident Lawyer Help Me Recover?
Through a workers' compensation claim, an injured construction worker can seek financial support for medical coverage and wage replacement (temporary disability benefits). In Florida, workers' comp temporary disability benefits are paid at two-thirds of a claimant's pre-injury average weekly earnings, up to a state-mandated maximum benefit.
Through a third party liability claim, non-worker personal injury claim, or product liability claim, additional financial damages may be available. In a fault-based construction accident claim, a Fort Lauderale construction accident lawyer can help you seek compensation for medical bills, lost wages, loss of future earning power, pain and suffering, and long-term disability or disfigurement.
I Was Partially At Fault for My Own Construction Accident—What are My Rights?
You still have the right to seek damages even if you were partially at fault for your own construction site accident. To start, injured construction workers in Florida can get workers' comp benefits regardless of fault. Indeed, they can still obtain workers' comp even if they were partially at fault for their own injuries.
For fault-based construction accident claims, Florida uses a comparative negligence system of liability. In effect, this means that a construction worker (or non-worker) can recover compensation even if they are partially at fault for their own injuries. However, their compensation will be reduced proportionately to their level of fault.
How Can BK Law Firm Help in a Construction Accident Case?
Following an accident at a construction site, it is normal to be confused, stressed, and even overwhelmed. Injured victims need the proper medical care. At Bernheim Kelley Battista, LLC, we help injured construction workers and other people navigate the complexities of the legal claims process. Our mission is to maximize your financial support. Among other things, our Fort Lauderdale construction accident attorney is prepared to:
Listen to your story and answer questions during a free consultation;
Investigate the construction accident—gathering relevant details; and
Take action to ensure that you are in the best position to get justice and full compensation.
At Bernheim Kelley Battista, LLC, our Fort Lauderdale personal injury lawyers have the skills and legal expertise to handle the full range of construction accident injury claims. If you or your loved one was hurt in a construction site accident, we are here to help. Contact us today to set up your free, no obligation case evaluation. We handle construction accident injury claims in Fort Lauderdale, Broward County, and throughout Southeastern Florida.