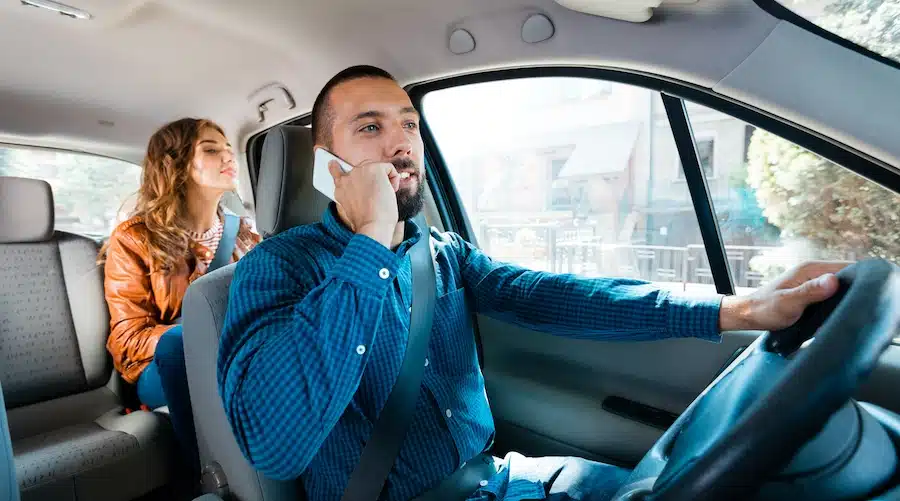 The rideshare industry is booming. Through the use of the Uber smartphone app, rideshares provide quicker and cheaper rides throughout every major city in the United States than traditional transportation options. According to data from PolicyAdvice, 25% of Americans use Uber or Lyft at least once per month. Unfortunately, accidents do happen. Ride Sharing vehicles like Uber and Lyft are not always as safe as they should be. Passengers and others may be at risk.
At Bernheim Kelley Battista, LLC, our Fort Lauderdale Uber accident lawyers fight for results for injured victims and their families. As experienced ridesharing accident attorneys, we also handle Lyft accident claims in Fort Lauderdale. If you have any questions about your legal rights or legal options, we are here to help. Call us today or connect with us online to set up your free, no-obligation consultation with a personal injury lawyer in Fort Lauderdale.
What Should I Do if I am Involved in an Uber Accident?
Were you involved in a crash as an Uber passenger in Fort Lauderdale? It is crucial that you take immediate action to protect your rights and interests. Here are four key steps to take to protect your health, safety, and ability to bring a legal claim:
Report the Collision to the Police: All motor vehicle collisions that result in injuries or major property damage should be reported to law enforcement. As an Uber passenger, it is strongly in your best interest to ensure that your crash is reported to the police.
Seek Medical Attention: You have the right to medical care after an Uber accident. Emergency medical needs always come first. You need to also seek the proper ongoing or follow-up care.
Notify Uber (or Lyft): As an Uber passenger, you should also notify the company through the application. You can notify Uber directly through your application. The standard is the same for Lyft. You notify Lyft of your crash.
Get Professional Help: If you sustained a significant injury in a crash, you should seek professional guidance and support. A top Fort Lauderdale Uber accident lawyer will protect your rights and interests.
What Should I Do if an Uber Hits Me?
Ridesharing vehicles are everywhere in Fort Lauderdale. It is almost impossible to avoid Uber cars on today's roads. The simple math of it is that more ridesharing vehicles mean more ridesharing accidents. Here is what you need to do if an Uber hits your vehicle:
Stop your vehicle and exchange information with all other parties involved in the collision;
Seek immediate medical attention for any injuries—a medical emergency comes first;
Report the accident to the appropriate state or local law enforcement agency;
Document the collision—take pictures of the accident, get names of any witnesses, and determine if there were any passengers present in the vehicle; and
Consult with an experienced Fort Lauderdale Uber accident attorney before giving an official statement to any insurance adjuster.
What Should I Do if I Was in an Uber Accident While Driving for Uber?
Uber drivers involved in collisions have two different sets of requirements. To start, all drivers—including Uber drivers—must comply with Florida law. Among other things, this means stopping their vehicle, exchanging information, and reporting all injuries or major property damage collisions to law enforcement.
Uber also puts corporate rules on its ridesharing drivers. Uber emphasizes that drivers involved in collisions must first ensure that all parties are safe. Next, Uber states that drivers are obligated to comply with all state and local traffic regulations. Finally, Uber requires their drivers to use the proper form to report the collision to the company promptly.
What Happens When an Uber Driver Hits a Pedestrian?
If an Uber driver hits a pedestrian, the pedestrian has important legal rights. Florida's no-fault auto insurance laws apply to pedestrian collisions—meaning a minor or moderate pedestrian collision may be handled through a no-fault claim—either through the pedestrian's own insurer, the driver's individual insurance coverage, or Uber's commercial policy.
If the driver was actually driving for Uber at the time of the pedestrian collision, the accident might fall under Uber's contingent policy (no passengers) or Uber's commercial policy (passengers). In Florida, injured pedestrians can step outside of the no-fault insurance system if they sustained serious injuries in their crash.
To learn more, schedule a free consultation with us today.
What are the Three Rideshare Periods for an Uber?
Uber accident claims can be complicated. Uber vehicles—which are each driver's personal car—are generally covered by several different insurance policies. Which policy applies depends on the "rideshare period" that the vehicle was in. Here are the three rideshare periods:
The Uber App is "Off": The driver is not working for Uber at this time. Their individual car insurance policy applies.
The Uber App is "On"—but No Passengers Accepted: The driver is in a "gray area." Uber's contingent liability policy likely applies.
The Uber App is "On—Passengers Accepted or Already in Vehicle: The driver is unquestionably working on behalf of Uber. Uber's $1 million commercial insurance policy applies.
What are the Insurance Policy Limits if I am Involved in an Uber Accident?
The policy limits depend on the nature of the accident. If the Uber driver was not actually working for the company at the time of the crash, then the claim is subject to their personal individual policy limits. On the other end of the spectrum, Uber's commercial $1 million policy limit always applies if there were ridesharing passengers within the vehicle at the time of the crash.
Does Insurance Cover Uber Drivers?
Yes. There is a law in place that requires these drivers to be insured. Uber insures its drivers, but the drivers must also have their own insurance. The problem is that if a driver is underinsured, or has lapsed insurance, an accident victim may find that they struggle to receive their full amount of damages.
Can I Sue Uber for an Accident?
It depends. Uber can be sued for an accident if its driver was at-fault for a crash while actively working for the company—meaning they were either looking for passengers or already accepted a passenger. However, in Florida, car accident victims can only bring a fault-based claim (or car accident lawsuit) if they sustained a serious injury in a crash.
Florida is a no-fault auto accident state. The rules apply to Uber accidents and Lyft accidents too. Florida Highway Safety and Motor Vehicles (FLHSMV) states that all motorists in the state are required to obtain a minimum of $10,000 in Personal Injury Protection (PIP)  insurance coverage. PIP insurance is no-fault. It would cover a person's injuries if they sustained minor or moderate harm.
What Compensation Can I Receive for an Uber Accident?
In Florida, injured victims have a right to pursue compensation for their damages. With very limited exceptions, a car accident injury settlement or car accident injury verdict is meant to be purely compensatory in nature—meaning the victim's recovery is tied to their actual losses. Damages in an Uber accident claim fit into two broad categories:
Economic Damages: Economic damages are actual out-of-pocket financial losses. They include things like property damage, medical bills, long-term health care costs, lost wages, and diminished earning potential.
Non-Economic Damages: Non-economic damages are intangible losses. They include things like pain and suffering, mental distress, scarring/disfigurement, and long-term disability or physical impairment.
How Long Do I Have to File My Uber Accident Claim?
There is no specialized statute of limitations for Uber accidents or Lyft accidents in Florida. If you were hurt as a ridesharing passenger, occupant of another vehicle, or pedestrian, your claim is governed by the standard statute of limitations for motor vehicle accident claims. Under Florida law (Florida Statutes § 95.11), you have four years from the date of an Uber crash to file a fault-based personal injury claim.
However, in practice, you need to take action far before that deadline. To start, Florida has no-fault motor vehicle accidents. Among other things, the law requires injured victims to notify insurers in a reasonably timely manner. The best thing that you can do after a serious Uber accident is to consult with an experienced Fort Lauderdale ridesharing crash attorney as soon as possible. Your lawyer will protect your rights and interests.
How is Liability Determined in an Uber Accident?
Florida is a no-fault state for motor vehicle collisions. For a minor crash, each party's own no-fault insurance coverage is the liability for the initial injuries. If an Uber passenger does not have no-fault coverage—perhaps because they do not drive—their initial claim can go through Uber's no-fault insurance coverage.
Fault-based personal injury claims are allowed when a person sustains a serious injury. Under Florida law (Florida Statutes § 768.81), fault-based car accident claims are determined through the comparative negligence standard. Each party will be held liable for their assigned share of the blame for the collision.
Can I Lose Access to Uber if I File a Claim?
Technically speaking, both Uber and Lyft have significant discretion about who is allowed to be on their platform. As a passenger, occupant of another vehicle, or pedestrian, it is extremely unlikely that you will lose access to the platform because you filed a claim. If you are an Uber driver who was involved in a collision, it is possible that the company may deactivate your account if it deems you to be at fault for the crash and unreasonably unsafe for its customers.
Why Should I Hire an Uber Accident Lawyer After My Accident?
The major ridesharing companies and their commercial insurance carriers are big businesses. They are driven to protect their own bottom line—not to do what is best for you and your family. A lawyer will even the playing field and ensure that your rights and interests are protected every step of the way. If you have been hurt in an accident caused by an Uber driver, speak with an Uber accident attorney about your rights and options for recovering compensation. The Uber car accident lawyers at BK Law will aggressively advocate for you if you suffer injuries as a result of riding in an Uber private car. Contact us today for a free case review.
How Can BK Law Firm Help in an Uber Accident Case?
Being involved in a serious car crash is stressful and overwhelming. As ridesharing is still a relatively new and somewhat complex transportation option, it is normal to be even more confused in these cases. You do not have to go up against Uber, Lyft, or their commercial insurers alone. At Bernheim Kelley Battista LLC, we are devoted to helping the injured get real justice. Among other things, our Fort Lauderdale ridesharing accident lawyers are ready to:
Listen to what happened to you and answer your legal rights;
Thoroughly investigate your Uber accident or Lyft accident;
Gather all of the evidence needed to establish liability and damages;
Handle the paperwork and correspondence with ridesharing companies or insurers;
Represent you in any Uber accident settlement negotiations; and
Take action to ensure that you get the maximum financial compensation.
At Bernheim Kelley Battista , LLC, our Fort Lauderdale car accident lawyers have the skills and experience to handle all types of ridesharing accident claims. If you were hurt in an Uber accident or a Lyft accident, we are more than ready to help. Contact us today to schedule your free, fully confidential initial appointment with a lawyer. With a law office in Fort Lauderdale, we handle ridesharing accident claims in Broward County and throughout South Florida.