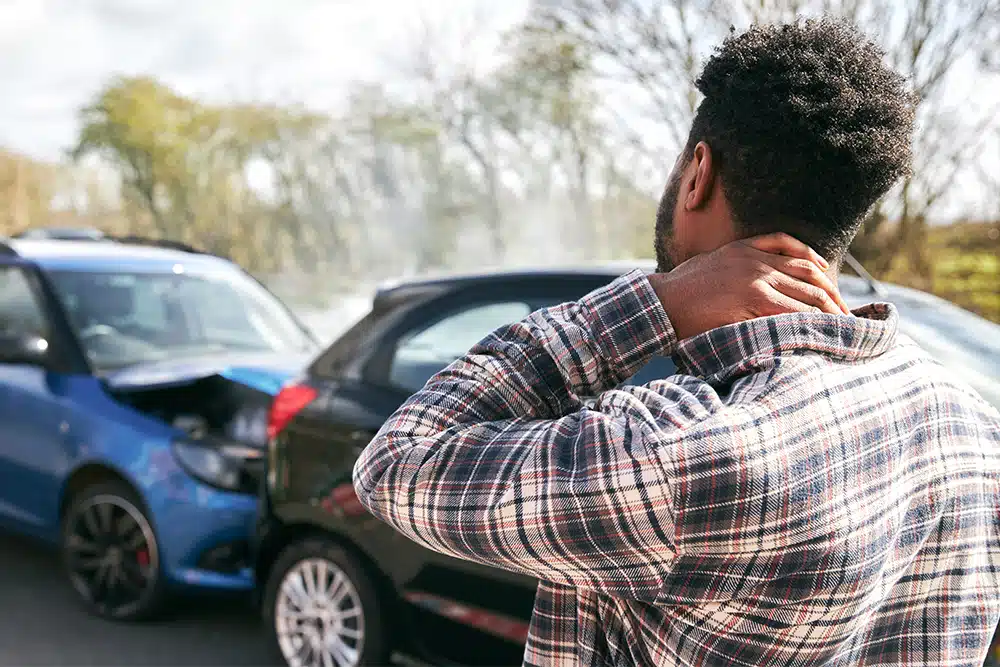 We Handle Auto Accident Claims in Jacksonville.
At Bernheim Kelley Battista, LLC, our Jacksonville car accident lawyers are skilled, sophisticated, and justice-driven advocates for victims and families. Our personal injury team has what it takes to hold insurance companies accountable. If you or your family member was hurt in a serious traffic collision in Duval County, we are here to help. Contact us at our law office today to set up a free, fully confidential consultation with a top-rated Jacksonville auto accident attorney.
Common Causes of Car Accidents in Jacksonville
Unfortunately, motor vehicle collisions happen every day in our region. While automobile accidents can happen in a wide range of different regions, they do tend to share an important core commonality: The overwhelming majority of car accidents in Jacksonville could have been avoided if all parties had taken the proper care. Here are some of the most common reasons why car accidents are reported in Jacksonville: 
Distracted Driving:

Distracted driving is consistently one of the top reasons for car accidents. Some of the most common examples of distracted driving include texting, talking on the phone, eating, or even fiddling with the radio. 

Speeding:

Driving over the speed limit or too fast for the road conditions increases the chance of an accident. Not only does speeding increase the risk of a crash in Jacksonville, but it could make a resulting collision even more severe. 

Running Red Lights and Stop Signs

: Not stopping when required can lead to serious collisions at intersections. Running red lights and running stop signs both contribute to a significant number of car accidents in Jacksonville. 

Tailgating:

Following too closely behind another vehicle does not give a motorist enough time to stop in an emergency. Rear-end collisions are the cause of nearly 50% of multi-vehicle collisions reported nationwide. 

Impaired Driving:

Driving under the influence of alcohol or drugs reduces reaction time and judgment. Unfortunately, DUIs are a very serious problem in Jacksonville.

Inexperienced Drivers: New drivers might not be familiar with all the rules or might not react quickly in sudden situations. Newer drivers—especially teenagers—are more likely to be involved in a motor collision.
Car Accident Statistics: Jacksonville
Car crashes impact every community in Florida—from the smallest of towns to the largest of cities. Jacksonville and its surrounding suburbs are certainly no exception. According to data from
Florida Highway Safety and Motor Vehicles (FLHSMV)
, there were 24,437 motor vehicle collisions reported in Duval County alone in 2021. Collectively, those auto accidents resulted in 14,441 injuries and 191 confirmed fatalities.
What to Do if You Were Hurt in a Car Crash in Jacksonville?
Following the aftermath of a car crash in Jacksonville, it is imperative that you take a proactive approach to protect your health, your safety, and your legal rights. Here are four steps to take after a motor vehicle collision in Jacksonville: 
Pull Over and Report the Accident:

Safety comes first. If possible, move your vehicle to a safe spot, away from traffic. Once safe, call 911 to report the accident. Law enforcement will document the scene. Report the crash to the Jacksonville Sheriff's Office or another state/local law enforcement agency. 
Get Immediate Medical Care:

All car accident injuries require immediate medical care. Even if you think your injuries are relatively minor, you should seek medical attention right away. Some injuries—including traumatic brain injuries (TBIs) and internal organ injuries—may not show full symptoms right away. 
Document the Traffic Collision:

Be sure to thoroughly document your car crash. Collect the other driver's details, including name, contact information, license number, and insurance details. If there are witnesses, get their contact info too. Use your smartphone to take pictures of the accident scene, vehicle damages, and any visible injuries.

Speak to a Lawyer Before an Insurer:

An insurance company is not on your side after a car accident—even if you are dealing with your own insurance carrier. Before discussing the accident with insurance companies, you should set up a free consultation with an experienced Jacksonville car accident attorney.
Do I Need a Lawyer after a Jacksonville Motor Vehicle Collision?
Yes. There are many advantages associated with hiring a car accident attorney after an accident in Jacksonville. Among other things, a skilled attorney can assist you in understanding your rights, evaluating your case, and navigating the complexities of the legal system. Your Jacksonville auto accident lawyer can help you secure the maximum available financial compensation.
To learn more, schedule a free consultation with us today.
When to Hire a Jacksonville Car Accident Attorney
Be proactive. You do not want to fall behind an insurance company in the legal claims process. It is always a best practice to consult with a top Jacksonville auto accident injury law firm right away after the crash. The sooner you have a reliable lawyer on your side, the better your chances of obtaining a favorable outcome in your case.
An Overview of the Types of Auto Accident Damages in Jacksonville
In Jacksonville, auto accident victims have a right to pursue compensation for economic damages and non-economic losses. For the most part, car accident compensation is designed to be compensatory in nature—meaning your settlement or verdict will be tied to your losses. Here is a brief overview of the different types of auto accident damages that may be recovered in Jacksonville: 
Property Damage:

Property damages include the cost of repairing or replacing your vehicle and any personal items damaged in the crash. If the vehicle is declared a total loss, you should receive the current market value of the car. 
Medical Costs:

Medical costs encompass all expenses related to medical treatment resulting from the accident. Financial compensation may be available for immediate treatments at the scene or hospital, follow-up appointments, physical therapy, surgeries, prescription medicines, and even long-term care or rehabilitation. 
Loss of Income:

If the injuries sustained in the crash lead to an inability to work, either temporarily or permanently, you might be entitled to compensation for lost wages. Notably, financial compensation may also be available for diminished earning capacity. 
Pain and Suffering:
In Jacksonville, car accident victims may also be able to recover compensation for non-economic damages, including pain and suffering. Pain and suffering damages compensate for the mental anguish, physical pain, reduced quality of life, or any lasting disabilities that an accident victim endures.
How Much Should I Settle for after a Car Accident?
Most auto accident cases are settled outside of court. What is the right
settlement for a car accident
? It depends. The appropriate settlement amount after a car accident varies on a case-by-case basis. Some of the key factors include the extent of injuries, damage to vehicles, lost wages, and more. You should always consult with an experienced Jacksonville car accident lawyer who can help you understand the value of the case.
What is My Car Accident Case Worth?
The value of your car accident case in Jacksonville is largely determined by the damages that you have incurred in the accident. Along with other types of damages, recovery may be available for medical bills, vehicle repairs, lost income, pain and suffering, and any other related costs.
Who Pays My Medical Bills if I am Injured in a Car Accident in Jacksonville?
It depends. For the most part, medical bills after a crash will be covered by an insurance company.
Is Florida an at-fault or no-fault state?
It matters. For minor and moderate collisions that result in injuries, Florida is a "no-fault" state. In effect, this means that regardless of who caused the accident, your own car insurance policy's Personal Injury Protection (PIP) benefits will cover your medical bills up to a certain limit. However, if the injuries exceed that limit or are particularly severe, you may pursue additional compensation from the at-fault party's insurance. A Jacksonville car accident lawyer will help you navigate our state's complex insurance laws.
What is the Cost of a Jacksonville Car Accident Lawyer?
The car accident lawyers at BK Law represent injured victims in Jacksonville on a contingency fee basis. How does it work? We only get paid if you win your case or receive a settlement. The fee is usually a percentage of the compensation awarded, so you do not have to worry about upfront costs.
How Long Do I Have to File a Car Accident Injury Claim in Jacksonville?
Under Florida law (
Florida Statutes § 95.11(3)(a)
), the statute of limitations for car accident injury claims is two years from the date of the accident. If your crash occurred prior to 2023, you may have up to four years to bring your claim. The reason is that our state recently changed several key tort laws. Among other things, the statute of limitations for fault-based personal injury claims—including car accident claims—has been reduced from four years to two years. Do not wait to take action: Consult with a Jacksonville car accident lawyer right away after a crash.
How Long Does it Typically Take to Settle a Car Accident Claim?
The duration for settling a car accident claim varies widely based on the case's complexity, the parties involved, and the amount of negotiation required. While some cases might settle quickly, others can take months or even years to resolve. Still, a few months for a settlement is a relatively common timeline.
What is Comparative Negligence in Jacksonville Car Accidents?
Florida law (
Florida Statutes § 768.81
) follows the doctrine of "comparative negligence." While Florida used to be a pure comparative negligence state, it is now a modified comparative negligence state. You can seek compensation for your damages after a car crash from another party as long as you are at fault for less than 51% of your collision. However, based on the comparative negligence standard, a claimant's compensation will be reduced by their degree of fault. As an example, if you are awarded $100,000 in damages but were found to be 20% at fault, you would receive $80,000. If you have any questions about
how to dispute fault for a car accident
, please contact our Jacksonville auto accident attorney for immediate help.
Set Up a Free Consultation with a Top Jacksonville Car Accident Attorney Today
Navigating the aftermath of a car crash is never easy, especially from a legal perspective. You do not have to figure out the claims process alone. At Bernheim Kelley Battista, LLC, we are proactive, results-driven, and have a proven record of success across a wide array of motor vehicle collisions. Our Jacksonville auto accident lawyers fight hard to get real justice and real results for injured victims. Hurt in a traffic crash? We can help. Call us now or
contact us online
to set up your no-cost case evaluation. From our law office in Jacksonville, we handle motor vehicle accident claims in Duval County and across the state.