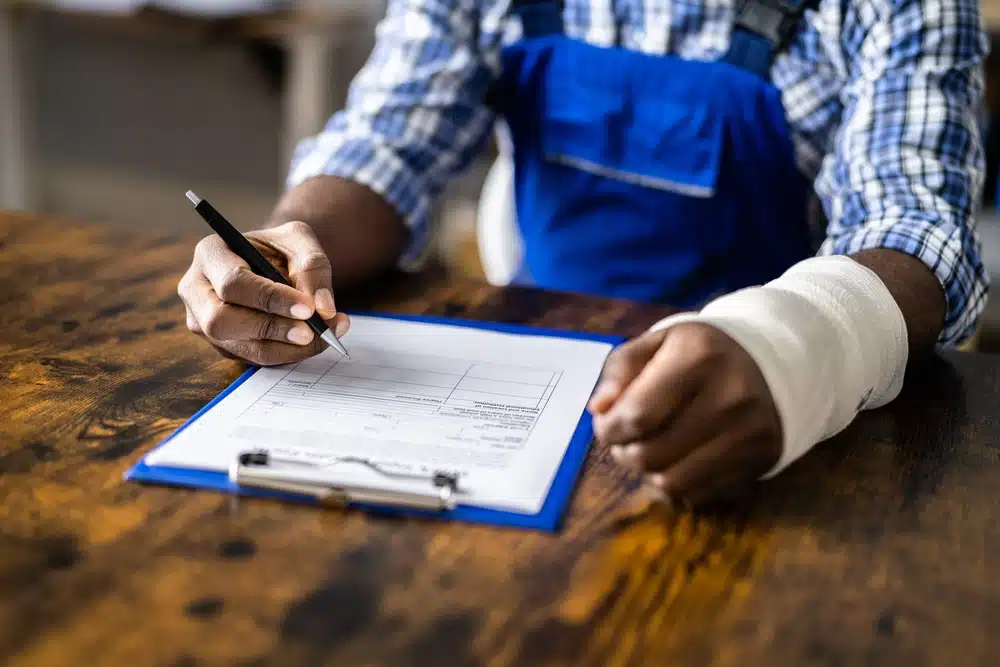 Hurt on the Job in South Florida? Set Up a Free Consultation With a Miami Workers' Comp Attorney
At Bernheim Kelley Battista, LLC, our Miami workers' compensation lawyer is an experienced, reliable, and results-driven advocate for injured workers. If you or your family member was hurt on the job, we are more than ready to help you secure the absolute maximum available financial support. To set up a free, no-obligation consultation with a top Florida workers' comp attorney, please contact us at our Miami law office today.
What Should I Do if I am Hurt on the Job in Miami? (An Overview of Steps to Take)
Were you injured on the job? You are far from alone. Workers in communities across the country are adversely affected by workplace safety hazards. The Bureau of Labor Statistics (BLS)> estimates that 2.5 million people are injured nationwide each year. Many workers in Miami, Miami-Dade County, and elsewhere in South Florida suffer serious job-related injuries. A proactive approach is essential after a work accident. Here are five steps to take if you are injured while on the job in Miami: 
Get Medical Attention (Your Health Takes Priority): The health and safety of workers are a high priority. If you are injured while on the job, it is imperative that you seek medical attention as soon as possible. What initially might seem like a minor injury can escalate into something more severe if left untreated. By visiting a doctor or emergency room, you ensure that your injuries are properly diagnosed and treated. Beyond that, medical records are required to support a workers' comp claim in Florida. You must see a doctor to get benefits.

Notify Your Supervisor or Employer of the Injury: Florida law also requires workers to notify their employer of a workplace injury or illness in a timely manner. If you wait too long to tell your employer about an injury, you could end up having your workers' compensation claim denied. Protect yourself by telling your boss right away. Do not be worried that you will be punished for reporting an accident and/or filing for workers' comp in Florida. State law prohibits retaliation against workers who exercise their workers' comp rights. 

Document the Incident—Secure as Much Information as Possible: Even though workers' comp provides no-fault benefits in Florida, it is still a best practice to document an incident. Among other things, this can include taking photos of the accident site, getting the contact details of witnesses, and writing down a detailed account of the accident. 

Obtain the Forms and File for Workers' Comp Benefits: In Florida, workers' compensation is a system designed to provide benefits to employees who get injured on the job. Start by obtaining the necessary forms from your employer or the insurance carrier. Complete and submit them promptly to ensure your claim does not face any unnecessary delays. If you have any specific questions or concerns about filling out the initial workers' comp form, please do not hesitate to contact a Miami work injury lawyer for help.

Get Help From a Miami Workers' Comp Lawyer: Navigating the workers' compensation laws in Florida can be challenging. You cannot rely on your employer or any insurance company for guidance. Do not wait to seek professional legal representation—especially if your claim has been denied. Our Miami, FL, workers' comp attorney can help.
What Injuries Does Florida's No-Fault Workers' Compensation Law Cover?
In Florida, workers' comp insurance can cover the full range of injuries—from relatively minor harm to catastrophic injuries. Indeed, our state's laws are designed to protect employees by covering all injuries sustained in the course and scope of employment. Regardless of who is at fault for the accident—assuming the injury happened while the employee was performing their job duties or as a direct result of their employment—the law covers it. Some examples include: 
Sprains; 

Strains; 

Back injuries; 

Soft tissue damage; 

Broken bones; 

Traumatic brain injuries (TBIs); 

Spinal cord trauma; 

Internal organ damage; and

Amputations.
An Overview of the Types of Workers' Compensation Benefits
Workers' compensation insurance coverage is a much-needed safety net for workers in Miami. A job-related injury or an occupational disease can put an enormous amount of stress on an injured worker and their family. The system is designed to provide much-needed financial support in a timely manner. Here is an overview of the different types of benefits that may be recoverable in a workers' comp claim in Florida: 
Medical Benefits (Health Coverage): In Florida. Workers' compensation covers all necessary medical treatment related to the work injury or illness. You can seek coverage for everything from hospital stays to prescription drugs to physical therapy. 

Temporary Total Disability (TTD) Benefits: If a worker in Miami is unable to return to work because of their injury, they may be eligible for TTD benefits. These benefits provide a portion of the worker's lost wages while they recover from their accident. In Florida, workers' comp is generally paid at two-thirds of a worker's average weekly wage up to the maximum allowable benefits. 

Permanent Disability (PTD or PPD) Benefits: If an injury leads to a permanent impairment but the worker can still engage in some form of work, they might be entitled to PPD benefits. In cases where the injury is so severe that the worker can never return to any form of work, PTD benefits come into play. 

Vocational Rehabilitation: For workers who cannot return to their previous jobs due to their injuries, vocational rehabilitation offers training and assistance in finding a new job that fits their physical capabilities.

Death Benefits: It is an unfortunate reality, but some workplace accidents result in fatalities. In the tragic event that a worker dies due to a work-related injury or illness, death benefits are provided to the deceased worker's dependents. If your family member was killed on the job, a Miami workers' comp lawyer can help you navigate the claims process.
An Overview of the Most Common Types of Workplace Accidents in Miami
A serious job-related accident can occur in any industry. Workers are hurt in a wide variety of different ways. No matter the circumstances, the incident should be investigated to determine what went wrong and why it went wrong. Beyond that, the injured worker needs immediate medical attention and all available resources to aid in their recovery. Here are some of the most common types of workplace accidents in Miami: 
Slips, Trips, and Falls: Slips and falls and trips and falls can happen in any industry. They are a leading cause of workers' compensation claims in Florida. 

Overexertion: Lifting, pulling, or even prolonged repetitive tasks can lead to strains, sprains, and other musculoskeletal injuries.

Construction Site Accidents: With Miami's ever-growing skyline, construction workers face risks daily. Accidents can include falls from scaffolding, electrocution, or being struck by falling objects.

Motor Vehicle Collisions: A significant number of claims are filed due to work-related car accidents. There are many different common causes of motor vehicle collisions. 

Machinery and Equipment Accidents: Factories, warehouses, and employers in Miami use heavy machinery. Heavy machinery and equipment can be dangerous without proper care. 

Exposure to Harmful Substances: In some industries, workers may be exposed to toxic chemicals or hazardous materials that can lead to respiratory issues, poisoning, or long-term health complications.

Workplace Violence: Interpersonal conflicts can escalate, leading to physical altercations, which sometimes result in injuries. Workplace violence could be committed by a customer, a co-worker, or an outside criminal assailant.
To learn more, schedule a free consultation with us today.
Can You Sue for Workers' Compensation Benefits?
No. As simply stated by the Florida Department of Financial Services, workers' compensation insurance in Florida provides no-fault benefits. This is a benefit for injured workers. It means that you can get your benefits regardless of whether or not your employer—or any other party—is actually at fault for your accident. However, the no-fault workers' comp system comes as part of a bargain. Employees must give up their right to sue their employer. You cannot sue an employer for a worker's injury. Instead, you must file for no-fault workers' comp benefits. 
Note: You can sue a non-employer third party for a work-related injury. This type of claim is a fault-based legal action known as a third-party liability claim. Through a third-party liability claim, you may be able to recover financial compensation for the full extent of your damages through a personal injury settlement or personal injury verdict. You do not have to choose between filing a workers' comp claim and a third-party liability claim in Miami. Injured workers have the right to pursue both types of claims simultaneously.
What are My Rights After an On-the-Job Injury in South Florida?
Hurt on the job in Miami? It is imperative that you have an understanding of your rights. Workers' compensation laws are designed to protect you. Be sure to exercise all of your available legal rights. Here are five key rights that you should know about: 
You have the right to seek immediate medical treatment for a job-related injury or illness. 

You have the right to notify your employer of a work injury. 

You have the right to file for no-fault workers' comp benefits.

You have the right to appeal a workers' comp denial.  

You have the right to be free from unlawful retaliation by your employer.
What Can I Do if My Claim is Denied?
Even though Florida workers' comp insurance is no-fault, too many injured workers in Miami struggle to get their full and fair benefits. Here are three steps that you should take if you have been notified that your workers' comp claim was denied in Miami: 
Review the Workers' Comp Denial Letter: The first step is to thoroughly review the denial letter you receive from the workers' compensation insurer. The letter should provide an explanation as to why your claim was denied. 

Consult With a Miami Workers' Comp Lawyer: You do not have to take on the appeals process alone. Get help from an attorney. Your Miami workers' comp appeal lawyer can review your case and help you determine the best course of action.

File a Timely Workers' Comp Appeal: You are not out of options when you get a denial letter. If you believe the denial was unjust, the next step is to file an appeal. It is crucial that you appeal by the deadline listed in the letter.
Navigating the aftermath of a work accident can be challenging. You may be wondering about how to find a workers' compensation lawyer. At BK Law, we are here as your resource. Our firm has deep experience assisting people with workers' comp claims and workers' comp appeals. At Bernheim Kelley Battista, LLC, our Miami workers' compensation attorney is a diligent, experienced, and results-driven advocate for people hurt on the job. We fight for real justice and real results for injured victims. Contact us today for your no-cost, no-obligation consultation. From our office in Miami, we represent injured workers in Miami-Dade County and throughout South Florida.