While regular car accidents are devastating enough, getting into an accident with a tractor-trailer, semi-truck, or 18-wheeler is on a whole different level. Given the size and weight, it can be terrifying when you see a big rig barreling towards you.
Unfortunately, when trucking companies try to move freight quickly while increasing profits, they may cut corners in how they run their operations. Keeping truckers on the road for long hours, limiting stops and breaks, and inadequate vehicle servicing all culminate in disastrous accidents on Florida highways.
When that happens, innocent victims like you pay the price. Well, you shouldn't be the only one paying.
At BK Law, we're here to help you navigate the ins and outs of truck accidents in Fort Lauderdale, Florida. Read on to learn more about common types of accidents, how to calculate compensation, and the steps you need to know if you want to pursue litigation in your case.
What Are Some Common Types of Truck Accidents in Fort Lauderdale?
Truck accidents can happen for any number of reasons. However, some are more common than others.
Common types of truck accidents include:
Rear-end collisions: These are often caused by distraction, usually from a phone or navigation device.
Lost load accidents: Machine failure and user error can result in these types of catastrophic accidents. This can happen when the load slides off of the load bearing tow, often blocking traffic or injuring drivers behind the truck.
Jackknife accidents: These occur when turns are taken too sharply.
Other types of accidents include:
Sideswipes
Rollovers
Tire blowouts
Explosions
Brake failure
Mechanical failure
Lane changes/blind spots
A Fort Lauderdale personal injury lawyer can figure out the type of crash that took place and identify the reason for the accident. It requires investigative skill that comes from decades of personal injury law experience—the kind we have at BK Law.
How to Determine Fault in a Truck Accident in Fort Lauderdale
Florida is a no-fault state, so the issue of fault isn't important in filing a claim for damages from your insurance company. However, there are a few exceptions in which fault could arise.
Negligence is the gold standard for determination of fault in Florida and involves a showing of the following:
Duty of care
Breach of duty
Causation
Damages
By skillfully proving the above elements, your attorney can help make the case that the truck driver's negligence caused the accident.
Who Is Liable for Truck Accident Injuries in Fort Lauderdale?
Parties who could be held liable in a truck accident lawsuit include:
Truck driver
Trucking company
Parts manufacturer
Vehicle manufacturer
Shipper or loader
Government entity (road defects and hazards)
Maintenance/inspection company
Repair shops
Determining who is liable in a truck accident can get complicated. The trucking company might be responsible, but only if the driver was acting within the scope of employment. And, what if the driver was a contractor and not an employee?
Our BK Law Fort Lauderdale truck accident attorneys hire experts to assist with the investigation to get to the bottom of who should be held accountable.
What Evidence Is Needed to Prove My Accident Claim in Fort Lauderdale?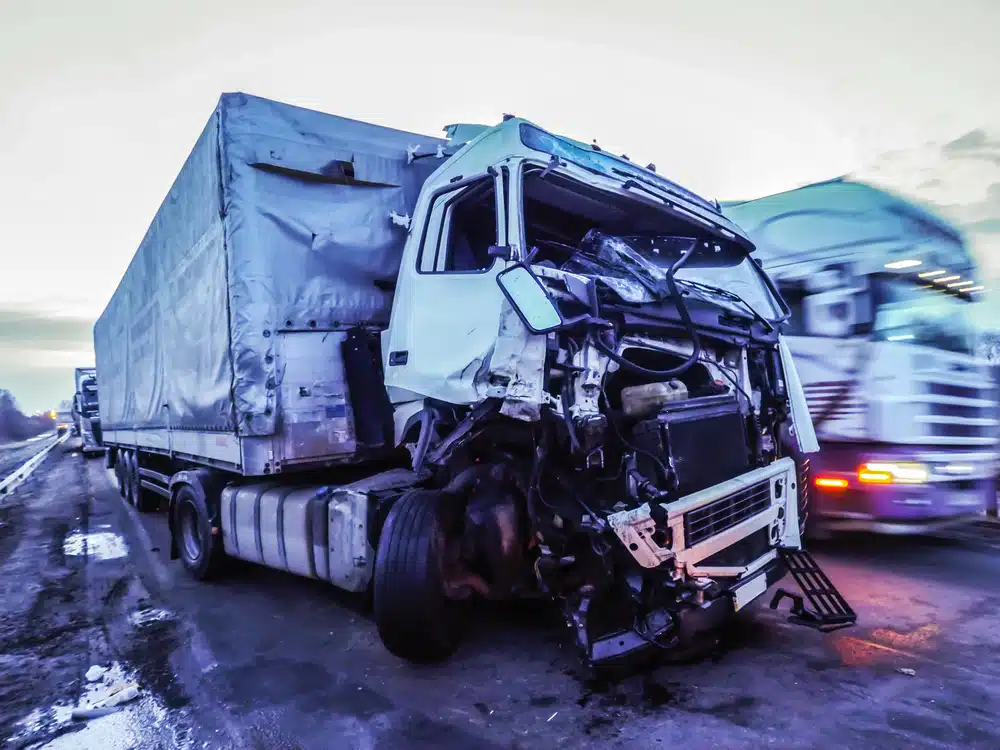 Certain evidence can bolster your claim in the Florida courts, and it isn't difficult to obtain. Examples of helpful evidence includes:
Police reports and eyewitness accounts: You can request copies of these from the local police station who responded to your accident.
Insurance reports: A copy of your insurance claim report can help you prove your accident claim in Florida.
Images and shrapnel from the accident: Taking photos of the accident site can help forensic investigators determine who may be at fault for the accident. Simple details, such as the positioning of the shrapnel and damage on either vehicle can point to the truth behind what may have happened.
While there are many other types of evidence you can use, these are among the most common and are easy to obtain in the event of a Fort Lauderdale truck accident.
To learn more, schedule a free consultation with us today.
How to Calculate Compensation in a Fort Lauderdale Truck Accident?
To truly calculate your compensation in your Fort Lauderdale truck accident case, you would need to speak to an attorney and go over the details in your case.
Damages could include:
Medical expenses: Past, present, and future medical bills associated with your injuries.
Lost income: Recovery can take a while. If you haven't been able to go to work, you may receive compensation to cover missed wages.
Lost earning capacity: In some cases, going back to the job may not be possible. If that's your situation, you may get a financial award for lost earning potential.
We go into these and other damages in more detail later in this post.
Common Causes of Truck Accidents in Fort Lauderdale
With an eye towards pursuing greater profits, trucking companies may employ inexperienced drivers who aren't ready for the difficulties of navigating highways in big rigs.
Other possible causes include:
Speeding
Distracted driving
Failure to maintain trucks properly
Fatigue
Reckless driving
Too many hours on the road
Improper loading
Lack of sleep
Rushing to meet delivery times or mileage quotas
Inadequate training
Unwieldy size of trucks
Inability to maintain control
Common Injuries from Truck Accidents
Anytime you're in a vehicle accident, you can sustain serious injuries. The types of injuries that you may deal with will vary depending on the nature of your accident.
Due to the sheer size of tractor-trailers and semi-trucks, trucking accidents are more likely to result in serious accidents with tragic consequences.
This is even more true in the event the truck is carrying dangerous commodities like oil and gas, in which case accidents are likely to be even more severe and cause catastrophic injuries.
These injuries could include:
Traumatic brain injuries
Internal bleeding
Paralysis
Heart attacks
Limb loss
Concussions
Spinal cord injuries
Organ damage
Burn injuries
Broken bones
Tragically, some of these injuries ultimately result in death. If you lose a loved one to a truck accident, talk to a wrongful death lawyer at BK Law.
In addition to physical injuries, the emotional impact is likely to be intense given the magnitude of a truck accident. If this happened to you, we're here to advocate for you. Give us a call and let's review your legal options.
How Often Do Truck Drivers Get into Accidents in Florida?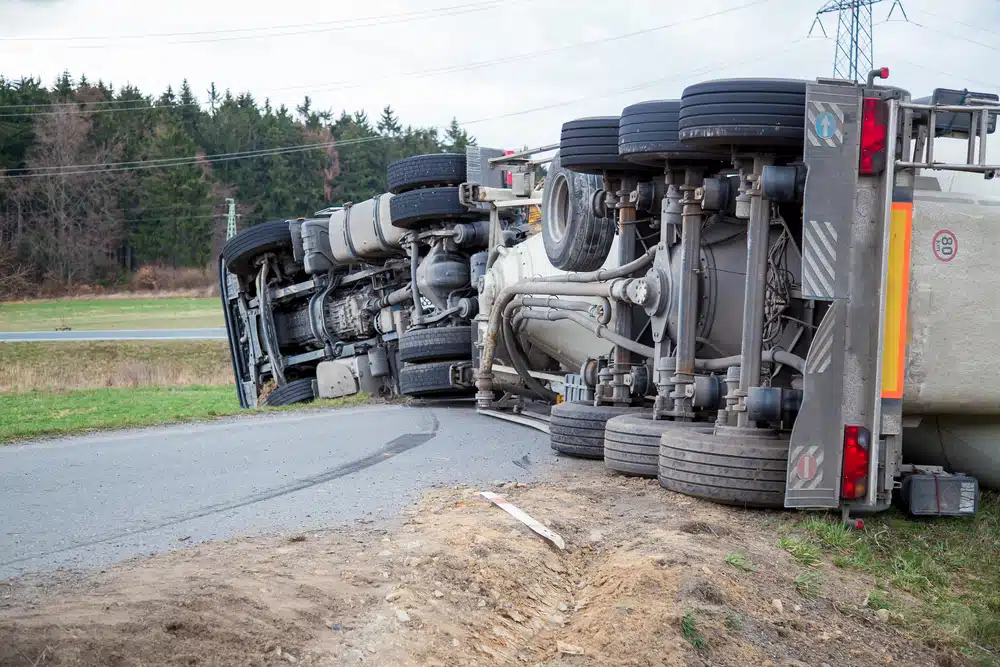 As a state with a great deal of import and export traffic, trucking accidents are quite common in Florida. The latest data comes from the Large Truck Crash for Freight Mobility and Safety Enhancement in Florida, which showed a total of 243,017 large truck crashes between 2007 and 2016. Data also showed that traffic deaths increased a total of 8% from 2019-2020, despite the lack of drivers on the road due to the pandemic.
According to data from the Federal Motor Carrier Safety Administration (FMCSA), half of all fatal truck crashes in the United States occur in just ten states—Florida is one of those states.
What Is a Good Settlement Offer for Truck Accidents in Fort Lauderdale?
A "good" settlement offer is subjective and determined by the extent of the injuries. Everyone's case is unique. If you're looking for confirmation on whether your interests are being protected by the amount of settlement award that is offered to you, reach out to our personal injury attorneys in Fort Lauderdale.
We can help you assess whether the settlement being offered is in line with the overall value of your case. We've handled countless motor vehicle accident cases and we know the range you should be able to expect from insurance company settlement offers.
How Is Pain and Suffering Calculated in an Accident in Fort Lauderdale?
The calculation process for pain and suffering can depend on the nature of the accident and how seriously you were injured. It also depends on how greatly the accident affected your overall quality of life and ability to care for yourself.
The amount of compensation you can receive for mental pain and suffering from an injury will depend on a variety of factors.
These factors may include:
Type of accident
Type of injury
Severity of injury
State laws
Calculating method
Impact of injury on your job, relationships, etc
How long it takes for your injury to heal
Types of medical treatment needed
There are two main ways to calculate your costs of pain and suffering:
Pain and suffering multiplier: This involves the team taking your overall cost of medical bills and tangible damages and multiplying it by a value of 1 to 5. More catastrophic cases will generally get a higher value number.
Per diem: This involves multiplying your costs for a set number of days that you had to live in a compromised state between the date of the cost accrual to the date of the accident resolution.
One of the big problems with recovering damages for pain and suffering is getting proof. This is where an experienced truck accident attorney can help you gather evidence and build a case so your claim isn't denied.
Evidence could include things like personal diaries/journals in which you've recounted your distress, statements from family and friends, and ways the injuries have impacted your relationships, your job, and your overall mood.
What Types of Damages Can I Recover After a Fort Lauderdale Truck Accident?
There are two main types of damages you can receive in personal injury cases.
Economic Damages
Economic damages represent your financial damages after an accident. You can prove these losses with receipts, paystubs, and invoices. They typically include the following:
Medical Bills
Doctor visits
Emergency medical services
Surgeries
Hospital stays
Rehab
Medications
In-home nursing
Lost Income
Ensure you're tracking hours you've missed. A letter from your employer can help support your case.
Out-of-Pocket Expenses
Vehicle rental
Childcare
Housekeeping services
Transportation to doctor's appointments
Medications
Out-of-pocket expenses must be related to your accident.
Non-Economic Damages
Non-economic damages are intended to help you heal from the emotional toll. Because these losses are non-financial, they're often more difficult to calculate.
The following damages are the most common.
Pain and Suffering
Mental and Emotional Distress
Loss of Enjoyment or Loss of Use
Loss of Consortium or Companionship
Can Someone Sue You After a Settlement?
While it's true that anyone may be sued by any entity at any time, there are certain exceptions. Generally speaking, after the settlement is finalized by the courts and any other related parties, you cannot be sued thereafter since the matter is determined to be complete. Hence the term "settlement."
However, as with most other things in law, there are exceptions to the rule. You can be sued after a settlement if the person initiating the suit has reason to believe that you acted fraudulently in order to get the settlement or somehow changed the legal decision inappropriately.
How Can BK Law Help in a Truck Accident Case in Fort Lauderdale?
With decades of experience in personal injury litigation, BK Law is among the best in the business. If you've suffered an injury in a truck accident in Fort Lauderdale, Florida, give us a call today. Our truck accident attorneys will sit down with you and go over your case. We'll provide an honest evaluation and let you know what we would recommend as next steps.
Truck accidents are the stuff of nightmares. Don't try to deal with this alone. You can trust us to do everything we can to get you compensation so you can finally have some peace of mind.
We're here to help you to navigate the Florida insurance and court systems. Give us a call to find out more about how we can help you after your truck accident.