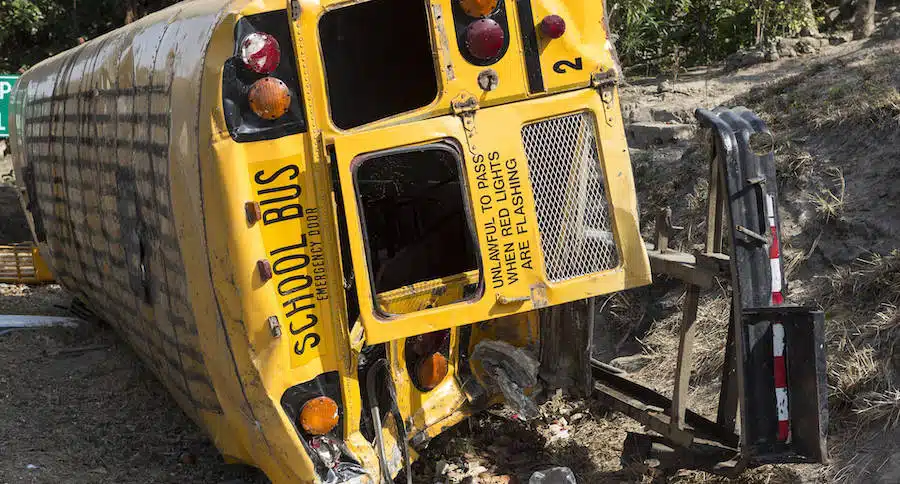 We Represent Bus Accident Victims in Fort Lauderdale and Throughout South Florida
At Bernheim Kelley Battista, LLC, our Fort Lauderdale bus accident attorneys are committed to protecting the rights and interests of injured victims. As a full-service accident and injury law firm, our legal team has what it takes to hold bus companies, public bus operators, and insurers accountable. If you or your family member was hurt in a bus accident, we are here to protect your rights and help you secure the maximum financial compensation. To set up a free consultation with a top Florida bus accident lawyer, please contact us at our Fort Lauderdale law office today.
What are Bus Accident Injuries?
Although buses are widely described as one of the safer forms of transportation, accidents happen every day. According to data from the Federal Motor Carrier Safety Administration (FMCSA), approximately 14,000 people are injured nationwide in bus accidents each year. Our Fort Lauderdale bus accident injury lawyer handles all types of bus accident injuries. Some of the most common injuries reported in bus accidents in Florida include:
Cuts and lacerations;
Contusions;
Sprains and strains;
Whiplash;
Broken bones;
Concussion;
Traumatic brain injuries (TBIs);
Internal bleeding;
Amputations; and
Spinal cord injuries
How to Determine Liability in a Bus Accident?
Bus accidents can cause significant physical, emotional, and financial damage to victims and their families. If you or a loved one have been involved in a bus accident in Florida, it is essential to determine liability to ensure you receive the compensation you deserve. Here are the basics:
Understand Florida's No-fault System: Florida is a no-fault state for motor vehicle collisions, including bus accidents. Florida Highway Safety and Motor Vehicles (FLHSMV) notes that all motorists must obtain the proper no-fault coverage. After an accident, each driver's insurance will cover their own medical expenses, regardless of who was at fault. However, there are exceptions to this rule in cases of serious injury or death.
Determine If You Can Go Beyond the No-Fault System: If the bus accident resulted in serious injuries, such as permanent disfigurement or disability, you may be able to pursue a claim beyond the no-fault system. Bringing a fault-based claim for a bus accident could allow you to recover additional damages from the at-fault party, including major medical bills, diminished earning potential, and pain and suffering.
Be Ready to Prove Negligence: To pursue a claim beyond the no-fault system, you will need to prove that the bus driver or another party was negligent, meaning they acted in a way that caused the accident and your injuries. Fault-based bus accident claims in Florida are based on negligence.
Conduct a Comprehensive Investigation of the Bus Accident: A Fort Lauderdale bus accident must be thoroughly investigated. What does that entail? Among other things, a good investigation will generally involve taking pictures, obtaining police reports, getting eyewitness testimony, and other evidence. Work with a Fort Lauderdale car accident lawyer who has experience handling bus crash cases.
Common Causes of Bus Accidents
Bus accidents in Fort Lauderdale, Broward County, and elsewhere in Florida can happen for many different reasons. The Department of Transportation (DOT) conducted a detailed analysis of bus accident causation. The federal agency found that the overwhelming majority of bus accidents reported could have been prevented with the proper safety precautions.
Speeding and Other Traffic Violations: A bus should always be operated at a safe speed. Unfortunately, in some cases, bus drivers may be tempted to go too fast for road conditions in order to keep up with tight transportation schedules. A speeding bus is a dangerous bus.
Bus Driver Fatigue: Driving a bus requires long hours of continuous concentration, which can lead to driver fatigue. Tired drivers may experience delayed reaction times, impaired judgment, and a reduced ability to maintain focus on the road.
Distracted Driving: Bus drivers can become distracted by various factors, such as using electronic devices, eating, drinking, or engaging in conversation with passengers. These distractions can significantly reduce a driver's situational awareness and reaction time, increasing the likelihood of an accident.
Untrained or Undertrained Bus Drivers: One of the most prevalent causes of bus accidents is human error on the part of the driver. In too many cases, these errors happen because the bus driver was not properly trained. Operating a large commercial bus requires training, skill, and focus. Undertrained bus drivers pose a safety risk.
Mechanical Failure: Buses are complex vehicles with many interconnected systems. As such, mechanical failure can lead to accidents if not identified and addressed promptly. Common mechanical issues include brake failure, tire blowouts, and steering malfunctions. Regular maintenance and inspections are crucial in preventing these types of failures
What Kinds of Damages Can a Victim Recover?
Following a bus accident, you need compensation to pay your bills. You may have a lot of questions about what you can recover for, such as "How much compensation can you get for medical bills?" and "Can you sue for pain and suffering?" In Florida, a bus accident victim may be able to recover for both economic and intangible damages. Our Fort Lauderdale bus accident lawyers fight hard to help injured victims secure the maximum settlement or verdict. Compensation may include:
Property damage, such as vehicle repairs;
Emergency medical treatment;
Hospital bills and other medical costs;
Loss of income and loss of earning power;
Pain and suffering;
Permanent scarring;
Long-term disability; and
Wrongful death.
To learn more, schedule a free consultation with us today.
How to Calculate Damages in a Bus Accident?
In Florida, bus accident injury damages are generally designed to be compensatory in nature. With limited exceptions—punitive compensation may be awarded in a very small number of cases where the bus operator behaved in an egregious manner—your damages will be tied to your actual economic and non-economic losses, as well as your ability to establish liability. For example, if you incurred $10,000 in medical bills for a bus accident injury, you could see up to $10,000 in compensation for those damages.
What Should One Do After a Bus Accident in Fort Lauderdale?
When involved in a bus accident in Florida, it is crucial to take the right steps to ensure your safety, gather essential information, and protect your rights to pursue compensation for any injuries sustained. Here are four of the most vital things to do after a Florida bus accident:
Report the Accident: Whether you were a bus passenger or an occupant of another vehicle, the incident should be reported right away. Contact the police and report the bus accident. The responding officers will document the scene, gather witness statements, and file an official report. An accident report from law enforcement is relevant to your claim.
Gather Evidence: You will want to have as much evidence as possible. Take photos of the accident scene, including vehicle damage, road conditions, and any other factors that may have contributed to the accident. Collect contact information from the bus driver, other involved parties, and witnesses.
Seek Medical Attention: All bus accident injuries in Fort Lauderdale should be evaluated by a doctor. Emergencies come first. Non-emergencies still require prompt medical care. If you do not seek professional medical care for a bus accident injury, you are not going to be able to get compensation for your damages.
Consult with a Fort Lauderdale Personal Injury Lawyer: These are challenging legal cases. An experienced Fort Lauderdale bus accident attorney can help protect your rights and navigate the complex legal process. A lawyer is your advocate through every step of the process.
How Do I Claim Compensation After a Bus Accident?
The steps that you will need to take after a bus accident to claim compensation will depend on many different factors. You should always start by pursuing any available no-fault claim through your own insurance company. After a serious bus accident, you may have a fault-based claim against the bus operator (public or private). If you cannot resolve the matter, Fort Lauderdale Spinal cord injury lawyers can help you sue for personal injury. 
What Evidence Will Help Prove the Cause of the Accident?
Evidence to prove the cause of a bus accident in Florida includes photos of the accident scene, witness statements, police reports, vehicle damage, bus maintenance records, driver's logbooks, surveillance footage, and any available video recordings. Expert testimony may also be useful in determining the cause.
What Is the Average Settlement in a Bus Accident?
The average settlement in a bus accident varies significantly depending on factors such as the severity of injuries, property damage, and fault. While it is impossible to give a true average, settlements can range from tens of thousands to millions of dollars. Each case is unique and should be evaluated on an individual basis.
How Long Do I Have to Sue the Bus Driver or Company?
Bus accident injury claims are governed by the statute of limitations for personal injury lawsuits.
Under Florida law (Florida Statutes § 95.11(3)(a)), there used to be a four-year statute of limitations. As of March 2023, the statue has changed to two years. However, you have less time to take action to bring a no-fault claim through your own Personal Injury Protection (PIP) policy. Likewise, you have less time to bring a bus accident claim against a government entity. Consult with a Fort Lauderdale bus accident lawyer right away.
How Long Do Bus Accident Settlements Take?
The duration of bus accident settlements can vary widely, depending on factors like the complexity of the case, the willingness of parties to negotiate, and the amount of evidence available. Settlements may take anywhere from a few months to a few years to reach a resolution.
What Will a Fort Lauderdale Bus Crash Lawyer Cost Me?
You can always afford our top-rated Fort Lauderdale bus accident lawyers. We represent injured victims and their families on a contingency fee basis. You never pay upfront costs for our out-of-pocket fees. We only get paid when you get paid.
Why Should an Injured Victim Hire BK Law for a Bus Accident Case in South Florida?
Bus accident claims are complicated. You may have a lot of questions about what exactly you need to do to pursue the financial compensation that you need to pay your bills. At BK Law, we are devoted to helping injured victims get true justice and the best possible results in their cases. Our firm is proactive, not reactive. At Bernheim Kelley Battista, LLC, our Fort Lauderdale bus accident attorney goes the extra mile to get real justice and real results for victims and families. If you or your loved one was hurt in any type of bus accident, we are here as a resource. Call us now or 
contact us online
 to set up a free, no-obligation review of your case. From our Fort Lauderdale law office, we handle public and private bus accident injury claims in Broward County and throughout the region.