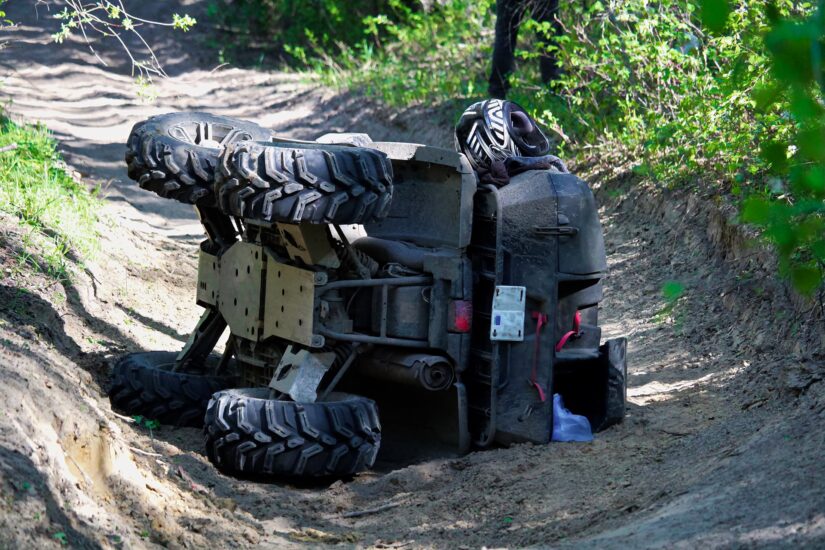 The term ATV, or "all-terrain vehicle," applies to a number of recreational vehicles, and according to the ATV Safety Institute, an ATV is defined as "a motorized off-highway vehicle designed to travel on four low-pressure or non-pneumatic tires, having a seat designed to be straddled by the operator and handlebars for steering control." Type I ATVs are designed to be used by a single operator, while Type II ATVs are designed for use with a driver and a passenger.
Whether you are the driver or passenger of an ATV, there are many risks inherent with using these vehicles, such as rollovers, head-on collisions with other vehicles or static objects, head injuries, and more. Proper equipment and training can help reduce the risk of a serious or fatal injury caused by an ATV accident, but there is still no guarantee that using these vehicles will not end in a crash.
If you are the victim of an ATV accident that you did not cause, whether as a driver or passenger, you may be entitled to compensation for a range of impacts on your life. These impacts are known as damages, and tort law entitles victims of accidents caused by another's recklessness, negligence, or criminal behavior to a variety of damages through a tort claim. Typically you will file an accident claim through an insurance company, and the insurance adjuster assigned to your claim will be focused on settling your case as quickly as possible, for as little as possible. Hiring a personal injury attorney is one of the best ways to combat this focus and get the money you truly deserve.
Contact BKBB For a Free Consultation After an ATV Accident Today
Our firm offers a free consultation for victims of ATV crashes where we can discuss the specific details of the accident, the injuries sustained, the impacts on the victim's life, and more. From there, we will be able to go through an explanation of how our firm works with ATV accident victims, how we can work to recover compensation for our clients, and more.
The sooner we discuss your situation, the sooner we will be able to represent your case and start fighting for the money you are entitled to. We encourage personal injury victims to partner with our firm before making first contact with the at-fault party or their insurance companies in the aftermath of the accident because as soon as they know you are taking legal action, they will begin to build a counter-argument to pay as little as possible.
Determining Who Is At Fault For Your ATV Accident
Like any accident or personal injury, one of the most important questions to answer from the start is who caused the crash, and therefore who is liable for your damages. This can be complicated with an ATV in a lot of instances, since it may be easy to pin unwarranted blame on the driver or passenger that is actually the fault of someone else. Our experienced legal team will be able to review the situation and get a sense of what really happened.
If you were driving the ATV and were in an accident that was caused by a manufacturing defect, failure to properly warn you of a hazard, or a design flaw inherent in the vehicle, then we will explore our options of pursuing compensation from someone in the supply and production chain — a distributor, marketer, or the producer of the vehicle. This is a complicated process because of how many different companies and contractors are involved throughout the product creation lifecycle, but once we pinpoint the responsible party (or parties), we will build a comprehensive case and work to seek a settlement negotiation.
In the event that you were involved in a crash that someone else caused, either as a passenger or a driver in a collision with another vehicle or obstacle that someone else created, then we will work to gather evidence proving that their negligence or recklessness caused the accident, and that you were the victim of their behaviors.
Get Legal Help Now
Whether your situation is similar to the examples provided above or if it is something entirely different, we will be happy to go through these details with you during our initial consultation. We understand that the days and weeks after an accident can be confusing, painful, and overwhelming, but once you understand that there is support here and that you have a path forward with your financial health, you can stay focused on your physical and emotional recovery and getting your life back on track without the added stress.
Our free consultation comes with no obligation, and we will use the opportunity to decide how we can best work together, and whether or not we are a good fit. Contact us as soon as possible to take this important step in recovering from your ATV accident.