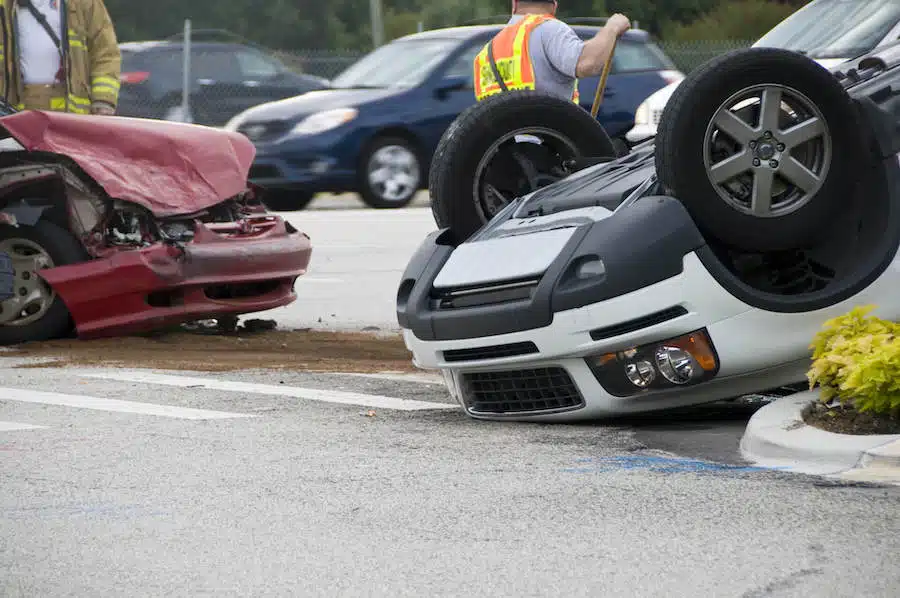 All auto accidents have the potential to be dangerous, but an accident involving a head-on collision is one of the most dangerous. It can result in severe injuries or even death. A head-on collision means that one of the drivers was out of their lane; consequently, there could be other factors involved in the collision that makes the situation even worse.
At Bernheim Kelley Battista, LLC, our Fort Lauderdale head-on collision attorneys fight for real justice and real results for injured victims and their families. If you or your loved one was hurt in a head-on crash, we are more than ready to help. Contact us today to set up a free, fully confidential initial consultation with a top-rated car accident lawyer in Fort Lauderdale.
What You Need to Do After a Head-On Collision in Fort Lauderdale?
Were you involved in a head-on collision in Fort Lauderdale? Be proactive. It is absolutely imperative that you know what to do to protect your health, your well-being, and your ability to bring a successful legal claim. Here are the steps to take:
Get your vehicle to a safe location;
Call 911 and/or law enforcement;
Get immediate medical attention for emergency injuries;
Exchange information with other drivers and document the crash;
Make sure you see a doctor for any physical injuries; and
Speak to a car accident attorney before an insurance company.
What is a Head-On Collision?
A head-on collision is a type of car accident where two vehicles collide while traveling in opposite directions and hit each other directly with the front ends of the vehicles.
Head-On Crashes: Statistics
Head-on collisions are not one of the most common types of crashes, but they are one of the most dangerous. The latest statistics cited by the National Institutes of Health (NIH) indicate just how dangerous head-on collisions can be: even though they only account for 2% of auto accidents, they account for 10% of fatalities. Florida Highway Safety and Motor Vehicles (FLHSMV) reports that more than 5,000 head-on collisions happened in the state in 2021 alone.
What are Common Causes of Head-On Collisions?
Head-on collisions only make up a small share of total motor vehicle accidents. Yet, when they occur, they can be truly devastating. These crashes can actually happen for a wide range of different reasons. How to tell who is at fault for a car accident? You need to know why it happens. Here are some of the most common causes of collisions in Florida:
Driving in The Wrong Direction: Sometimes, a driver may be unfamiliar with an area and may not realize that a street is one way. Needless to say, heading the wrong way down a one-way street increases the chance of a head-on collision. The same goes for traveling in the wrong direction on an off-ramp or on-ramp.
Driving While Intoxicated: Driving while under the influence of drugs or alcohol can cause a wide range of problems. Blurred vision and poor judgment are among those problems, and they can each lead to the driver drifting out of their lane into oncoming traffic.
Driving While Drowsy: When a driver is tired and fatigued, it is easy for them to nod off and drift into the opposite lane.
Driving While Distracted: This is another kind of behavior that can cause a wide variety of problems, including drifting into oncoming traffic.
Speeding: When someone drives too quickly, it is easy for them to lose control of their vehicle and swerve into an oncoming lane. The high speed of the vehicle can make any potential head-on collision even more dangerous.
A Previous Accident: In some cases, an accident in their own lane can propel a driver into oncoming traffic. If they get sideswiped by another vehicle or if they swerve to avoid an accident in front of them, they can end up in the opposite lane and in the path of an approaching vehicle.
To learn more, schedule a free consultation with us today.
The Common Injuries from Head-on Collisions
Injuries from head-on crashes can be truly catastrophic. Some of the most commonly reported head-on collision injuries include broken bones, internal injuries, spinal cord damage, and traumatic brain injuries. They can lead to permanent injury, scarring, disfigurement, paralysis, and even death.
Proving Liability for a Head-On Motor Vehicle Crash
How long after a car accident can you claim injury? Right away. While Florida is a no-fault state for minor motor vehicle crash claims, head-on collisions are often so severe that they are fault-based cases. Every head-on collision in Florida requires a thorough investigation. Establishing fault in a head-on motor vehicle crash in Florida requires proving the other party's negligence. Among other things, an injured victim must demonstrate that the other party breached their duty of care. Evidence such as traffic camera footage, witness statements, accident reconstruction, and police reports can be crucial in proving liability.
Recovering Compensation for a Head-On Collision in Fort Lauderdale
In Fort Lauderdale, recovering compensation for a head-on collision involves filing a claim with the at-fault driver's insurance company or pursuing a personal injury lawsuit. Compensation may cover medical expenses, lost wages, property damage, pain and suffering, and other damages. You might be wondering, "How much does an accident devalue my car?" If so, damages can help cover those costs, as well. Florida's no-fault insurance system requires that you first seek compensation from your own insurance policy before pursuing additional damages from the at-fault party.
Since head-on collisions cause so much damage, the compensation needed to cover all the expenses is likely to be quite high. Insurance companies will be reluctant to pay out a high settlement, meaning that negotiations with them are likely to be fraught since they will make counter offers that are lower than what the victim needs. A personal injury lawyer in Fort Lauderdale can negotiate with the insurance company to ensure that their client gets the settlement offer that they need and deserve. You need a top-rated advocate by your side. At BK Law, we are here to help you secure the maximum financial compensation.
At Bernheim Kelley Battista, LLC, our Fort Lauderdale car accident attorneys have the skills and expertise to take on all types of head-on collision cases. Contact us today for your free, no-obligation case review. We advocate for car accident victims throughout Florida.