According to the National Safety Council (NSC), approximately 40% of car accidents in the United States are multi-vehicle collisions. However, multi-vehicle accidents are responsible for more than 70% of highway fatalities and catastrophic injuries. One of the most frightening types of multi-car crashes is a broadside collision. So, where do broadside collisions most commonly occur? Broadside collisions are most likely to occur at intersections. In this article, our Fort Lauderdale car accident lawyer provides a comprehensive overview of when and where broadside collisions most often occur in Florida and what you should do if you are involved in a serious crash.
What is  a T-Bone Accident (Broadside Collision)?
Also known as a t-bone accident, a broadside collision is a type of crash that happens when the front end of one car strikes the driver or passenger side of another. It is a particularly dangerous type of crash. The occupants of the car that is hit in the "broadside" are at an especially high risk of suffering serious injuries, but any person involved in a broadside collision could sustain injuries.
Where Do Broadside Collisions Most Commonly Occur?
The overwhelming majority of broadside collisions take place at intersections. Indeed, the federal highway safety regulators refer to intersections as potential areas of conflict  By definition, vehicles at intersections are traveling in different directions. Proper safety precautions are a must.
Notably, intersection collisions have the potential to be extraordinarily dangerous. According to data from the Department of Transportation (DOT), approximately 30% of all traffic fatalities reported in the United States happen at an intersection.
What are the Most Common Causes of Broadside Crashes in Florida?
While broadside collisions can happen due to a wide array of causes, they share two important commonalities: 1) Most t-bone accidents happen at intersections and 2) Most of these crashes could have been prevented if only all parties had taken due care. Here is an overview of the most common causes of broadside collisions in Florida:
Failure to Yield the Right-of-Way: Most often, broadside collisions at intersections happen because one vehicle moves forward when it does not actually have the legal authority to do so. Under Florida law (Florida Statute § 316.121), all vehicles approaching an intersection are required to properly yield the right-of-way. As an example, imagine that a car is approaching a four way intersection where the cross-traffic does not stop. If that vehicle does not yield the right-of-way, there could be a serious broadside crash.
Running a Red Light or a Stop Sign: Red light and stop sign violations remain serious traffic safety issues in Fort Lauderdale, Broward County, and throughout South Florida. A significant share of broadside collisions occur because motorists fail to stop at a red light or a stop sign.
Distracted Driving: Distracted driving is a contributing factor in many broadside collisions. In many cases, a motorist fails to yield the right-of-way, runs a red light, or runs a stop sign because they are distracted while behind the wheel. The worst distractions—such as texting and driving—dramatically increase the risk of a car accident.
Poor Visibility: Some broadside collisions happen because of visibility issues at intersections. Visibility can be reduced for a number of different reasons—from poor weather to poor road design to a large vehicle being parked in a place where it should not be. All motorists should ensure that the intersection that they are entering is clear.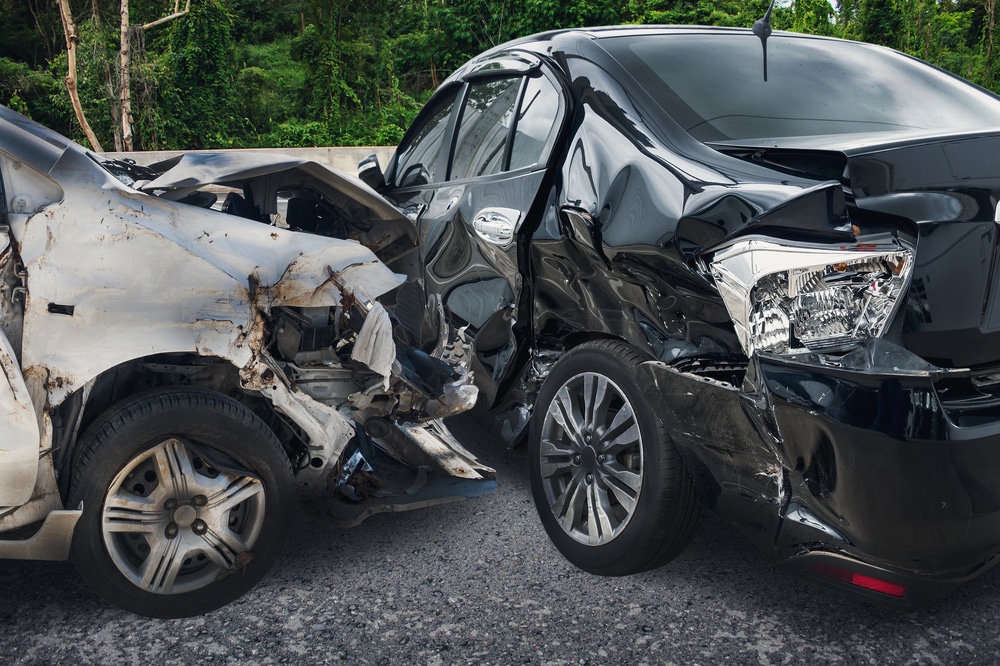 Most Common Injuries in Broadside Accidents
T-bone accidents can lead to serious injuries. The occupants of the vehicle that was struck in the broadside are at the highest risk of being injured. Though, the occupants of the other vehicle could also sustain serious harm, as well. Some of the most common injuries reported in broadside accidents include the following:
Lacerations;
Sprains and strains;
Torn ligaments;
Soft tissue damage, including whiplash;
Fractured/broken bones;
Concussions and traumatic brain injuries (TBIs);
Amputations; and
Spinal cord damage.
Four Tips to Avoid Broadside Collisions
There are proactive steps that you can take to reduce the risk of being involved in a serious broadside collision. Here are four tips to help you avoid t-bone accidents in Florida:
Make Sure You Stop at All Red Lights and Stop Signs: A driver who runs a red light or a stop sign is at the highest risk of being involved in a broadside collision.  
Always Follow the Speed Limit: Not only does speeding increase the risk of a broadside accident, it will increase the severity of any one that does occur.
Avoid Distracted Driving: Distracted driving increases the odds of a crash—including a serious broadside collision.
When In Doubt, Yield: Unfortunately, other drivers sometimes make mistakes. If you have a doubt that another driver is going to stop, it is always best to take extra care to yield.  
The unfortunate reality is that even the safest and most careful of drivers can still end up in a serious broadside accident. You could be the victim of another driver's negligence.
Who Can be Blamed for a Broadside Accident in Florida?
Fault for a broadside collision varies on a number of different factors. As a starting point, it is important to clarify that Florida is a no-fault car insurance state.  Under Florida law (Florida Statutes § 627.7407), all drivers are required to carry a minimum of $10,000 in no-fault personal injury protection (PIP) insurance. No-fault PIP coverage pays a policyholder's initial medical bills after an accident regardless of who caused the accident. In a minor or moderate broadside collision, the only claim may be a no-fault claim.
That being said, you can step outside of Florida's no-fault car insurance system in a serious accident. A person who sustained a serious injury in a car crash in Fort Lauderdale has the right to file a personal injury claim directly against the at-fault party. Who is liable for a broadside accident in Florida? A thorough investigation will be required to determine why the crash occurred. Neither the driver that hit the other while moving forward or the driver hit in the broadside of their vehicle is automatically at fault.
What Damages Can You Recover in a Broadside Accident in Florida?
Following a t-bone accident in Florida, it is imperative that you are able to recover compensation for the full extent of your damages. You have the right to pursue compensation for both economic and non-economic losses. However, most broadside collision claims are handled by large insurance companies that are more interested in preserving their bottom lines than your best interests. An experienced Fort Lauderdale personal injury lawyer can help you take action to maximize your financial recovery. Compensation may be recovered for the following damages:
Automobile repairs;
Emergency medical treatment;
Hospital bills and other medical expenses;
Lost wages and loss of earning power;
Pain and suffering;
Permanent disability, impairment, or disfigurement; and
Wrongful death of a family member.
You should not wait to take action after a t-bone accident. A claim must be initiated before the statute of limitations expires. In Florida, there is a four-year statute limitation for motor vehicle accident injury claims (Florida Statutes § 95.11(3)(a)). However, you have far less time than that to notify your own insurer and initiate a no-fault PIP claim. The sooner you consult with a Fort Lauderdale car accident lawyer, the better position you will be in to recover full and fair damages for your broadside collision.
What Steps Should You Take After a Broadside Accident? 
The immediate aftermath of a multi-vehicle collision can be stressful, complicated, and altogether confusing. Unfortunately, some people make mistakes after a broadside collision that undermine their own rights. It is crucial that you know what you need to do so that you can protect your health, well-being, and ability to recover the full financial compensation that you deserve under Florida law. Here are five steps to take after a broadside collision in Fort Lauderdale:
Stop Your Vehicle, Exchange Information, and Call the Police: In Florida, all motorists involved in a car crash are required to stop their vehicle, exchange information with the other parties, and remain at the scene of the accident for medical emergencies. If your t-bone accident resulted in any physical injuries (or major property damage), it needs to be reported to state or local law enforcement. The vast majority of broadside collisions need to be reported to the police.
Seek Immediate Medical Treatment for Any Injuries: All car accident injuries should be evaluated by a qualified doctor. Getting medical care is especially important after a broadside collision as so many of these accidents lead to serious injuries. Many common t-bone accident injuries—including whiplash and concussions—are known to rise with a delayed onset. You may be more seriously injured than you realize. Another key issue is that you cannot recover personal injury compensation for a broadside collision unless you see a doctor.
Document the T-Bone Accident: Although Florida is a no-fault auto accident state for minor and moderate crashes, it is still important to document your accident. Proper documentation will make it easier to bring a no-fault claim through your PIP coverage. In addition, should a fault-based claim be warranted in your broadside collision, you will have all of the evidence and information needed to get justice. Take pictures of your broadside accident, get witness contact information, and record any other relevant details.
Avoid Giving a Recorded Statement to an Opposing Insurer: You cannot trust another driver's insurance carrier to do what is best for you and your family. After a serious broadside accident in Broward County, you may get a call from an opposing insurance adjuster asking for a recorded statement. You have no duty to give a recorded statement at that time. It is best to avoid giving a recorded statement to an opposing insurance company without seeking representation from an experienced attorney.
Consult With a Fort Lauderdale Car Accident Lawyer: An auto accident attorney will protect your rights and help you navigate the insurance process. You should get an attorney for a car crash in Fort Lauderdale if you or your loved one was seriously injured in the accident or you otherwise need help navigating the claims process.
Why Should a Person Hire BK Law for a Broadside Car Accident Case?
Multi-vehicle accident claims are complicated—especially in the case of a serious crash such as a broadside collision. You do not have to go up against the big insurance companies alone. At Bernheim Kelley Battista & Bliss, LLC, we help injured victims secure the maximum financial compensation. Among other things, our Fort Lauderdale auto accident lawyers are prepared to:
Hear your story and answer your questions during a free initial consultation;
Investigate the broadside collision—gathering the evidence to proceed;
Handle legal paperwork and represent you before insurers; and
Take your broadside accident claim as far as needed to get you real justice.
At Bernheim Kelley Battista & Bliss, LLC, our Fort Lauderdale auto accident lawyers are committed to getting real justice and real results for injured victims. If you or your loved one was hurt in a broadside collision, we are here to help you navigate the claims process. Get in touch with us by phone or send us a direct message to set up your no cost, no obligation case evaluation. We handle car accident claims in Fort Lauderdale, Broward County, and throughout all of Southeast Florida.