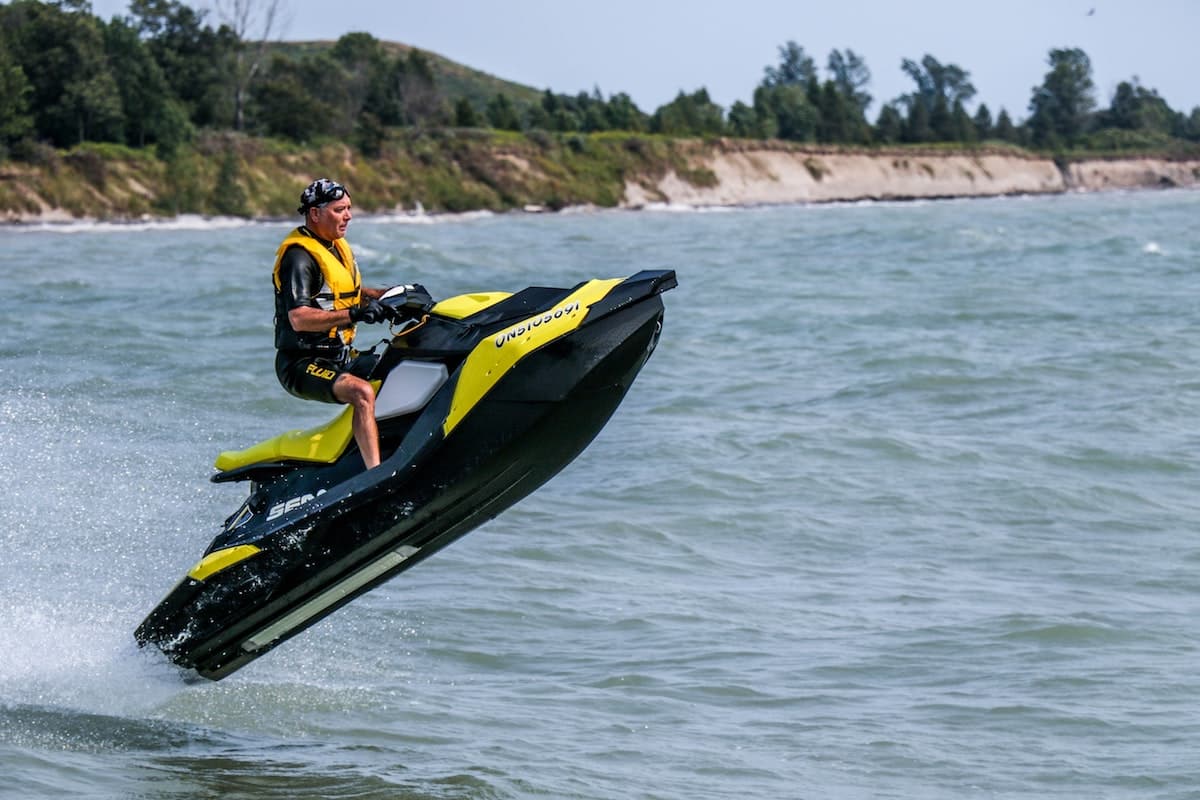 Florida waterways are filling up with more Jet Skis* than ever before as people seek out socially-distant ways to have fun in the sun.
But the reality is that these watercraft are more dangerous than most people realize. 
According to a  2020 report from the United States Coast Guard, personal watercraft (PWC) were involved in the second-highest number of accidents on the water, accounting for 22 percent of all injury or fatal incidents. 
In Florida,  Jet Ski injuries and fatalities have surged to higher than they've been in the last five years, with 227 reported accidents, 183 injuries, 15 deaths and nearly $750,000 in property damage. Authorities are especially concerned about rented Jet Skis on the water, as operators typically receive little to no training or preparation to safely maneuver the high-powered devices.
The Florida Fish and Wildlife Conservation Commission reports that 53% of Jet Ski operators have no boater education, and 48% have less than ten hours of experience operating a Jet Ski on the water. People as young as 14 can operate a Jet Ski, and the safety training requirements are much less involved than a standard driver's test. 
An accident on the water can happen when you least expect it. Whether you've suffered injuries from operating a Jet Ski or being hit by one, a Jet Ski accident lawyer can help you protect your rights and receive the compensation you desire and need.
Common Causes of Jet Ski Accidents 
Jet Ski accidents in Florida happen in many ways, including collisions with a vessel or fixed objects, riders falling off or overboard, and Jet Skis capsizing or grounding.
According to Florida authorities, the common causes of recent PWC accidents (in order) are: 
Inattention
Operator inexperience
Reckless operation
Excessive speed
Violation of navigation rules (using Jet Ski in a restricted area or boating lane)
Alcohol or drug use
Weather
Machinery failure
Almost all PWC accidents are caused by operator error, whether by the Jet Ski operator or the operator of a nearby vessel. A lawyer who specializes in these kinds of accidents will be able to tell you if you're entitled to compensation for injuries or damages. 
What K
ind Of Injuries Are Most Common?
Jet Skis can pose risks to equipment operators, boaters and passengers. The machines are powered by engines that send riders gliding over the waves at speeds topping 60 mph. 
The new wave of Jet Ski popularity puts many different people at risk. According to the Florida Fish and Wildlife Conservation Commission, most Jet Ski accidents involve a collision with another vessel. 
The most common Jet Ski injuries in Florida are broken bones, lacerations, contusions, head injuries, internal bleeding, back injuries, sprains and spinal injuries. 
Victims of these accidents can receive compensation for medical expenses, pain and suffering or loss of wages due to the accident. 
What To Do in Case of Jet Ski Accidents 
After you're involved in an accident, you should take the following steps: 
Get to a safe place
Seek medical attention for any injured parties
Get information:

Collect contact information for all boaters, passengers and witnesses involved in the accident, registration numbers for all vessels involved and insurance company information for the owners or rental company operators. 

Collect evidence: Record where and when the accident occurred and who was driving.

Florida has strict laws

about the age of Jet Ski operators and legal operating zones that could be used against responsible parties in court. For example, Florida law requires all Jet Ski riders under the age of 22 to have a driver license. Pictures and videos can be highly effective at reconstructing accident scenes on waterways. 

Report the accident to authorities:

An owner or operator should report an accident with damage, death or injury to authorities within 48 hours. 

Contact a boat or Jet Ski accident lawyer:

A skilled attorney can help you navigate what to do after an accident and guide you through future steps, such as contacting insurance companies and deciding whether legal action is necessary.
Never assume that the accident was due to unavoidable conditions. According to the United States Coast Guard, most of the PWC accidents in 2020 occurred in calm water, with light wind and good visibility. 
It's vital to do your due diligence and complete these steps to protect yourself from unnecessary health costs and property damage. 
Most Common Liable Parties in Jet Ski Accidents
To create a viable case to receive compensation for a Jet Ski accident, you must determine who is to blame for the incident. As operator error causes most incidents, many different parties could be responsible. 
Jet Ski or boat operator

: The liable party will most often be the person operating a Jet Ski or boat during a collision. The operator could be sued for negligence if they weren't paying attention, ignored waterway safety laws, or were under the influence or recklessly operated their watercraft. In Florida, operators who choose to weave through congested traffic, jump the wake of a vessel when unreasonably close, or swerve at the last possible moment to avoid a collision

are breaking state law

and thus could be held audible for the resulting damages.

Jet Ski or boat rental company:

A Jet Ski or boat company that knowingly rented a vessel to a drunk or underage boater could be liable for the accident. If an engine failure caused a collision, and it can be proved that the company failed to maintain the vessel properly, they may also be at fault.

Manufacturer of Jet Ski or boat:

In the rare case that an engine failure caused a Jet Ski accident, you may be able to build a claim against the company that created the equipment. 
More than one party could be held responsible for an incident.. A licensed professional can help you determine exactly who may be to blame for your Jet Ski accident.
Getting Compensated for Your Jet Ski, Boating and Personal Watercraft Injuries
Did you lose a loved one in a Jet Ski accident caused by the negligence of another? Did a personal watercraft cause you injuries or property damage? Contact us to schedule a free consultation. The personal injury attorneys at BK Law can ensure you receive financial compensation for your damages, including lost wages, medical bills, pain and suffering. 
Our legal team holds outdoor equipment and Jet Ski rental companies financially accountable for personal watercraft accidents that result in death and potentially life-threatening injuries.
We investigate your Jet Ski accident thoroughly. We work to establish negligence and liability and connect them to your case. We fight for the compensation you deserve to cover medical expenses, lost income, pain and suffering, and other damages. If we are unable to reach an appropriate settlement with the insurance company or liable party, we will take your case to court and fight for your right to recover damages.
*Although "Jet Ski" is technically the brand name of a personal watercraft (PWC) manufactured by Kawasaki, the term is often used to refer to any type of personal watercraft used for recreation.