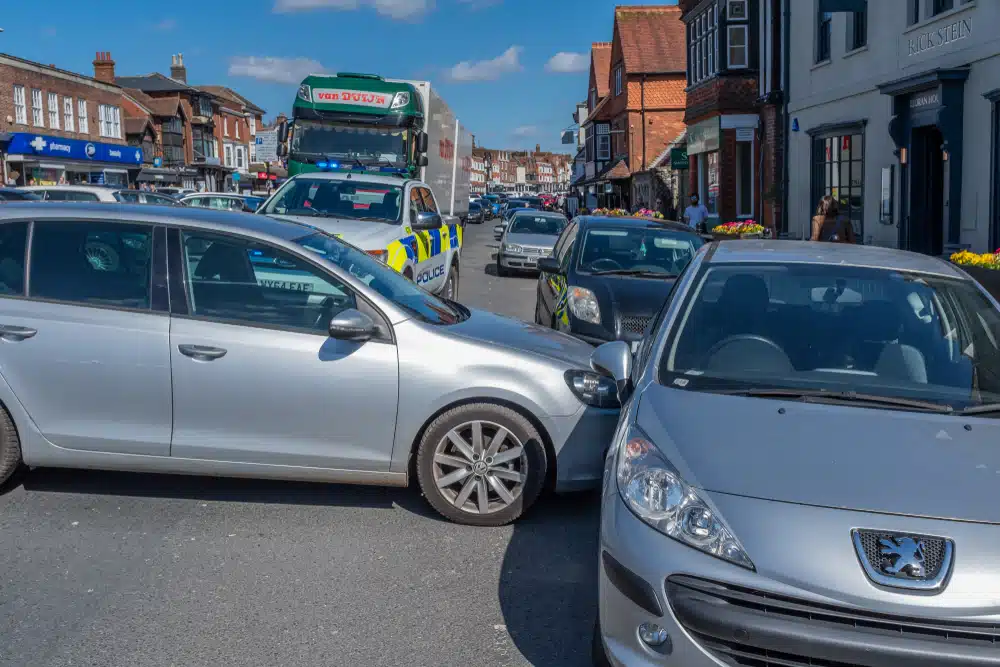 Hurt in a T-Bone Crash in Fort Lauderdale? Contact Us Today for a Free Consultation
According to a comprehensive analysis from the Florida Highway Safety and Motor Vehicle (FLHSMV), there were 401,540 car crashes in the state in 2021 alone—with 4 in 10 of those crashes being multi-vehicle collisions. T-bone accidents are one of the most serious types of multi-vehicle crashes. At Bernheim Kelley Battista, LLC, we are devoted to helping injured victims of T-bone accidents get justice. In this article, our Fort Lauderdale car accident lawyers provide a guide to T-bone collisions in Florida.
What is a T-Bone Accident?
A T-bone accident is a broadside collision. It happens when the front of one vehicle strikes the side of another vehicle. Most often, these crashes happen at intersections or in parking lots where vehicles are going perpendicular to each other. These accidents can be very dangerous—especially so for the person whose broadside is hit by an oncoming vehicle.
Causes of T-Bone Accidents
T-bone accidents are caused by a variety of factors. As these crashes have the potential to be very serious, it is crucial that they are comprehensively investigated to determine what happened and why it happened. Many T-bone crashes occur at or near intersections. The United States Department of Transportation (DOT) reports that one-third of all traffic deaths nationwide are intersection collisions—and many of these accidents are T-bone crashes. Here are some of the most common causes of T-bone accidents.
Failure to stop at a stop sign or red light;
Speeding and reckless driving;
Distracted driving, such as texting or eating while driving;
Drunk driving or driving under the influence of drugs;
Poor visibility or adverse weather conditions;
Poorly designed/maintained roads, such as obscured signs or broken traffic lights; and
Mechanical failures, such as brake or steering problems.
Who is at Fault During a T-Bone Accident?
Determining fault in a T-bone accident depends on the specific circumstances of the case. In some cases, one driver may clearly be at fault, such as when they run a red light or fail to yield at a stop sign. However, there may be situations where both drivers share some degree of fault. For instance, if one driver runs a red light but the other driver is speeding and cannot stop in time to avoid the collision, both drivers may be considered partially at fault.  
How Does Florida's No-Fault Auto Insurance Law Impact a T-Bone Accident Claim?
Florida has a no-fault insurance law. Under Florida Statutes § 627.7407, all motorists in the state are required to buy at least $10,000 in no-fault coverage in the form of Personal Injury Protection (PIP) insurance. Florida's no-fault auto insurance law can have a major impact on a T-bone accident claim. In Florida, each driver's own insurance company is responsible for covering their medical expenses and lost wages, regardless of who was at fault for the accident. Your initial personal injury claim is against your own policy, regardless of fault. However, if you have suffered serious or permanent injuries as a result of the T-bone accident, you may be able to file a lawsuit against the at-fault driver to recover additional damages such as pain and suffering, emotional distress, and loss of enjoyment of life. To pursue a fault-based claim for a T-bone crash, a person must suffer "serious" injuries as defined by Florida law. This can be done by asserting a significant and permanent loss or impairment of an important bodily function, a permanent injury within a reasonable degree of medical probability, or significant and permanent scarring or disfigurement.
How to Avoid Being in a T-Bone Accident
As noted, T-bone accidents are disproportionately likely to result in severe injuries. Avoiding a crash is important. There are several steps drivers can take to avoid being involved in a T-bone accident, including:
Pay attention to traffic signals and signs, especially at intersections;
Slow down and look both ways before entering an intersection;
Yield the right of way to other drivers when necessary; and
Avoid distractions, such as cell phones or other electronic devices.
What are the Common Injuries Sustained During T-Bone Accidents?
T-bone accidents can result in a wide range of injuries, from minor cuts and bruises to severe, life-threatening injuries. Most often, the driver or passenger whose broadside (door) is struck is at the highest risk of suffering severe injuries. Though, every T-bone accident is different. Even a T-bone collision that occurs at a seemingly modest speed at a Fort Lauderdale intersection can still result in major injuries. Some common injuries sustained during T-bone accidents include:
Arm and leg injuries, such as broken bones, sprains, or amputations;
Facial injuries, including lacerations or fractures;
Head injuries, such as concussions, traumatic brain injuries, or skull fractures;
Neck injuries, including whiplash or spinal cord damage;
Chest injuries, such as broken ribs or collapsed lungs;
Abdominal injuries, including organ damage or internal bleeding;
Pelvic injuries, such as fractures or dislocations; and
Psychological injuries, such as anxiety, depression, or post-traumatic stress disorder (PTSD)
To learn more, schedule a free consultation with us today.
An Overview of T-Bone Accident Damages (What Victims Can Recover)
Following a T-bone crash in Fort Lauderdale or elsewhere in Florida, it is imperative that you are able to cover your damages. Regardless of whether or not you have a PIP claim or a PIP claim and a fault-based personal injury lawsuit, our Florida T-bone accident lawyers are standing by, ready to help you fight for the maximum financial compensation. The unfortunate reality is that you cannot trust an insurance company—even your own no-fault PIP provider—to look out for your best interests. You may be able to recover the following types of damages:
Economic Damages: Economic damages are out-of-pocket losses that can be tied to specific expenses. Some notable examples of economic damages include vehicle repairs, medical bills, and lost wages.
Non-Economic Damages: Non-economic damages cannot be tied to a specific, quantifiable loss—but that does not make them any less real or any less important. Some examples include pain and suffering, emotional distress, and loss of life enjoyment.
What to Do After Getting Into a T-Bone Accident in Florida
A T-bone collision can change your entire life in the course of a few seconds. The crash scene can be chaotic and overwhelming. By knowing what to do after a serious T-bone crash, you will put yourself in the best position to protect your safety and your legal rights. Here are some of the most essential steps to take after a T-bone accident in Fort Lauderdale:
Call 911: The first thing you should do is call 911 and report the accident to law enforcement. The police will come to the scene, take statements from witnesses and drivers, and create an official report. This report will be important if you decide to pursue a personal injury claim later on. All T-bone crashes that result in injuries must be reported.
Exchange Information: Be sure to exchange information with the other driver, including names, phone numbers, insurance information, and license plate numbers. If there were any witnesses to the accident, get their contact information as well.
Seek Medical Attention: Not only should you see a doctor for your own health, well-being, and physical/mental recovery, it is a required part of the personal injury claims process in Florida. Emergencies take precedence. Non-emergency injuries should be evaluated.
Take Pictures: Use your phone or camera to take pictures of the damage to both vehicles, the position of the vehicles, and any other relevant details. These pictures will be important evidence if you decide to pursue a personal injury claim.
Notify Your Insurer (and Be Ready to Get a Fort Lauderdale Personal Injury Lawyer): You should also notify your own insurance company about the accident, even if the other driver was at fault. That being said, you do not have to give a statement at this time. Before giving any statement to an insurance adjuster, you should set up a free consultation with an experienced attorney.
What Not to Do After Getting Into a T-Bone Accident (Four Mistakes to Avoid)
Getting into a T-bone accident can be a stressful and overwhelming experience. It is easy to make mistakes in the aftermath. In fact, it is not uncommon for injured victims to make avoidable errors that undermine their claim: Here are four mistakes to avoid after getting into a T-bone accident:
Do Not Admit Fault: Even if you believe you may have been at fault for the accident, it is important not to admit fault to the other driver or anyone else at the scene. It is not your job to figure out who was at fault. Admitting fault could hurt your chances of receiving compensation later on, and the other driver may also try to use your admission of fault against you.
Do Not Refuse Medical Treatment: All T-bone accident injuries should be assessed by a doctor. Some injuries, such as concussions or internal bleeding, may not be immediately apparent, and delaying treatment could make your injuries worse. You will not be able to bring a personal injury claim for a T-bone accident in Florida without medical records.
Do Not Leave the Scene: In a Florida T-bone crash, parties are required to stop their vehicle, exchange information, and remain at the scene—with an exception for medical emergencies. Leaving the scene of a T-bone accident prematurely could cause you serious problems, potentially even a criminal charge.
Do Not Speak to an Insurance Adjuster Without a Lawyer: After the accident, you may receive calls from insurance adjusters looking to settle your claim. Remember, insurers are looking out for the interests of the company, not what is best for you and your family.  Always consult with a Florida car accident lawyer who has experience handling T-bone collision claims.
Know the Statute of Limitations for a T-bone Accident Injury Claim
Under Florida Statutes § 95.11(3)(a), there is a four-year statute of limitations for motor vehicle accident injury claims. T-bone collisions are no exception to the rule. That being said, you have less time to initiate a PIP claim through your own no-fault insurance policy. Likewise, you do not want to fall behind the defense or insurance company in the legal claims process. Consult with a Florida t-bone accident attorney right away.
Contact Our Fort Lauderdale, FL T-Bone Accident Attorneys Today
T-bone accident claims are complicated. Following a serious T-bone crash, it is normal to have a ton of questions about your rights, your options, and exactly what you need to do next. Going up against a big insurance company alone is almost always a huge mistake. At Bernheim Kelley Battista, LLC, we are here to get you justice. Our Fort Lauderdale T-bone accident lawyers fight tirelessly to get real justice and real results for injured victims and their families. If you or someone you care about was hurt in a T-bone collision, we are more than ready to help. Contact us right away for a no-cost, no-strings-attached initial consultation. With an office in Fort Lauderdale and offices in Miami, Fort Myers, Jacksonville, and Starke, we handle T-bone accident claims throughout the state.  
Personal Injury Practice Areas
Other Practice Areas