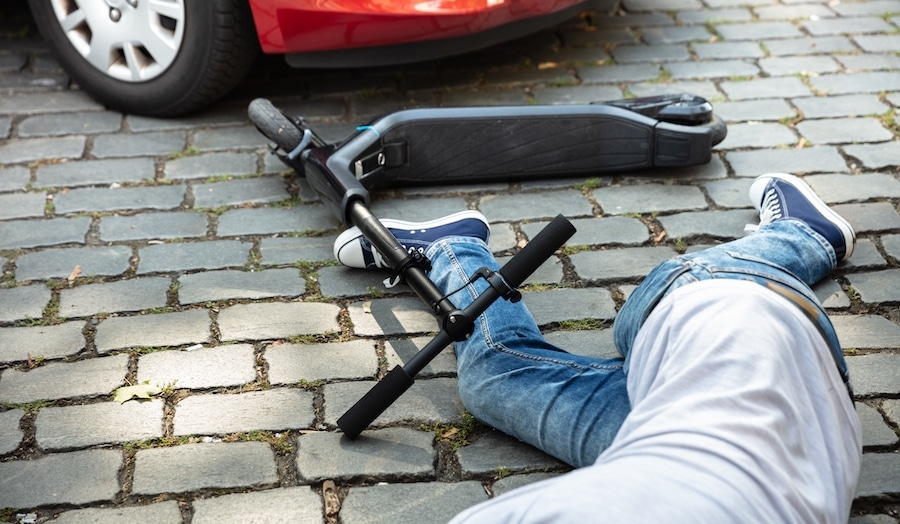 Motorized scooters don't go as fast as motorcycles, but they typically must obey the same traffic laws. Scooter safety laws also require scooter operators to wear a helmet and have a valid driver's license (or permit). But there is still one big difference between motorcycles and motor scooters. In many places, motorized scooters may not be operated at a speed exceeding 20 miles per hour. Unfortunately, while scooters neither travel as fast nor weigh as much as motorcycles, there are nearly as many scooter accidents that result in personal injuries as there are motorcycle crashes.
Scooters Are Popular
Due to the rapid increase in popularity of electric scooters in cities across America, along with the publicity and notoriety surrounding them, and their low cost, the number of electric scooter accidents and injured riders has increased significantly. Further, the number of injury claims seen by scooter accident attorneys has also increased.
Facial and head injuries from riding electric scooters have tripled over the past decade, according to a Rutgers study.
Studies Are Showing More Scooter Accidents
A study published in the American Journal of Otolaryngology analyzed records in the Consumer Product Safety Commission's National Electronic Injury Surveillance System between 2008 and 2017 to determine the types and frequency of head and facial injuries resulting from motorized scooters. The system collates data from about 100 participating hospitals, which is then extrapolated to provide national estimates on injuries related to consumer products.
The researchers found that over the decade studied, emergency departments recorded 990 head or facial injuries sustained from electric scooter use — or 32,000 estimated injuries nationwide. The incidences tripled annually from an estimated 2,325 nationwide in 2008 to an estimated 6,947 in 2017.
If you or a loved one has sustained an injury due to a scooter accident, allow us to determine if a product liability or other issue played a role in your accident. Contact Bernheim Kelley Battista & Bliss, LLC today for more information.