Why Are There So Many Pedestrian Accidents in Florida?
January 20, 2022
Warm sunshine and walkable cities mean heavy pedestrian traffic in much of Florida. Residents and tourists alike can avoid gridlock and parking headaches by relying on public transit and their own two feet. 
Pedestrians, however, encounter all types of danger when strolling the streets or searching for a bus stop. 
A good pedestrian accident lawyer should be skilled and knowledgeable enough to protect your interests, and at BK Law, we see our fair share of personal injury cases involving motor vehicle-versus-pedestrians. 
But we'd prefer that you avoid one in the first place. 
Today, we're taking a closer look at why there are so many walking and cycling accidents in Florida. (Hint: It has something to do with guys like this behind the wheel):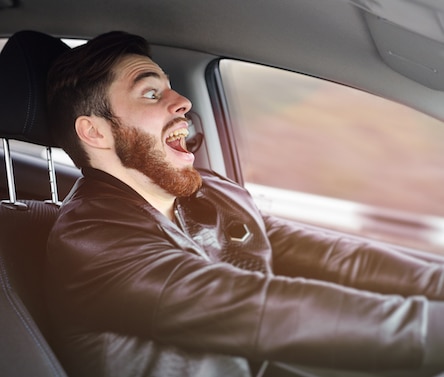 Florida Pedestrian Accident Statistics
Did you know that the Miami-Fort Lauderdale-West Palm Beach metro area is 13th in the nation for pedestrian danger? It's not just a busy city that's dangerous for walkers. According to a report by Smart Growth America, a pedestrian-safety organization, Florida as a whole logs 2.8 pedestrian fatalities per 100,000 residents.
The numbers of pedestrian deaths from an accident just keep growing. Stats from the Governors Highway Safety Association note that pedestrian deaths in 2019 were higher than any other year, and increase year-over-year. In fact, Florida, along with California, Georgia, Arizona, and Texas, accounted for 47% of all pedestrian accident deaths.
Scenarios That Might Lead to a Pedestrian Accident
These numbers are scary, and the year-round warm weather of Florida indeed encourages lots of foot traffic. Some scenarios are riskier than others, whether you're a native Floridian or just visiting. Possible causes of a pedestrian collision include:
Reckless or distracted driving from a vehicle operator
Pedestrian negligence
Failure to stop at an intersection – either walkers or drivers
Passing a school bus or public transit bus that's stopped
Driving while under the influence
Speeding
Poor maintenance of intersections
Although the term "pedestrian" typically conjures up a vision of someone walking, pedestrians are defined as anyone using a walkway or roadway that isn't in a vehicle, including runners, cyclists, and skaters.
While the onus typically is on vehicle drivers to avoid pedestrians and follow roadway laws for stopping or slowing down, if you're walking, jogging, or riding your bike, you, too, have a responsibility to follow proper road safety. 
Don't take unnecessary risks! These include keeping your head buried in your phone or crossing the street outside of a designated crosswalk. If you're riding a bike, dismount at an intersection and walk your bike across. Safety precautions can help you avoid a serious or deadly pedestrian accident.
Types of Injuries Our Clients Experience
Pedestrian accidents can cause more severe injuries than car collisions because one of the parties doesn't have the protection of a metal cage. When a car or truck goes up against a human body, it isn't exactly a fair fight. The injuries can be severe and extensive.
Fractures and crushed bones
Broken bones are common when a pedestrian is hit by a vehicle. The tires may run over fingers or toes, crushing them. These breaks may not be clean breaks, either; they may require corrective surgery to repair. Even after surgery, the healing time can be extensive, with no guarantee of full range of motion even after months or years.
Head injuries
It's common for your head to strike the ground or a curb in pedestrian accidents. Cyclists may wear helmets to mitigate the damage, but your head is vulnerable if you're walking. Head trauma may cause visible injuries to the face or traumatic brain injuries such as a concussion. Headaches, dizziness, and loss of vision are common. Long-term cognitive complications, including memory loss or difficulty concentrating or speaking, are also common with brain injuries.
Back injuries
Depending on the driver's speed and how the victim was struck, neck, back, and spine injuries can be common. Damage to the discs and vertebrae can cause severe pain and mobility issues. Or, the spinal cord itself can be damaged, bruised or even severed, causing loss of feeling and function in the body below the injury.
Who Is Responsible For the Medical Bills?
Even if another party is responsible for the accident, you're still responsible for your medical bills. While this feels like adding insult to injury, especially if you need emergency care, specialist services, and a hospital stay, the other party may still be held liable for your medical care. This means that they, or their insurance company, may settle a sum of money that covers your medical expenses.
Therefore, it's important to have a personal injury attorney represent you. We can ensure that you have the proper documentation (including doctor's statements and diagnoses) to prove that your injuries were caused by the accident. We can also fight to make sure that the responsible party pays for all the bills in full.
Have You Been Involved in a Pedestrian Accident?
If you have been injured while walking in Florida, the personal injury attorneys of BK Law will aggressively pursue monetary damages on your behalf. Contact us today to schedule your free consultation and get started on your case. We will do everything we can to get you the money you need and deserve.