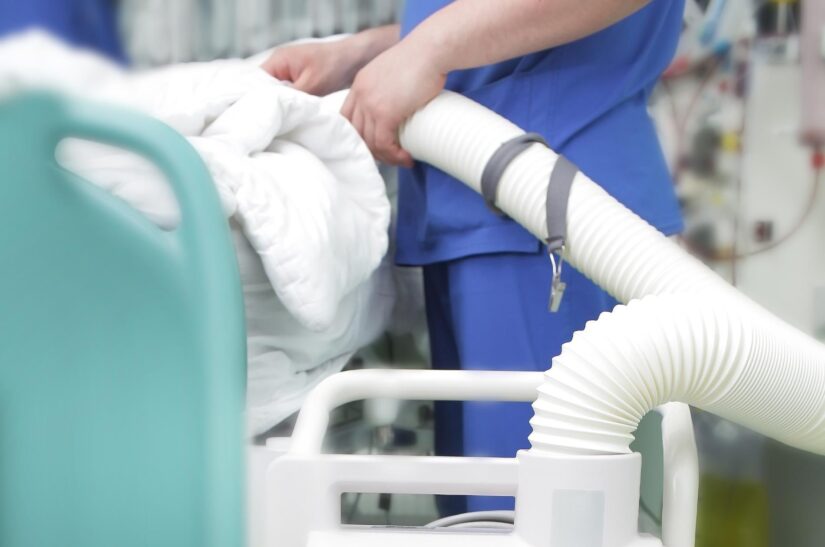 We put a great deal of trust in surgeons and expect that they will do everything in their power to heal and repair our bodies. Surgeons, in turn, rely heavily on the equipment they use and trust that it has been properly tested and is safe for patients. In the case of the Bair Hugger, 3M let both patients and surgeons down. The Bair Hugger is a surgical warming blanket, intended to keep the body temperature at a stable 98.6 degrees during surgeries. This invention has been used in hospitals since the 80s, and there are still approximately 50,000 units in use today. However, there have been thousands of patients who suffered serious consequences, including death, amputations, and serious infections. If you are one of these patients, and have suffered serious injury as a result of the Bair Hugger, the Fort Lauderdale Mass Tort Lawyers at BK Law are ready to help.
What Does a Bair Hugger Do?
During surgery it is natural for the body temperature to drop. This can be dangerous for the patient and can inhibit proper healing and reduce the likelihood of a successful surgery. The Bair Hugger was invented by an anesthesiologist in an attempt to address this problem. The Bair Hugger keeps patients' temperatures at a stable 98.6 degrees during surgery by blowing a continuous stream of hot air into a disposable blanket that is laid beneath the patient's body. At one point, this device was being used in approximately 90% of all surgeries, and over 50,000 units remain in use in hospitals across the country today. However, it has now been confirmed that the Bair Hugger poses serious risks to patients, particularly those undergoing joint surgeries.
Why is This Device Potentially Dangerous?
Hospitals use an air circulation system that sanitizes the air before it circulates, ensuring that no bacteria are circulated back through the surgery room. This is critical because patients undergoing surgeries are incredibly vulnerable to infections as they have open wounds in which bacteria can colonize. For this reason, the proper function of the air circulation and sterilization system is critical.
It is now believed that the Bair Hugger interferes with the proper circulation and sanitization of air flow. This is because not all of the hot air is confined to the disposable blanket. When the hot air flows into the blanket, it also flows through the blanket, causing it to raise the temperature and disrupt the airflow above and beneath the surgical table.
Studies have found that the hot air that gathers below the surgical table allows bacteria to grow, which is then circulated back to the patient and their open wounds. Because of the nature of joint surgery, patients who have had operations on their joints are the most vulnerable to this bacteria. When the bacteria enters the body into joints so deeply, it can be incredibly difficult to treat the resulting infection. Patients having knee and hip joint surgery and joint replacement surgeries have the highest incidence of infections of this kind. They often develop MRSA infections, which can be impossible to treat. Thousands of these individuals have suffered amputations and even death as a result. There are currently 5,000 patients with lawsuits pending against 3M as a result.
Did The Manufacturer Know About This Problem?
In 2002, the original inventor of the Bair Hugger sold his interest in the company after clashing with the Board of Directors. The Board of Directors quickly sold the company to 3M. In 2010, the inventor contacted 3M and warned them of the safety risks that the Bair Hugger posed to patients and insisted that a recall of the product was necessary. However, the company instead sued the inventor for defamation. They alleged that his warnings were unfounded, and that he was only asserting potential risks as a way of selling a new product that he had invented.
While medical journals dismissed the legitimacy of these concerns, patient lawsuits continued to roll in. Eventually, 3M was forced to admit that the concerns were valid. However, they still failed to make any changes to the product or warn patients and surgeons about the potential risks. The fact that 3M ignored warnings about the product and deprived patients of an opportunity for informed consent to the use of the product opens the door for lawsuits as it meets the criteria for gross negligence, and could even be seen as malicious or reckless conduct taken with wanton disregard for the wellbeing of patients. It is hard to justify the fact that 3M at no point made changes to the product to address the known safety concerns, warned patients and surgeons about the dangers, or issued a recall.
Do Bair Hugger Infections Cause Amputations and Deaths?
It is alleged by thousands of patients that they have suffered serious medical consequences as a result of the Bair Hugger blanket being used during their surgeries. These consequences have included complications including amputations, death, and MRSA infections. These complications are most likely to occur in surgeries on joints, such as knee and hip replacements. Scientific studies support these claims, and have found that the way the Bair Hugger blanket operates is likely to create bacteria while also inhibiting the flow of clean air, allowing the bacteria to colonize deep inside of joints, where it can be difficult and even impossible to treat infections. This can result in patients needing multiple surgeries and even amputations. In some cases, they do not survive the infection.
Is FDA Aware of Infection Concerns?
The FDA first approved the Bair Hugger in 1987. Since then, it has received hundreds of reports of serious infections caused by the device. However, despite these reports, the FDA made a statement in 2017 recommending the continued use of the Bair Hugger. In their statement, the FDA emphasized the benefits of using the device, but acknowledged that it was aware of the complaints and that they were monitoring its continued use.
Has 3M Recalled Bair Hugger Warming Blankets?
3M has issued one recall of the Bair Hugger blankets. The recall was made in 2018 due to a design defect that affected approximately 165,000 blankets. This design defect prevented the Bair Hugger from fully inflating beneath the patient during surgery, inhibiting the effectiveness of the product. In fact, one patient allegedly suffered hypothermia during surgery and required intensive care surgery to save his life due to the blanket's failure to perform as it was supposed to. It is important to note that this recall was instituted due to this specific design defect, and that no recall has ever been issued due to the risk of infection caused by the blankets.
Bair Hugger Lawsuit Updates
The first Bair Hugger lawsuit went to trial in 2018. It was unsuccessful, and in 2019, a federal judge dismissed all remaining federal lawsuits. This move left 4,000 patients who had suffered serious injuries and even death as a result of the Bair Hugger device seemingly without recourse. However, on November 9, 2021, the cases were reinstated and returned to the lower court for review. On January 3, 2022, 3M suffered another setback when it was determined by the Federal Court of Appeals for the 8th circuit that the previous judge who ruled in 3M's favor had wrongly excluded evidence that supported the plaintiffs' claims. The next month, on February 3, 2022, the judge appointed a mediator to work toward a settlement between 3M and the alleged victims of the Bair Hugger blanket. For the first time in decades, there is real hope of financial restitution for those who have been harmed and even killed due to the use of the Bair Hugger.
Should I Get a Lawyer?
If you have suffered serious infection, injury, amputation, or the death of a loved one due to the use of a Bair Hugger blanket during surgery, now is the time to take action. It is important to seek experienced legal representation who can ensure that you will be included in any settlement reached on behalf of Bair Hugger victims by 3M. This has been a complex case with many ups and downs and would be difficult for most people to follow in the news, let alone navigate personally. For this reason, it is critical to have a dedicated legal advocate on your side who understands the mechanics of mass tort litigation. If you have questions about how to move forward, the mass tort and personal injury lawyers at Fort Lauderdale's BK Law are standing by ready to help.
Is There a Class Action?
Yes. There is currently a class action lawsuit pending against 3M on behalf of victims who have suffered serious complications due to the Bair Hugger. These injuries include death, amputation, multiple surgeries, and the development of the MRSA virus. This class action lawsuit is currently in mediation attempts, which means that any victims included in the lawsuit will receive a portion of the total payout should the case ultimately settle. If mediation attempts fail, the case will be returned to court to be litigated. If you believe that you belong in the class of patients who have been seriously injured due to the use of this product, make sure to talk to a lawyer as soon as possible.
How Can a Lawsuit Help Me?
Medical care is expensive. Those who have had to receive multiple surgeries or amputations due to complications caused by the Bair Hugger have incurred hundreds of thousands of dollars in medical bills alone, in addition to other damages such as pain and suffering. Additionally, 3M could face additional penalties for failing to warn or take appropriate action in response to warnings about the dangers of its products. While 3M did cite scientific studies in the first lawsuit against it, which claimed the device was safe, the creator of the Bair Hugger has alleged that these studies were misleading and intentionally measured the wrong metrics.
This could also open the door to punitive damages. Unlike economic damages and compensation for pain and suffering, punitive damages are intended to penalize a corporation (or any defendant) for reckless or malicious conduct. However, whether this case will be litigated and result in a jury award will depend on whether negotiations fail or are successful. If a settlement amount is reached, each party to the class action lawsuit will receive a share of the overall settlement amount after legal fees have been deducted. The best way to get an accurate idea of what kind of settlement or damages award you are entitled to is to consult with an experienced personal injury and mass tort lawyer at BK Law who can thoroughly review the facts and circumstances of your claim.
Why Hire BK Law for a Bair Hugger case?
Class Action and Mass Tort lawsuits are not the same as your standard lawsuit. For this reason, it is critical to hire a lawyer experienced in this kind of litigation. The mass tort and personal injury lawyers at BK Law are highly experienced in mass tort litigation and know how to get you the maximum amount of compensation that you are entitled to, regardless of the circumstances. If you are unsure how to move forward, we are here to help you navigate the process and hold the negligent parties accountable for the harm that they have caused you and your family.
Is There a Time Limit for Filing a Bair Hugger Lawsuit?
If you have suffered a serious injury or lost a loved one due to the use of the Bair Hugger blanket during surgery, the time to take action is now, and the experienced mass tort lawyers at BK Law are ready to fight to get you the maximum amount of compensation and support that you are entitled to. There is a time limit (known as the statute of limitations) on how long you have to bring a lawsuit, so do not hesitate any longer. Call BK Law, located in Fort Lauderdale, Florida, and schedule your personalized consultation today.